Part two of our look at Joe Calzaghe's Super Middleweight title defences begins with the Welshman enjoying a first stoppage win in four fights, and ends with a homecoming against a former World champion.
Defence Six – Omar Sheika, 12th August 2000
Result: Calzaghe by fifth round TKO
Joe Calzaghe's second assignment of the year 2000 was a match-up with New Jersey's Omar Sheika.
Sheika was fresh off a majority decision win over future World champion Glen Johnson in his most recent fight, and held a win over two-weight World champion, Simon Brown in January 2000.
Sheika had a solitary loss to Tony Booth in Sheffield two years prior, part of three fights he had in the UK that year.
The bout was set for Wembley Conference Centre, and it saw the champion back on song, delivering a ruthless display, with his famous fast hands on show.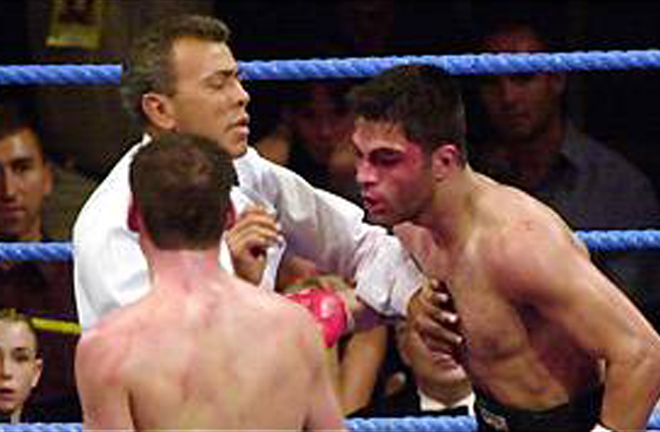 Come the fifth round, both of Sheika's eyes were slashed, and after a volley of rights and lefts the referee waved the fight off to the American's disgust.
Both Calzaghe and father and trainer Enzo sank to the canvas in delight. Nigel Benn remarked post-fight that Calzaghe was the best Super Middleweight on the planet.
"I've been riddled with injury the past two years, and a lot of people have written me off. I just destroyed one of the best American Super Middleweights in the world," Calzaghe said.
Defence Seven – Richie Woodhall, 16th December 2000
Result: Calzaghe by tenth round TKO
Next up for Calzaghe would be his good friend Richie Woodhall, with the former WBC champion rolling the dice at 33-years-old in a late bid to become a two-time champion.
The fight would be unique further in the sense that the two fighters would be trained by their fathers, Enzo Calzaghe and Len Woodhall respectively.
Woodhall was an Olympic Bronze medallist, having lost to the sublime Roy Jones Jr in Seoul in 1988 and he arrived in Yorkshire with the support of his hometown behind him.
'The Italian Dragon' started off well, hurting Woodhall early, but the Telford man fired back in the second with some heavy fire of his own.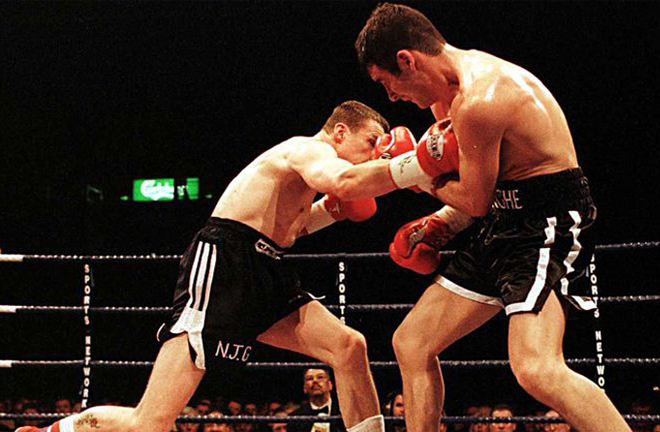 Calzaghe's work rate gave him the edge, however and he bloodied his opponent's face from the fifth onwards, as he set a relentless pace.
In the ninth, a tired Woodhall was dropped by an accumulation of punches, and the writing was on the wall. The start of the tenth saw Calzaghe tee off immediately, and referee Roy Francis stopped Woodhall on his feet.
The pair embraced following a hard-fought battle, as the champion celebrated win number 30.
Woodhall would announce his retirement soon after, and Calzaghe would return to Cardiff for his next defence.
Defence Eight – Mario Veit, 28th April 2001
Result: Calzaghe by first round TKO
It would be a mandatory defence to kick off 2001 for Calzaghe, against unbeaten German number one contender, Mario Veit.
This was the Brandenburg-native's first step into the World level and it showed at the Cardiff International Arena, with the action lasting less than two minutes.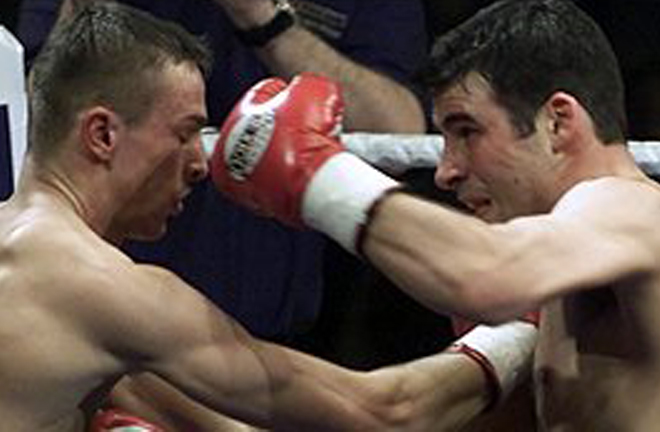 A big left hand decked the visitor within 30 seconds, and he never truly recovered.
A huge right, left combination had the challenger down again, and on the resumption, a volley fired on the ropes forced an intervention from referee Mark Nelson.
The pair would meet four years later with the Welshman winning in similarly devastating fashion with a sixth round stoppage.
Defence Nine – Will McIntyre, 13th October 2001
Result: Calzaghe by fourth round TKO
A first foray outside of the UK, as a professional was next for Calzaghe, as he travelled to Copenhagen to form part of Mike Tyson's bill, that he was topping against Brian Nielsen.
People were finally starting to sit up and take notice of Calzaghe and he could ill afford a slip up, as the co-main event on Showtime.
Calzaghe's opponent Will McIntyre, had only lost to a 1-0 Omar Sheika and Dana Rosenblatt in his 31 fight career.
The form line didn't look good, having been comprehensively beaten by Rosenblatt, losing every round just a year prior and he received a shot at the WBO belt at just three weeks' notice.
McIntyre entered the ring to the strains of Bruce Springsteen's 'Born in the USA,' and he was probably hoping he was back there, as Calzaghe poured on the pressure from the opening bell, putting the Louisiana man in all sorts of trouble.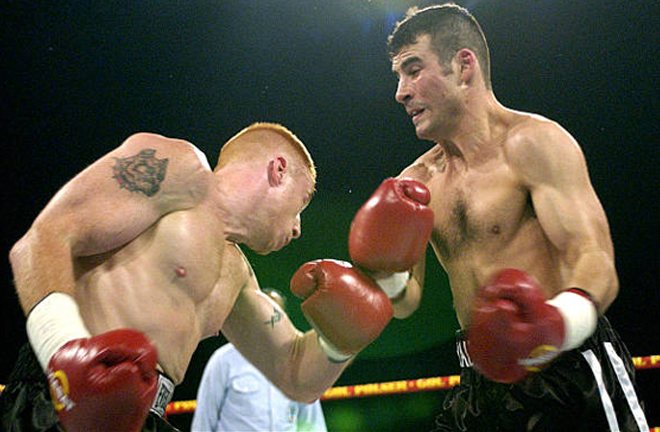 Round three would see McIntyre on the deck for the first time in his career, with Calzaghe teeing off and with seconds left in the session, a massive left uppercut left McIntyre reeling, with only the ropes holding him up.
The referee should have called a halt, but that come only 45 seconds into the fourth, when another two-fisted attack dropped McIntyre, and referee Paul Thomas had seen enough.
"A lot of opponents pulled out of this fight, respect to Will for coming to fight. I want big names next," Calzaghe said.
"I want Roy Jones or Bernard Hopkins, I'm ready to fight in America and take it by storm".
Again, Frank Warren insisted they were looking for a big fight, but Jones, Hopkins and the USA would have to wait.
Defence Ten – Charles Brewer, 20th April 2002
Result: Calzaghe via unanimous decision (119-109, 118-111 & 117-112)
Former IBF champion Charles Brewer was next for Calzaghe and would be a good yardstick, with the American having had two fights with former unified 168lbs champion Sven Ottke.
The Philadelphian had been involved in a three round thriller in May 2001 with Antwun Echols. 'The Hatchet' scored no less than three knockdowns in the second round, but ended up getting stopped himself a round later.
He came to Cardiff International Arena on the back of a points win over Fernando Zuniga, but found Calzaghe a step ahead, no matter how hard he tried, losing on a unanimous decision.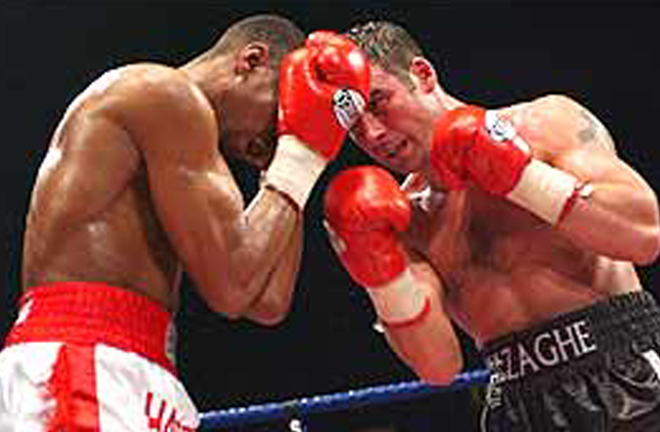 "He's the number one out there, he got robbed against Ottke, he's a true warrior," said Calzaghe.
"I had to dig deep tonight and I came through, there's no way anyone's going to take my title away".
Again Bernard Hopkins was the man Joe wanted, and again it would be in the distance for now.