In the second of a four part series on the fabled Four Kings, we look at the career of 'Marvellous' Marvin Hagler, who is regarded as one of the greatest Middleweight champions of all time.
The marvellous one grew up in Newark, New Jersey, but would make Brockton, Massachusetts his home following the Newark riots of 1967.
Hagler would take up boxing after being beaten up by a local boxer, who he would go onto defeat. He would walk into the gym of the famous Petronelli brothers, and would have to lie about his age to enter tournaments. Hagler would go on to win the National title and National Golden Gloves, ending with a 55-1 unpaid record.
Hagler would be told by the great Joe Frazier that he had three strikes against his name: "You're black, you're a southpaw, and you're good." He would be forced to travel in order to get meaningful fights.
Boston promoter Rip Valenti would take notice of Hagler, and match him against a series of contenders. He would be held to a draw by 'Sugar' Ray Seales in 1974, three months after outscoring him.
Then he went on to win eight straight bouts before suffering two contentious decision losses in three fights to Bobby 'Boogaloo' Watts and Willie Monroe. He would eventually avenge the Monroe defeat twice by knockout, and also halt Watts four years after their original meeting.
It was after a 1978 points win over Bennie Briscoe that big time promoter Bob Arum took a punt on Hagler, and it proved a shrewd move.
Five more wins, including a one round hammering of 'Sugar' Ray Seales, led to a first World title shot.
The WBC and WBA Middleweight titles were on the line, but Hagler would be harshly thwarted by the judges, as the somehow saw his bout with the champion, Vito Antuofermo, as a split draw, despite Antuofermo's face being cut to shreds and Hagler largely controlling the action.
Arum shouted from ringside that there would be an immediate rematch, much to the dismay of England's Alan Minter, who had been promised the next title fight no matter who won in Las Vegas.
There would be no immediate rematch in any case, as Minter upset Antuofermo not once, but twice. The Crawley man edged a split decision in Las Vegas in March 1980, and then forced the Italian to retire after eight rounds due to bad cuts in a rematch three months later at Empire Pool in Wembley.
This meant, after three wins following his draw with Antuofermo, that Hagler would meet Minter at Wembley Arena in September of the same year.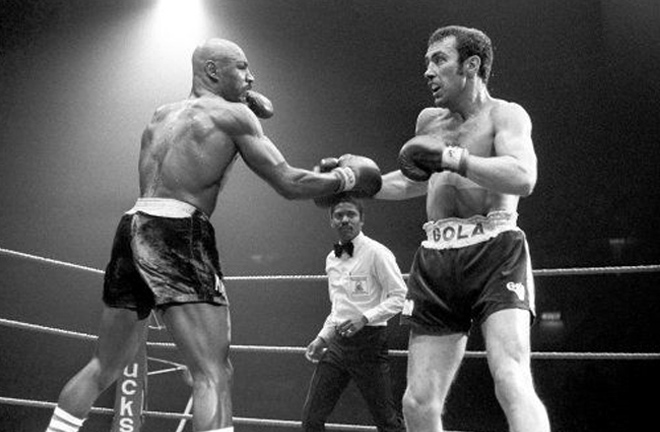 It would prove to be a three round bloodbath, as Hagler slashed Minter's eyes to shreds to force a stoppage. There were no complaints from the Minter corner, but his supporters pelted the ring with beer cans and bottles, forcing the new WBC and WBA champion to flee the ring and arena.
Hagler would embark on a twelve defence streak of the belts, and after a first defence of the titles with an eighth round stoppage of the previously undefeated Fulgencio Obelmejias, he finally put the ghost of Vito Antuofermo to rest.
Yet again, the Brooklyn based Italian was ravaged by cuts, and was pulled out in four rounds.
The end of 1981 saw Mustafa Hamsho banished in eleven rounds, and in March 1982, Caveman Lee was blasted out inside a round.
Hagler's only other bout of the year was a rematch with Obelmejias, who this time was dealt with by fifth round stoppage.
The challengers came and went, and Leicester's Tony Sibson and Wilford Scypion were the next two victims in 1983, stopped in six and four respectively.
Next up would be Roberto Duran, and the Panamanian was moving up from Super-Welterweight where he had just rejuvenated himself in winning the WBA title from Davey Moore.
Hagler needed to rely on his boxing skills to edge a close unanimous decision by a point on two cards and two points on the third. Hagler would add the IBF belt to his collection as a result.
Four months later he was back in action, and officially floored for the first and only time in his long career, in the opening round of his contest with Juan Domingo Roldan, but this was more of a slip, and Hagler pounded out a dominant tenth round stoppage.
After Mustafa Hamsho was defeated once again, this time inside three rounds, arguably the greatest short fight took place in April 1985. Hagler met the gangly and awkward Thomas Hearns in Las Vegas, with the Detroit man moving up from Super Welterweight.
What followed was three rounds of absolute brutality, as the two went toe-to-toe in an attempt to one-up the other. Hearns looked weak even at his higher weight class.
The first round has been described as one of the greatest of all time, with the two giving no quarter at all.
A minute into the third round, referee Richard Steele stopped the action so the ringside doctor could check Hagler's cut. The physician asked, "Can you see all right?" Hagler replied, "I ain't missing him, am I?" The doctor told Steele to let the fight continue.
Soon after the fight resumed, Hagler caught Hearns with a right hook that sent the challenger reeling into the ropes. Hagler chased after him and nailed him with a right cross to the chin, sending Hearns to the canvas.
Hearns struggled to beat the count. He got up but was in no condition to continue, and Steele stopped the fight, ending one of the greatest fights in history.
Hagler would only fight twice more, and eleven months after his triumph over Hearns, he met the undefeated Ugandan, John 'The Beast' Mugabi.
Hagler showed signs of slowing down, and Mugabi gave him more than a tough evenings work. Marvin would prevail in eleven rounds to set up a showdown with the returning 'Sugar' Ray Leonard.
Their April 1987 meeting was a hotly disputed affair, with Leonard returning after a three year absence to take a split decision win.
Hagler chose to retire after failing to secure a rematch with Leonard, but remains one of the greatest Middleweights of all time, finishing with a 62-3-2 ledger.