Snooki-backed Patrick Hyland Gets Major Fight Against Fortuna on Pacquiao-Marquez Undercard
Irish and boxing have been synonymous for more than a century. Undefeated featherweight Patrick "The Punisher" Hyland, one of three prizefighting Hyland brothers, certainly embodies the popular sobriquet, "The Fightin' Irish."
Dublin-native Hyland (27-0, 12 KOs) plans to continue making Irish boxing history on December 8, when he fights fellow undefeated challenger Javier "El Abejon" Fortuna for the interim World Boxing Association (WBA) featherweight title, fighting on the HBO Pay-Per-View event headlined by Manny Pacquiao-Juan Manuel Marguez 4, at the MGM Grand in Las Vegas.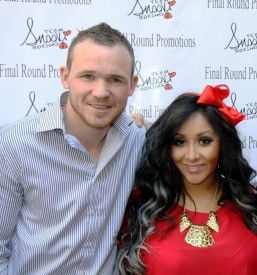 The 29-year-old Hyland, who is promoted by Final Round Promotions and Team Snooki Boxing, made a major commitment to boxing a year ago, moving from Ireland to Marlboro, New York in order to be trained by two-time two-division world champion Tracy Harris Patterson. Rated No. 6 by the WBA, Hyland already holds the Republic of Ireland boxing record for most consecutive wins to start a professional career (27), and he'll become the first Irish born featherweight titleholder since, and second overall, the HOF Barry McGuigan in 1986.
Hyland would become the first Irishman to capture a world title since Bernard Dunne (WBA super bantamweight) in 2009, also joining Dunne and Stevie Collins as the only Dubliners as world champions. In fact, Hyland would be only the seventh Irishman (Ireland national born), dating back to the late 1800's, in an exclusive group that also includes George Gardner, Mike McTigue and Hall of Famers Barry McGuigan and Jack McAuliffe.
"I've had tunnel vision for this fight and didn't know I could become the first world featherweight champion born in Ireland," Hyland said. "It feels great to hear that as well as have a chance to be mentioned in the same class with those other Irish world boxing champions."
WBA No. 2-rated Fortuna (20-0, 15 KOs), fighting out of the Dominican Republic, is a 23-year-old southpaw. "Fortuna is an explosive fighter and it's a pleasure to share the ring with him," always the gentleman Hyland noted. "He's a lefty, which is a problem for most right-handed fighters, but we've trained hard to move to the left. I have to stay sharp and focused, especially the first few rounds, so he doesn't catch me. Our plan is to take him into deep water and see what he has left."
Hyland will be fighting in Las Vegas for the first time. He doesn't plan on hitting the strip, at least not on this particular trip, and everything there has been all business for the personable boxer with a thick brogue.
"It's hard to describe," Hyland spoke about fighting on the HBO PPV in Las Vegas. "Manny Pacquaio is the best known boxer in the world and fighting on his undercard hasn't really sunk in, yet, and it probably won't until after the fight It has gone through my mind but it's all been positive We have two unbeaten fighters who both want to win and get that belt. We'll put on a show, fighting on the biggest stage (HBO PPV in Las Vegas), and we could steal the show."
One of Hyland's promoters, Mike Pascale (Final Round Promotions), believes that it's Hyland's time to shine. "This fight is the culmination of Patrick's training as a boxer since the age of seven. As always, he has trained hard and will lay it all on the line on December 8th. The Hyland-Fortuna fight will be a real barnburner. Patrick will shock many when his arm is raised as the winner. This is Patrick Hyland's time and he will not be denied."