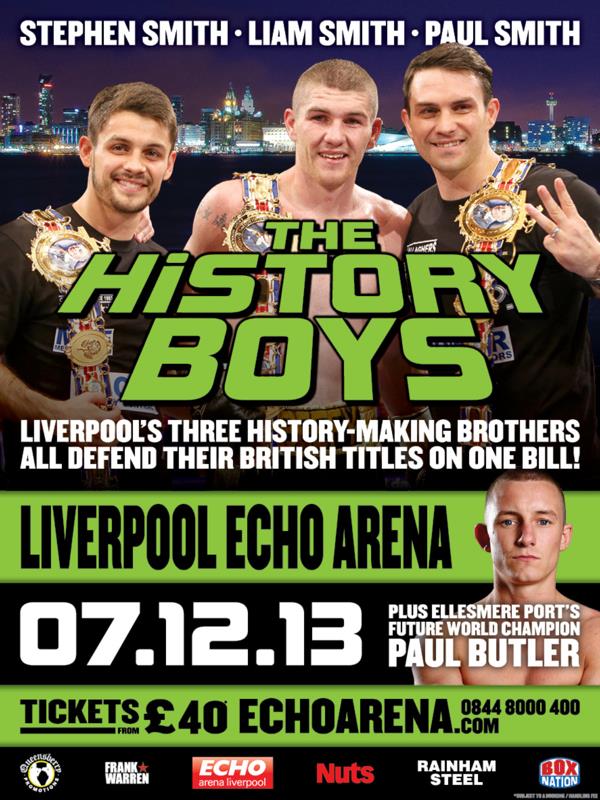 Liverpool's famous boxing brothers Paul, Stephen and Liam Smith will be out to create British boxing history on Saturday, December 7 at the Liverpool Echo Arena when they become the first ever trio of siblings to defend their Lonsdale belts on one show.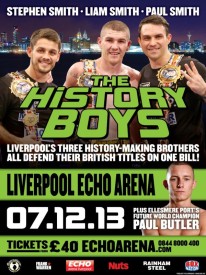 Liam's fantastic win over Erick Ochieng to claim the British Light-Middleweight title last Saturday night meant that he joined his brothers Paul, the two-time British Super-Middleweight Champion, and Stephen, the British Super-Featherweight Champion, to become the first brothers ever to hold British titles simultaneously. Considering that boxing's great family names like the Turpins (Randolph, Dick and Jackie), McKenzies (Duke, Clinton and Winston) and the Eubanks (Chris, Peter and Simon) didn't achieve the feat makes it all the more remarkable and may not be repeated for a long time.
Promoter Frank Warren will now stage a history making show featuring the Smiths all defending their British titles on one big night of boxing in their home city with the supremely talented Paul Butler from Ellesmere Port defending his British and Commonwealth Super-Flyweight titles.
Paul, who defeated rival Tony Dodson in June this year to win the vacant belt, will make the first defense in his second reign as champion against Accrington's Luke Blackledge. He said, "It's incredible that we are all holding British titles at the same time, it's not something that we set out to do, but it's unbelievable that we are now all holding prestigious Lonsdale belts. As the eldest brother I'm so proud of what Stephen and Liam have achieved. Personally, I'm proud to hold my British Super-Middleweight title again it's a beautiful belt and now I've got to defend it against a tough challenger in Blackwell on a very special night."
Stephen won his title with arguably the best punch seen in a British ring this year when he knocked clean out then champion Gary Buckland with one perfectly timed uppercut. He said, "To think that three brothers could hold British titles at the same time would be a stretch seeing that British boxing's great family names like the Turpins, McKenzies and Eubanks didn't do it. It's fantastic that we'll be in the sporting history books as the first ever brothers to all hold British titles. Now it's back to business in the gym and we've all got to retain our titles at the Echo Arena which will create even more history!"
Liam's fight against Ochieng was a furious, all-action, affair and now he's focused on making a quick first defence. He said, "Beating Ochieng on Saturday and holding the Lonsdale belt felt like I had won the world title on the night. I'm so proud of my brothers and we've all stuck together through thick and thin to now be British champions. It's all about hard graft and dedication and we've shown that. We all want the best for each other and now it's about retaining our titles at the Echo Arena and then moving on to world titles."
Hall Of Fame Promoter Warren said, "It's a remarkable achievement for three brothers to be British champions at the same time and I can't see it being repeated again in the near future. I've managed Paul, Stephen and Liam throughout their careers and I'm delighted to now put them on one big show all defending their titles on one big history-making night of boxing. With the sensational Paul Butler also defending his British and Commonwealth titles on the card and backed-up with a talent packed undercard, it's going to be a very special event for Liverpool."