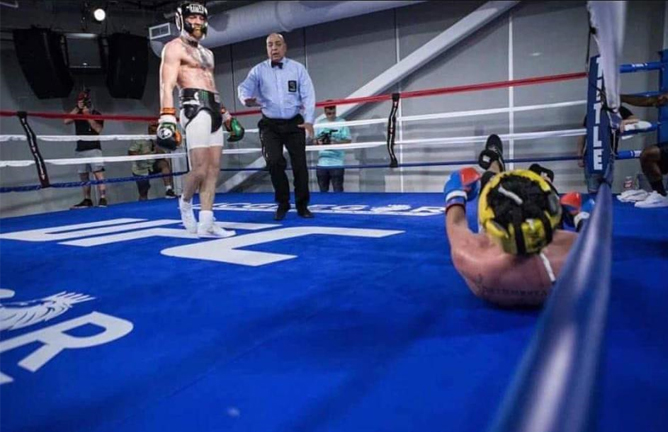 Paulie Malignaggi now a retired boxed, has sensational quit the Conor McGregor camp ahead of the big fight with Floyd Mayweather later this month. Malignaggi was hired as a sparring partner for UFC star Conor McGregor told ESPN he won't continue and likely will fly home after photos surfaced Thursday appearing to show McGregor in a favorable light during Tuesday's 12-round session.
"I wanted to be part of this event, but I didn't want to become the story, and that's what this has turned into," Malignaggi told ESPN by phone Thursday night. "I won't release any information about his game plan or what he's working on; I wouldn't do that. But this has become a fiasco. It's a circus.
"And I do want that sparring video released. The UFC's PI definitely has that video. I understand it can't come out now, but Conor, if you have any balls, release what really happened."
Malignaggi said Tuesday's spa session with McGregor had "a lot of violence." He claims he went into the session with a 'chip on his shoulder' due to the fact a small audience had been invited to watch the session by McGregor which subsequently resulted in the Irish star's personal photographer posting a shot of him landing a left uppercut.
Another shot by McGregor photographer Dave Fogarty shows Malignaggi falling backward on the canvas as McGregor stands over him. Malignaggi is claiming he was never 'knocked down' and that it was actually a "pushdown."
In a statement issued later Thursday, Malignaggi stressed that he and McGregor have "a mutual respect inside the ring" and that his decision was based on issues he disagreed with outside the ring.
"It's not my place to dictate terms in a training camp that is not mine, but it's my place to decide if I want to be a part of it," Malignaggi said in the statement.
Malignaggi, who retired from professional boxing earlier this year, told ESPN on Wednesday there were zero knockdowns during the session but said McGregor had shoved him to the canvas at one point.
"There was a pushdown yesterday," Malignaggi said of the sparring session. "Conor on the inside, he can get a little rough. He shoved me down, you know, but no knockdowns. Obviously, 12 rounds, you're gonna see there's a mark on my face. Very, very hard work for both of us. I was starting to get in a groove in the middle rounds, starting to land some good shots. Conor really came on strong in the end. It was back and forth."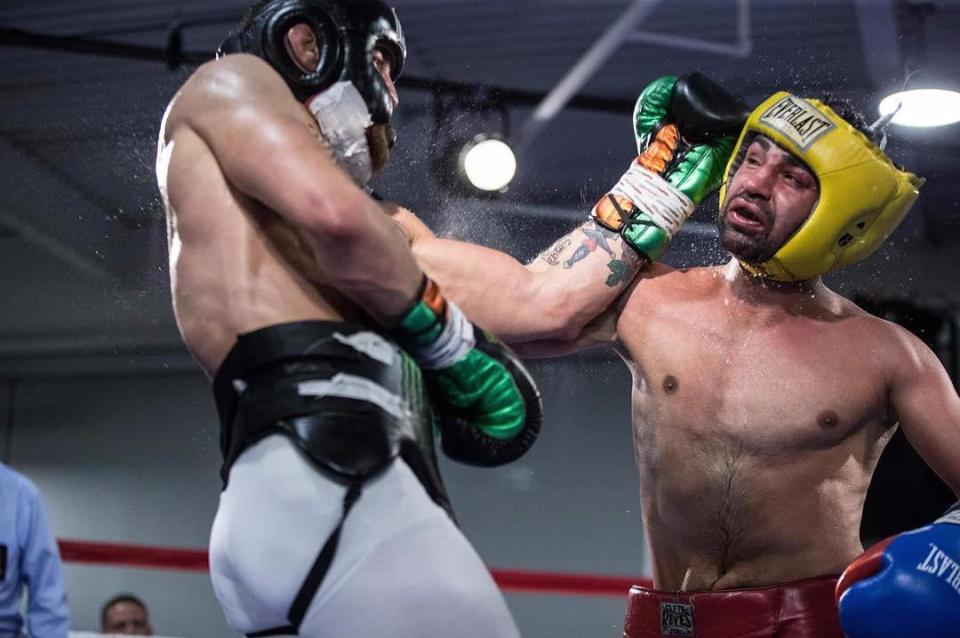 Tiernan Bradley, another McGregor sparring partner, confirmed Malignaggi's descriptions of "violence" to the Irish News earlier in the week, saying, "Conor told us all when Paulie came into camp, 'This is not a spar. I want to fight him. I'm ready for a war.'"
Veteran referee Joe Cortez, who has been hired to officiate the sparring sessions, has also commented on the back and forth, saying he has been forced to step in on several occasions to bring the fighters under control.
Its fair to say from Malignaggi's twitter – he's not been left impressed by the photo's released and wants the truth to come out.
Its not nice 2 paint a pic that isn't true, this was a pushdown in sparring, post the whole video rounds 1 through 12 UNEDITED https://t.co/R82BLiMMVm

— Paul Malignaggi (@PaulMalignaggi) August 4, 2017
I came to help this camp out, not to be exploited, now your gonna get the truth though. Post FULL UNEDITED VIDEO FROM TUES night #Ethics

— Paul Malignaggi (@PaulMalignaggi) August 4, 2017
I actually beat his ass, 24 hrsoff a flight 2 lol, which is why Im saying post the vid, I try not 2 be petty but seems it's late 4 that now. https://t.co/vSE2Iw4ffM

— Paul Malignaggi (@PaulMalignaggi) August 4, 2017