Fight Pick & Preview – Malignaggi vs. Broner:
Hometown boy Paulie Malignaggi defends his WBA 147-pound title against rising star Adrien Broner on June 22 at the Barclays Center in Brooklyn. The 32-year old Malignaggi is making the 2nd defense of a title he won with a rare knockout over then 32-0 Vyacheslav Senchenko, the same guy who knocked Ricky Hatton back into retirement in his next fight.
Broner, meanwhile, has been making a steady climb up the boxing ladder and is looking for his best win after snagging titles at 130 and 135 pounds.
Date: June 22, 2013
Site: Barclays Center, Brooklyn, NY
Weight Class: WBA Welterweight Championship: 12 Rounds
Paul Malignaggi, 32-4 (7 KOs), Brooklyn. NY, WBA Welterweight Champion
vs.
Adrien Broner, 26-0 (22 KOs), Cincinnati, Ohio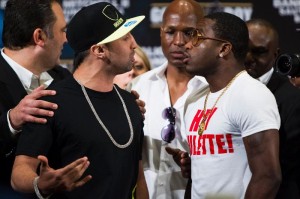 Broner is being groomed as a big deal. Golden Boy has been cultivating him to became a major player in the sport. At first, it seemed like a lot of hype. To his credit, however, he has been in awesome recent form, wiping out his last 6 opponents in dominant fashion.
It has given some credence to his placement as one of boxing's next big things. While those last half-dozen opponents have been good fighters, Malignaggi is a different kettle of fish.
I just find it off-putting that Broner is a 13-1 favorite in this fight. He's a fighter moving up two weight classes from lightweight–a division he has only been at for a few fights. In addition, he's fighting a guy who is a clear level above anyone he has ever fought.
Malignaggi vs. Broner Analysis
Broner has shined in recent outings, but guys like Antonio DeMarco and Gavin Rees bear no resemblance to Malignaggi. DeMarco, a capable fighter, was made to order for Broner with his straight-ahead style and the same applies to Rees. Malignaggi is quite different, with his mobility, speed, and overall ring-smarts.
When Broner had trouble with Ponce De Leon, I was in the arena, though I was up in the nose-bleeds. From up there, I could have sworn De Leon won 7-8 out of the 10 rounds. I haven't seen the fight since, but it was the boxing skills of Ponce that seemed to give Broner issues. Carrying on about that fight isn't fair, especially considering that Paulie has suffered some tough nights in the ring. Going off a guy's worst night in the ring never paints an accurate picture.
Look at the guys Paulie lost to in recent years, though. Guys like Ricky Hatton and Amir Khan were experienced fighters who had already beaten top guys. It was disappointing to see Malignaggi do so badly against Hatton. Following the Hit Man's defeat to Mayweather, Malignaggi seemed primed to score an upset. Khan may have just been a bad match-up for "The Magic Man," being that punchers are the ones who generally trouble Khan. Malignaggi is a lot of things, but a puncher he is not.
One worrying thing about Malignaggi is how he struggles in certain fights. There was little to separate him from Lovemore N'Dou in their rematch, Herman Ngoudjo, and most recently against Pablo Cesar Cano in a November title defense. One should expect him to be up for this fight in front of his hometown fans, with a chance to score a legacy-building win. Paulie has seen his share of on and off-nights, but look for him to be at his best on June 22.
Broner is unquestionably a major talent. In the past few years, he has put forth the kind of performances that lend an air of truth to his hype and opinion of himself. Sure, he may be a Mayweather clone, but there's more to the package than just his impersonation skills. He's an explosive offensive talent and is well-rounded in the finer points of the game. His defense is solid and he knows what he's doing in the ring.
Whenever a fighter is at home, one should at least ponder the politics of the event. Though Malignaggi is the hometown fighter, you can't be so sure that he will get the benefit of the doubt if the fight goes to the cards. Judges are human. They have jobs in the sport and a vested interest in the success of boxing. At this point, a win for the 23-year old Broner is probably perceived as being better for the sport. It's not difficult to envision Broner getting the nod in close rounds.
Perhaps I'm overstating the case here, but I always liked Malignaggi. He has caught a lot of flack for being mouthy and flashy. Wearing hair extensions doesn't help, either. It's just that under all the bluster and bravado is a double-tough SOB.
He fights with a palpable grit and when he's on–he has great boxing skills. He reminds me of an old-school fighter, despite all the histrionics. He is a crafty veteran with great quickness and tremendous moxie.
"The Magic Man" is also a thoughtful fighter–very smart in the ring. Those who thought he was just some mouthy street kid have been able to see Malignaggi's thoughtful side, with Paulie now a regular member of the Showtime announcing crew. He's quite astute. One should expect Malignaggi to be well-prepared for this fight. He knows what he is up against and what he has to do.
Malignaggi vs. Broner Prediction
I might be going absolutely bonkers, but I think Malignaggi has a good chance to score a major upset. Broner might be more versatile offensively, with his speed and power. He's also pretty slick in his own right. Something just tells me that Paulie is finally going to have his Rocky Balboa moment in front of his fans in Brooklyn.
With movement, speed, and a punch that isn't as weak as some might think, I see Malignaggi being able to outmaneuver and outwork Broner for certain periods. I also see Paulie being able to hypnotize himself to get through 36 minutes of Broner's attack.
He will need to show more of the steeliness he had in the Cotto fight and less like what happened in the Hatton and Khan fights. If he can hold up over the full course, I see him taking a decision.
Prediction: Paulie Malignaggi wins by majority decision.
Comments
comments