Malignaggi vs. Broner Results –
On Saturday night in Brooklyn, Adrien "The Problem" Broner leaps up two divisions to take on welterweight titleholder Paulie "Magic Man" Malignaggi. The question, of course, is which one of these guys will shut the other one up?
Right here, you'll find full coverage of the Malignaggi vs. Broner results, as well as recaps of the big undercard fights, including the rematch between Johnathon Banks and Seth Mitchell. Dive in and take a look below.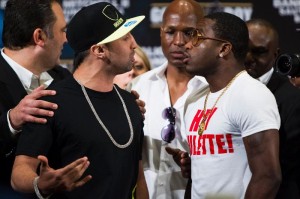 Broner vs. Malignaggi Results
In an entertaining bout for the WBA Welterweight Title, Adrien Broner won a split decision over Paulie Malignaggi to win the title and move to 27-0 (22 KOs). Malignaggi, the game ex-champ, falls to 32-5.
In the first, Malignaggi moved his hands a lot, throwing a lot of punches. Broner remained calm, smirking back at Malignaggi the whole time. Malignaggi probably won the first with good hand speed and activity. Broner landed a few times and is nonplussed by the bumble bee attack of Malignaggi.
Malignaggi looked good in the 2nd, peppering Broner with shots. None hurt him, but he's doing all the work. Good start For Paulie. Malignaggi opened the third with more feinting and fast hands. Broner landed a few stiff ones ones. Malignaggi moving well, but when Broner pushed the attack, the punches really stood out. At the end of the third, Broner picked up the pace and started to dominate the action.
More combos by Paulie in the 4th and more Broner smirking and twisting up his face making facial expressions. Lot of moxie from Malignaggi. Problem was he had to scratch and claw to maintain a tenuous upperhand, while Broner was in cruise-mode. Still after 4, you could make the case that Paulie won all 4 rounds, with the possible exception of the third.
While not hurting Broner, Malignaggi was impressive with his movement and hand speed, in addition to his eagerness and toughness. H was throwing far more shots than Broner. Big right by Broner in the fifth, but Paulie took it well. Looked like Paulie was tiring, with Broner letting his hands go. Without hands moving, Broner was advancing without pause and probably took the fifth. The 6th saw Malignaggi grow palpably tired. Broner picked up steam with his strong single-shots. Despite wearing down, Malignaggi still showed gusto, but it was clear he needed a second wind. Broner started finding a home with the right cross lead.
As the second half of the fight began, Broner appeared to taking control. Malignaggi was stubborn, but the tide looked like irresistible. The 5, 6, and 7-punch combos by Paulie were reduced to single and double shot offerings. Good exchanges in the 7th, but Broner's harder-hitting work won the day. Broner walked through Malignaggi increasingly in the 8th, with Paulie struggling to regain foothold. He was still in the fight, but sand was visibly emptying from his hourglass. Single shots seemed to rattle Malignaggi, with Paulie retaliating gamely. Good action in the 8th.
Broner walked Malignaggi down and landed, but Malignaggi found a bit of a second wind and fired back with fire in an excellent 9th. Broner landed some big rights to the head, including body-shots. Big right by Broner at the end of the round. Paulie did some great work too in an inspirational 3 minutes.
In the 10th, Broner landed some more lead rights, with Malignaggi taking them well. The defending champion zinged some combos and when it looked like he was gassed, he really found another geat. Paulie was getting outgunned at times, but he remained steadfast and fired back with courage. By the end of the round, Malignaggi was visibly tiring once again, but he kept winging shots. Big left hook by Broner at the bell!
By the 11th, whether Malignaggi would win was certainly in doubt, but he had still managed to stymie Broner to a large extent with his speed and activity. Through ten rounds, all Broner had accomplished was a handful of single-shot connections. He averted a lot of Malignaggi's shots with his defense, but got outworked for big parts of the fight.A left hook snapped Paulie's head back, but Paulie fired back with a rat-a-tat combo, creating a potential conundrum for the judges.
The 12th saw Paulie running on fumes–mouth agape and face marked up. Broner started zeroing in with sharp lefts and rights. Paulie looked like a guy who had already put it all on the line, with Broner looking like he had another ten rounds left on him. Malignaggi threw more combos, but the shots of Broner appeared more hurtful. Another close round.
It was a riveting fight and a compelling contrast of styles. The scores were 115-113 (Malignaggi), and 117-111 and 115-113 (Broner). ProBoxing-Fans.com had it 115-113, Broner. The new beltholder deserved the win and at 23, his future is bright. For such a huge underdog, Malignaggi performance was excellent and far better than what many experts had predicted. A lively post-fight scene took place, with Broner and Malignaggi again exchanging words. Then, Malignaggi complained to Jim Gray that the politically more-connected fighter always gets close decisions, claiming Tom Schreck (who scored it 117-111) is in Al Haymon's pocket.
Banks vs. Mitchell II Results
In a rematch that was devoid of any of the drama from their first fight in November, Seth Mitchell avenged his only loss with a unanimous decision over Johnathon Banks over 12 rounds. With the win, Mitchell moves to 26-1 (19 KOs), with Banks falling to 29-2-1 (19 KOs).
A more cautious Mitchell and Banks posed in ring center for most of the first. An unforgiving Brooklyn crowd rained boos on the heavyweights. After the Bika-Periban barnburner, this looked like two elephants grazing. Banks, 216.6, poked with his left in the 2nd, with Mitchell, 243.8, taking a far more careful approach, barely throwing. Suddenly in the 2nd with 30 seconds left, an uppercut and chopping right behind the head fell Banks and it was counted as a knockdown. It was inadvertent, but an iffy knockdown nonetheless.
Mitchell a bit more active in the 3rd. He was more patient and looking for countering opportunities. Banks looked utterly impotent. Then with a minute left. Banks opened up. He wobbled Mitchell, as Banks let his hands go. A counter right staggered Mitchell badly. Banks unloaded and Mitchell was stiff-legged and wobbling as the round drew to a close. Huge round for Banks off  a very sudden explosion.
Mitchell reacted very badly to punches in the 4th. Anything clean seemed to make his legs jello. Again, the Banks counter right was finding its mark, like it did in the first fight. Banks, outweighed by almost 30 pounds, looked bigger with Mitchell shrinking in the ring. Mitchell came to life at end of 4th and clipped Banks with a couple nice shots. As Banks grew inactive, Mitchell started pounding on him in the 5th. Banks looked a little worse for wear at the end of the 5th. By the beginning of the 6th, it was clear this wasn't the sizzling encounter that their first fight was. Despite small explosions of fury, the fight was growing tepid between the two 31-year old contenders by the halfway point. A more active Mitchell seemed to have his nose ahead going into round 7.
The 7th was tedious, with Mitchell probably winning it with a higher workrate, with the crowd beginning to boo lustily. Action got a little better in the 8th. Banks wobbled Mitchell with a left counter hook, but failed to follow up. Still, a nice comeback round for Banks. And better action for the fans. Mitchell was working harder than Banks, whose punch output slowed again in the 9th. You know it's a lousy fight when a guy is winning rounds by virtue of the fact that he's the only guy moving his hands.
In the 10th, both looked utterly fatigued. Mitchell's right eye was beginning to close, the result of a swelling created early in the fight. It's just that Banks was doing so little. By the 11th, fans were wishing it had been scheduled for 10 rounds. A totally boring round. To think, there are among the best that America has to offer. Perish the thought. Boos continued to rain down on the boxers in the final round. A terribly-disappointing fight, considering the fireworks of their first fight in November.
In the end, the scores were 115-112, 117-109, and 114-112–a unanimous win for Seth Mitchell.
Bika vs. Periban
In a bout for the vacant WBC Super Middleweight Title, Sakio "The Scorpion" Bika won a majority decision over Marco Antonio Periban in a rousing 12-round battle. It was a near-impossible fight to score, but the harder punching of Bika won the day against a better-then-expected Periban, who was jumping way up in class. Bika moves to 32-5-2 (21 KOs), with Periban taking his first defeat and now at 20-1 (13 KOs).
Bika, 34, the perennial contender who has been in with the best, opened by meeting the spidey Periban at ring center. Periban, the unbeaten Mexican, is the more well-schooled boxer, with Bika–the more raw and undisciplined brawler. Bika connected on a few wild swings. Periban mixed it up with Bika in the second as the fight heated up. Periban looked crisp, but Bika's wallops carried more power. Nice quickness by the 28-year old Periban in the second. Periban, who has never been on this level, looked like a slick and durable fighter. The first two rounds were close.
Bika, 0-2-1 in prior world title attempts, is respectful of the capable Periban. Crisp jabs by the Mexican in the 3rd, but Bika was getting close with shotgun right hand bombs. Surprisingly good showing by the previously-anonymous Periban for the first 3 rounds. Big exchanges in the 4th, with Bika attacking and Periban countering furiously. Bika unveiled the jab in the 4th with Periban going to the body and head well. Bika attacks well at the end of the 4th. Very close and entertaining first 4 rounds.
In the 5th and 6th, a more insistent Bika attack started to shade the fight in his favor. Periban was spirited, but sagging in the face of the raw, but strong Bika attack. Bika was wide with his shots, but he was so persistent, it's hard to get out of the way of everything. Better action from Periban in the 7th, who better handled the wide-arching swings of Bika. The Cameroonian swarmed in the 8th, with Periban not using distance and instead letting it turn into an ugly brawl. Huge exchanging at the end of the 8th round. A lot of these rounds were close.
Some customary Bika head-work had Periban cut on the hairline. Bika stared to land more big shots in the 9th, with Periban still resilient. Toe-to-toe action in the last half of the 9th. Great exchanges. Periban threw combos with Bika winging with the big shots. Periban scored with a few nice counters to end the round. Another difficult round to score. The 10th saw Periban flurry with tremendous speed and moxie, but Bika still pressed with jabs and crude rights in another close stanza.
Periban could have taken better advantage of Bika's fatigue in the 11th round, but he wasn't sharp enough in another excruciatingly tough round to score. Nice shots by both in the 12th in tremendous give-and-take. He hurt Bika with a right, whose hands are down now. A gassed Bika looked terrible, before nailing Periban with some big shots. Both took turns wobbling each other as the round drew to a close. Round of the year candidate for sure. Looked like Balboa-Creed. Great stuff.
In the end, it came down to the cards. In a fight that was open to wide-ranging interpretation, the cards came down 114-114 and 116-112, 115-113 for Sakio Bika. Nice win for Bika who now claims a "world title." A bitter Periban showed he can hang with a high caliber of opponent. Fun fight for the fans.
—
Thanks for checking out our coverage of the action, and be sure to continue coming back all weekend long for more aftermath, analysis and much more on the Broner vs. Maliganggi results.