Kelly Pavlik is facing a true crossroads fight tonight on Friday Night Fights.  The match is not only about winning for Pavlik but making an emphatic statement.  Anything other than an impressive performance Friday night will be viewed by those watching as a big step back for Pavlik.
The year of 2011 was a very forgettable one in both Pavlik's professional and personal life. An unimpressive decision against Alfonso Lopez was followed by Pavlik pulling out at the last minute of a summer fight against journeyman southpaw Daryl Cunningham at in his hometown of Youngstown, OH. That decision put Showtime and his promoter Top Rank in a bad position, and the cancellation of that fight also forced the cancellation of a November fight against Lucian Bute.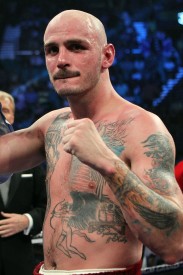 Daryl Cunningham later was easily knocked out by Andre Dirrell and Lucian Bute just suffered his first loss by knockout fashion to Carl Froch. In hindsight, Pavlik could have been sitting on a lucrative fight with Andre Ward had he gone ahead with those bouts.
Despite that ill-advised decision, his personal problems with alcoholism and multiple arrests and other incidents, Kelly Pavlik still has a very marketable name and fights in a very talent-rich weight division.  Ultimately though, his performance Friday night will probably determine the future of his career.
Scott Sigmon has a decent record on paper but has fought nobody of note. In his last fight Sigmon defeated a journeyman named Carlton Holland by unanimous decision in March.  Carlton came into the fight with a record of 18-13 with 7 knockout losses. Ironically, Carlton's previous fight came in May 2010 which was also a unanimous decision loss to Sigman.
Pavlik is sobered up, apparently, and is working with Robert Garcia in Oxnard. With a new trainer, a new home base and a clean lifestyle, it will be interesting to see how Pavlik performs, and how high he can climb from here.
Kelly Pavlik not only must win but must win in impressive fashion by early knockout victory. Otherwise the big networks will have no interest in paying for him to get in there with any of the big names in the 160-168 pound weight classes.
Since he is not getting any younger and has been a pro for 12 years already, Pavlik needs to fight on the big stage soon before the prime of his career has passed, and that kind of opportunity is all he can hope for after the past few tumultuous years.