Former World Middleweight Champion and current World Boxing Council (WBC) No. 1-rated super middleweight contender Kelly "The Ghost" Pavlik's professional boxing comeback took a wrong turn inasmuch as Pavlik withdrew from his upcoming 10-round bout against Darryl Cunningham today. The Pavlik-Cunningham bout was scheduled to take place on Saturday at the Covelli Centre in Youngstown, OH, and was to be televised live on SHOWTIME® as the main event of a special edition of ShoBox: The New Generation. Both the broadcast and the live event have been canceled. Ticketholders can get a refund by returning their tickets to the place of purchase.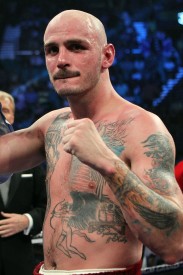 "Top Rank is very disappointed at Kelly's sudden decision to discontinue the rebuilding of his boxing career," said Todd duBoef, president of Top Rank, Pavlik's promoter. "Kelly's team specifically outlined a strategy for Kelly to return to the ring in an effective fashion. Kelly's team gave us their objectives and we set them on a course, which began last May with Kelly's fight against Alfonso Lopez and was to continue on Saturday against Darryl Cunningham. It seems Kelly has derailed this plan."
At this point in time, there have been no reasons given for Pavlik's withdrawal from the upcoming bout this weekend. Of course, rumors will start swirling immediately that it has something to do with a post-rehab relapse with alcohol. But it's all speculation at this point until more news comes out.
What is clear though, is that Top Rank, which has guarded its fighter and continually pushed the comebacking, ex-middleweight champion, is not siding with The Ghost this time out.
It had been potentially on the table that following a win this weekend, Pavlik would be lined up with Lucian Bute in a 168 lbs title fight. Bute is locked up with Showtime, and Pavlik is leaving the network in a bad spot here, forcing them to cancel the special Saturday night Shobox card they had planned entirely around Pavlik and his homecoming bout.
That certainly injures any potential future Pavlik-Bute bout, and may also hurt Arum's standing with Showtime, which he has had following his every word since they were able to secure the Pacquiao-Mosley fight this past May, and have been seeking to continue to land Pacquiao's bouts.