All-action warrior Pawel Wolak has officially announced his retirement from boxing. The decision comes immediately following his loss to Delvin Rodriguez in their rematch on the Miguel Cotto vs. Antonio Margarito pay-per-view. After a grueling two fights with Rodriguez, and his furious Raging Bull style in the ring, Wolak is calling it quits to move on with the rest of his life, mental and physical well-being intact.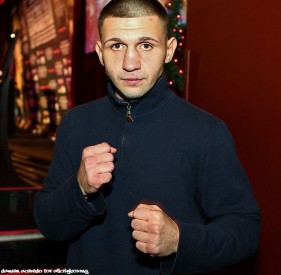 Here's what Pawel had to say on his Facebook page:
I am at peace with my decision to retire from boxing. I left it all in the ring and I have absolutely no regrets. I got to do what most people will never be able to and I couldn't be more proud to have been part of the best sport in the world. I will stay active, busy and in boxing shape as I have done since 17 years old but I hope to help other fighters in the NY area in their careers. The list of people to thank is too long but you all know you are. Thank you to my core team, my family, my friends and the fans who have made me a better husband, man, father, son and fighter. I am forever grateful. Thank you to Top Rank for always having my back and to the boxing media who have always been fair and treated me with respect. I am not going to do any interviews at this time. While I am retiring I am staying under contract for the duration of my contract terms with both Top Rank and my manager Cameron Dunkin. Please direct all questions to Cameron. Onwards and upwards.
He followed up with a response to some of his fans:
Wow, thank you for all of your comments. This was not a decision made overnight but a decision I know that is best for me and my family. I will stay involved in boxing in some way but my time inside the ring is over with 1000% certainty. When you fight the style in which I fight over the course of a long career, there is a point where your choices are to give less than 110%, risk real mental and physical damage, go to a more boring style or just go through the motions for a paycheck. I am not willing to do any of those. I am honored to have entertained you over the course of my career.
ProBoxing-Fans.com had left Wolak at the number 10 position of our latest junior middleweight rankings, but he's now been removed from that list, and replaced by Austin Trout.
Best of luck to Wolak in the rest of his future endeavors, and congratulations on a fantastic boxing career which culminated in his career-best win over Yuri Foreman, and his draw with Rodriguez in a Fight of the Year candidate this past summer.