Sweet Pea vs. The Kid in a Match of '84 Olympic Gold Medal Winners
In a match offering arguably the fastest set of combined hand speed the sport has ever seen, Meldrick Taylor and Pernell Whitaker hook up in a classic, purist's delight. While Whitaker and Taylor offered completely different styles of fighting, they also shared many intriguing similarities.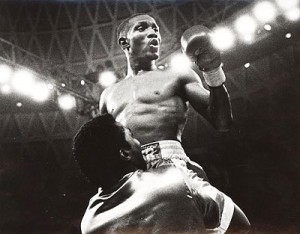 Both were highly skilled boxers that relied on hand and foot speed to dominate their opponents. Both were gold medal winners in the highly celebrated 1984 Olympic boxing class.  They both began their careers as lightweights but Taylor, who was the smaller amateur fighter, jumped to the Junior Welterweight division and fought most of his career between 140 and 147 lbs.
Meanwhile it was Whitaker who dominated the lightweight division for several years before fighting the remainder of his career at welterweight.  One has to think that perhaps the real reason these guys avoided fighting each other, and even campaigning in the same division, was because they shared the same management team. Of course, each also had their own controversial bouts with Julio Cesar Chavez, Taylor leading on the scorecards but having the bout stopped in the closing seconds, and Whitaker dominating their encounter but leaving with a draw.
I think a dream matchup could have taken place at Welterweight at the beginning 1992 as both fighters were still in their primes, with each man having only a single controversial loss on their ledger. Taylor was never the same following his bout against Julio Cesar Chavez, but this is the best opportunity for the two former Olympic teammates to meet, and Taylor had not yet completely fallen off the map. Here we go, with Whitaker vs. Taylor….
As the 1st round starts, Whitaker circles cautiously not throwing but steadily observing Taylor.  Midway through the 1st Taylor opens up and begins a spirited exchange with both hands working.  Taylor ends up getting the better of the exchanges through sheer punch volume.  Whitaker seems content to throw a punch or two and tie Taylor up.  The 1st round ends with Whitaker smiling and acknowledging his former Olympic teammate.
Round 2 begins as the first ended with Whitaker working his way inside and outworking him there. As the two exchange at close quarters, Taylor's hand speed is the difference as his combinations are faster than Whitaker's. Taylor is scoring with fast, though not damaging, punches to the head and mainly the body.
Rounds 3 and 4 are the same as Taylor's confidence is growing as he is smothering Whitaker and scoring with clean, crisp shots to the head and body.   Whitaker is becoming frustrated as he cannot solve the mystery of Taylor's style. Whitaker wisely begins moving slightly to his right in Round 5 and stings Taylor with several clean straight left hands to the chin.  Once Taylor reaches the inside, Whitaker lands his right hook to the ribs and wisely spins out to his right and increases the distance.
Round 6 is identical to Round 5 until the end of the round when Whitaker starts clowning and mocking Taylor.  He keeps bending extremely low and springing up with a snap jab and a huge smile.  Taylor, not fazed by the taunting, lands a perfectly timed right uppercut as Whitaker is bending in half again. The punch surprises Whitaker and puts him on the seat of his trunks.
Whitaker pops directly up, but nonetheless, it's a knockdown. As Whitaker smiles and pleads to the referee that it isn't a knockdown and was more of a slip, the referee finishes his count and the two fighters begin fighting again. As the bell rings, Whitaker realizes that he is definitely behind on the scorecards and he wisely quits clowning and begins Round 7 with more determination and focus.
Whitaker's slight movement to his right opens up huge dividends as he continues to catch Taylor with nice flush left hands from mid-range. Whitaker rallies from Rounds 7-10, sweeping them with brilliant foot movement, stinging jabs and straight left hands. Sensing the fight is even now, Whitaker throws caution to the wind and the two engage in toe-to-toe action through the 10th round. Taylor outpunches Whitaker with volume, but it seems the cleaner shots belong to Whitaker.
By round's end, Taylor looks worse for wear as his face is showing signs of swelling and blood from his nose. Whitaker steps up his attack in the 11th round and has Taylor visibly shaken with ripping left hands throughout.  Taylor seemingly barely finishes the 11th on his feet, before valiantly to outpunch Whitaker in the 12th.
The first half of the round has Taylor throwing punches that are now wider and slower, but still scoring. Whitaker covers up well and by the end of the round, he has Taylor in big trouble again with pummeling shots to the head.  Whitaker finishes the fight with two sneaky straight left hands followed by a wide right hook which all land flush on the swollen face of Taylor. As the two embrace at fight's end, the crowd is on its feet, in awe and appreciation of the skill set of these two!
The decision is a close one, with Whitaker emerging by majority decision.  Scores are 114-114, 114-113 and 115-112 in this epic battle of 1984 US Olympic teammates.