Following a decisive win over Walter Wright in March — the second fight of Peter Manfredo's most recent comeback — "The Pride Of Providence" quietly decided that was enough; it was finally time to hang up the gloves and be a full-time husband and father.
Then everything changed in July when Manfredo's close friend, former Rhode Island boxer Gary Balletto, suffered a fall at his home that left him paralyzed from the waist down.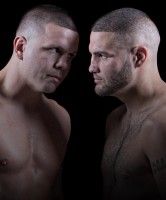 "When he got hurt, it hurt me," Manfredo said. "He might never be able to walk again, so I thought it'd be nice to come back and fight for him while I can still walk, talk and move."
As Balletto continues the fight of his life, doing everything within his power to walk again, Manfredo (39-7, 20 KOs) finds himself in a battle that may very well be the fight of his life, a 10-round showdown against the hard-hitting Gingras (13-3-1, 8 KOs) in the main event of "Pride & Power," scheduled for Friday, Nov. 22, 2013 at Twin River Casino and presented by Jimmy Burchfield's Classic Entertainment & Sports.
Manfredo has faced some of the best fighters in the world, from Jeff Lacy, to Joe Calzaghe to Julio Cesar Chavez Jr., but Friday's bout against Gingras is a unique challenge at this stage in his career. Manfredo will turn 33 next Tuesday. He's more than a boxer these days; he's a father of three, a devoted husband, and a full-time laborer in Massachusetts. He no longer eats, sleeps and breathes boxing like he did during his heyday when he starred on The Contender reality series and challenged for world titles.
Having to balance his life outside of the gym with his life between the ropes makes every challenge, especially Friday's, riskier than ever, even if Gingras doesn't have as much experience as some of the elite fighters Manfredo has gone toe-to-toe with in the past.
"This is a young man's game now. That's why I retired," Manfredo said. "I've been in this game 13 years as a pro – all my life, really – and it's tough to do both when you're working a full-time job. You need health care. You need things for your family. To compete at the level I was competing at, you can't work.
"You have to dedicate 100 percent of your time to the sport of boxing. I decided to hang it up and become a full-time dad and worker, but Gary is a friend of mine. There were times when I didn't get along with my old man and he threw me out of the gym. Gary always opened the door for me. He was always a friend.
"As boxers, we all have that side of ourselves where we are brothers. It takes a special person to be a fighter. My heart and prayers go out to Gary and his family. He's in the biggest fight of his life trying to walk again, but if anyone can do it, it's him. I want to go out there one more time and box for him."
Though he may not admit it, this fight is about more than just honoring Balletto. Manfredo has been Rhode Island's most popular, successful fighter since Vinny Paz stepped away from the ring and passed the torch more than a decade ago. Gingras, who owns a business in Pawtucket, R.I., and lives in nearby Lincoln, just a stone's throw from Twin River, has a chance to dethrone Manfredo and become the talk of the town. Not on his turf, Manfredo says, and not on this night.
"He thinks he's going to come in there and throw a million shots and wear me out and be too much for me, but it ain't gonna happen," Manfredo said.
"I've seen everything. I've been in there with the best in the world. I have more experience. No matter what he brings, it's nothing I haven't seen. I've prepared myself well. I'm in great shape and I know he's going to be in great shape, too. The best man will win."
Manfredo admits he originally wanted to face the winner of the July showdown between Gingras and fellow Providence super middleweight Vladine Biosse, but that fight ended in a draw. In the interim, Gingras agreed to step up and face Manfredo, resulting in what figures to be a fitting ending to the 2013 Twin River Fight Series.
"He's definitely going to give me a run for my money, especially now that I'm not in the prime of my career," Manfredo said of Gingras. "He's a tough kid. He looks good. He's big, strong – I've got my hands full, but when don't you have your hands full? That's why we fight. Nothing is written in stone."
Neither are Manfredo's retirements. After ending his first retirement in 2009, Manfredo promised he'd walk away again if he lost to Chavez Jr. in 2011. He kept his word for more than a year until he returned for the second time in November of 2012, citing the need to take advantage of his earning potential and provide for his family. Although money is his driving force these days, the passion and hunger always return once that bell rings.
"You turn into a monster. You get that tunnel vision," he said. "I've always said fighters are born, not made. That fighter comes out of you when the bell rings. You can't hear anything or anybody in the crowd and you're focused on what you need to do.
"I'm already in that mindset. I'm dieting. I'm losing weight. I'm kind of mean right now. You change. People at work look at me and notice the change in me. That's just part of being a fighter. The fighter is coming out of me now.
"On Friday, it's all business. I'm good friends with Rich, but I'm going to try to knock his head off just like he's going to try to knock off mine, and when it's over, we'll have a beer … but I'll have a root beer because I don't drink."
Asked if he has one more fight in him after Friday, Manfredo, who is also aiming for his 40th professional win, said, "We'll see. That's the beauty of this game. You never know. One shot can change anything. I could be in total control, and one shot could change everything. That's the beauty of this sport."