Much has changed in the life of undefeated WBO middleweight champion Peter "Kid Chocolate" Quillin (29-0, 21 KOs) since his last fight on April 27, when Quillin dropped challenger Fernando Guerrero four times en route to an impressive victory by seventh-round technical knockout.
In the past five-plus months, Quillin has turned 30, married Allison Berger, and started a few businesses — T-shirts and headphones.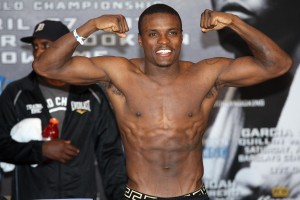 Quillin will make his second world title defense Oct. 26 against challenger Gabriel "King" Rosado (21-6, 13 KOs), airing on Showtime Championship Boxing, live from Boardwalk Hall in Atlantic City, New Jersey. WBO No. 11-rated Rosado, fighting out of nearby Philadelphia, was stopped in the seventh round of his only world title fight to World Boxing Association (WBA) middleweight title-holder Gennady Golvkin last January.
"I'm in the best shape of my life and preparing to elevate myself to another level for this fight," Quillin said. "Since my last fight I've set myself up in a lot of good ways, financially-speaking, so I'll be able to pay bills for years. I have a family now with a wife who is my inspiration. My wife has a good career. She's the producer of NBC's Today Show. She supports me 100-percent and has helped me a lot with some creative ideas.
"I learn more about myself every fight. I know what my purpose in life is and who I really am. I've got past any insecurities I may have had – not insecure feelings about fighting my opponent – about letting people down. I've learned in life that you can't make everybody happy. I've elevated myself as a fighter and person."
Rosado is coming off a fight with J'Leon Love last May, in which Rosado lost a disputed split decision that was overturned and ruled a no-contest, when Love failed a post-fight test. The 27-year-old Rosado had won seven fights in a row prior to his loss to Golovkin.
"We're both looking for definitive performances," Quillin remarked. "I'm putting in the work at training camp to continue improving, physically and mentally. Rosado is coming ready to fight. He may have six losses, including one to a guy I bet (Guerrero), but I'm expecting to fight the best Gabriel Rosado.
"If all the talking he's been doing is good for him, well, that's fine with me. I don't come up short. He knows how to lose, I don't. I know some of the guys I fought aren't the same. If the punches he's taken in the past have hurt him, it'll just make my job easier. I don't have a problem with him. This fight isn't personal; it's business. We've both signed a contract to fight. We'll shake hands before and after our fight, when I walk out of the ring the winner once again."