A failed pre-fight drug test administered by the Voluntary Anti-Doping Association (VADA), coupled with the Nevada State Athletic Commission's (NSAC) legal inability to hold a formal hearing on the matter of licensing Lamont Peterson for his Saturday, May 19 rematch against Amir Khan until Tuesday, May 15, has forced the cancellation of the event.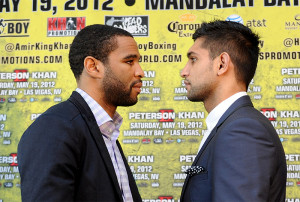 Obviously, this is a big blow to both men. For Khan, it's a wasted opportunity to get his revenge against Peterson, or at least move forward with his career against a different opponent. For Peterson, this is a major strike against his reputation and credibility, and everything else he has accomplished.
Of course, for boxing fans, this is just the latest in a string of disasters so far this year, and over the past year or two, ranging from cancellations to failed negotiations to disastrous fights, judging and scoring controversies, and more.
While we were waiting for news to come in on whether or not the Khan vs. Peterson fight would be cancelled or not, there was perhaps at least some hope that the entire event wouldn't be cancelled altogether. But ultimately there was no way to pull that off, and no time to find a suitable replacement opponent.
Ticket refunds for "Peterson vs. Khan II" will be available at your point of purchase. Ticketmaster may be reached at (800) 745-3000 or www.ticketmaster.com. Event ticket refunds for fans traveling from the United Kingdom are available at www.sportscorporation.comor by calling +44 (0)845 163 0845.
Stay tuned for any further updates on the aftermath of the Peterson vs. Khan II cancellation and what it means for both men's career both immediately and over the long haul.