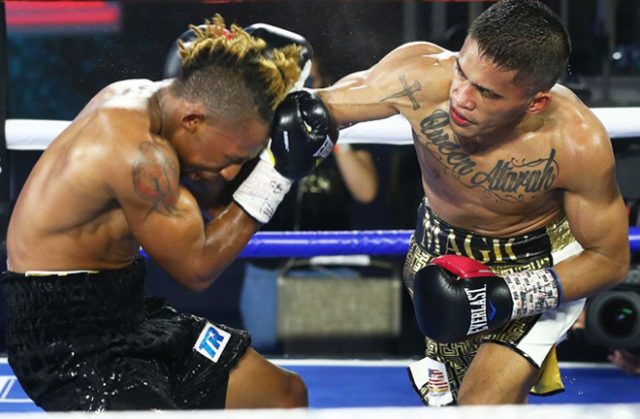 The latest instalment of US boxing saw an upset in the main event, as Mike Plania stunned Joshua "Don't Blink" Greer Jr inside 'The Bubble' of the MGM Grand in Las Vegas on Tuesday night.
The stage was set for the WBO Bantamweight number one contender, Greer Jr (22-2-1, 12 KOs), to continue his rise after seven knockout wins in his last ten outings, but Plania (24-1, 12 KOs) didn't read the script, scoring two knockdowns to take a deserved majority decision win on the third Top Rank show since it's return following an enforced lay-off.
Greer is no stranger to bringing a pillow to the ring in relation to his recent knockout power, but he had looked average at best in his last few outings.
He still started a more than warm favourite here though, although late money had come in for the man from the Philippines.
Greer began off a rapid jab, but he was in for an early, rude awakening, as "Magic", 23, immediately showed his intentions by detonating a huge lead left hand that dropped the Chicago man heavily with just over a minute gone in the opening session.
The 26-year-old quickly regained his senses to beat the count, but the damage had been done. This setback clearly affected Greer, and he spent the next few rounds with little ambition, wary of the Filipino's power.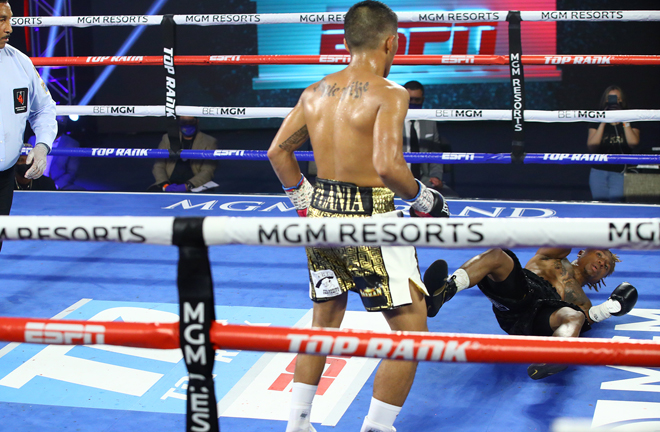 He was correct to be wary though, as he was floored again in the sixth by almost a carbon copy of the first knockdown. By this time, the visitor oozed confidence, as he controlled the action in a relaxed manner.
Again, a whipping left caught Greer straight, however this time he rose steadily and smiled as he beat the count, presumably in disbelief that he had been decked yet again.
To his credit, Greer did box much better in the later rounds, but the knockdowns had surely put the result beyond doubt, as both men made it to the final bell.
Two huge knockdowns set the tone, and Mike Plania pulls off the upset behind a vicious lead left hand 😮

Plania moves up the Bantamweight ladder via Majority Decision over Joshua Greer Jr. #GreerPlania pic.twitter.com/G7nR0Z7o8T

— Top Rank Boxing (@trboxing) June 17, 2020
Inexplicably, Dave Moretti scored the fight a 94-94 draw, but thankfully, Tim Cheatham saw the contest at 96-92, and Patricia Jarman had it 97-91 to ensure that Plania was declared the rightful victor on a majority decision.
"This win is going to change my life," Plania said post-fight.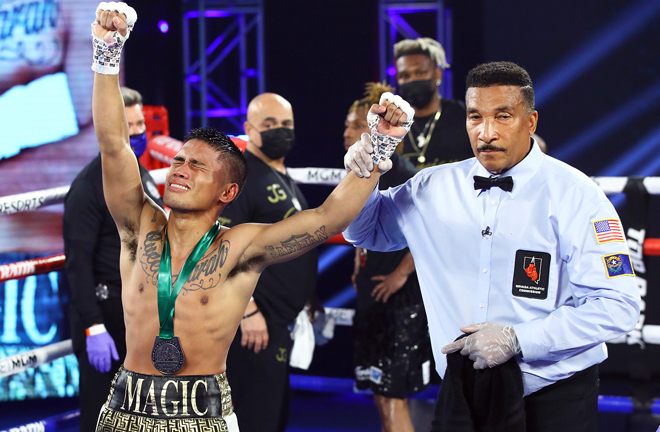 "I thought I could knock him out after the knockdown in the first round, but he was tough and adjusted his strategy.
"I took this fight on only three weeks' notice, but I had faith in God that I could win."
No excuses I'll be back Tough times don't last Tough people do 🖤 pic.twitter.com/0VpU9oaPFl

— Joshua Greer Jr (@JoshuaGreerJr) June 17, 2020
The show opener saw new take on old, but Giovanni Santillan (26-0, 15 KOs) was fortunate to remain unbeaten in a razor thin majority points win over former WBC Lightweight champion, Antonio DeMarco (33-9-1, 24 KOs) In a ten rounder at Welterweight.
It was a slow, cagey opening round, as both tried to find their range. Santillan found a power right hand in the final minute to shade the session as DeMarco worked in mainly 1-2 shots.
The 28-year-old was dealing behind a decent jab, bringing his left hand over where possible, but his Mexican opponent enjoyed better success with a good selection of shots to head and body.
The contest was expected to be a fire fight and the action finally warmed up in the third as the pair exchanged blows.
The fourth saw the intensity increase further, as Santillan started to unload with more power shots, but DeMarco looked comfortable and was walking his much younger opponent down at times and made a case for winning the round with his work in the last half a minute of the session.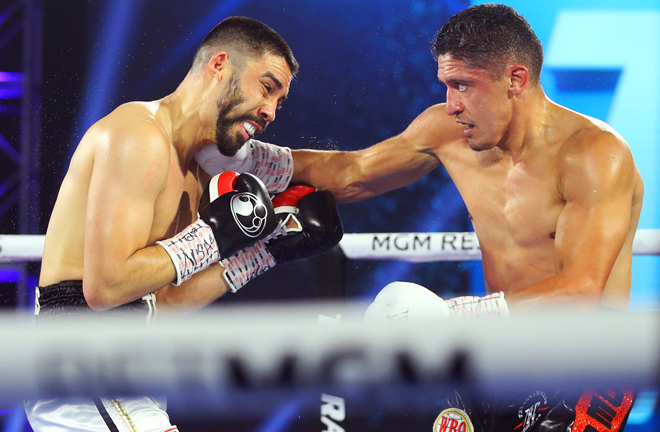 The 34-year-old constantly landed to his opponent's body, and had little respect for his foe, continuing his eye catching work, including a pair of powerful uppercuts that landed in the sixth, causing damage to the San Diego native's nose.
DeMarco enjoyed the lions share of the middle rounds, but it was mainly tit-for-tat action.
Going into the final two rounds, the fight was up for grabs, and Santillan sensed this letting his hands go, in a bid to get the nod as the fight went the distance.
The efforts of Santillan in the final rounds seemingly got him off the hook here, as Dave Moretti's tally of 95-95 was overruled by Tim Cheatham and Steve Weisfeld, who both scored 96-94 for Santillan, who extended his unbeaten run to 26-0.
Every fight on the card went the distance. Kazakh hope Bobirzhan Mominov (11-0, 8 KOs) continued his education with a unanimous points win over six against Cameron Krael (17-16-3, 4 KOs), while up at Heavyweight, Hector Perez (7-2, 3 KOs) took the win against Juan Torres (5-3-1, 2 KOs) via the same method. Georgia's Nikoloz Sekhniashvili (6-0, 4 KOs).
Comments
comments