Bryan Vera Wants Rematch Against Chavez Jr:
This past Saturday, Bryan Vera put on an amazing performance that should have propelled him to a victory over former WBC Middleweight champion Julio Cesar Chavez, Jr. Vera won the fight overwhelmingly on all social media sites and from all press accounts, and ProBoxing-Fans.com friend and partner the Fight Score Collector did a poll showing that of 59 press and media members polled, not a single one, ZERO, had Chavez Jr. winning on his scorecard.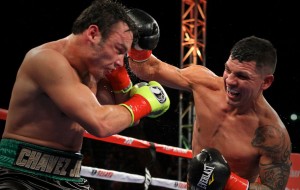 The entire world, with the exception of the three judges at ringside, saw that Vera controlled the action and out-landed Chavez in the bout. Vera also threw 406 more punches and was more consistent throughout the fight.
"I won the fight like everybody else saw," said Vera.
"If I get another opportunity, especially in Texas, it will be more of a level playing field. I felt like I proved that I am one of the best Middleweights and Super Middleweights in the world and nobody expected that."
"We are extremely proud of Bryan. He is a true professional and he went out there, did his job and clearly won the fight," said Banner Promotions President Arthur Pelullo.
"I have been getting calls from all over from people who saw Bryan go out there and win. With this performance, Bryan clearly won the fight in the court of public opinion and it opened up more doors for him. HBO I know wants him back and the first order of business is to pursue the rematch. Bryan gave into all of Chavez' demands regarding the weight so now it's only fair to concede something to Bryan. Chavez should man up and give him a rematch."
Said Vera's manager David Watson, "This is what Teddy Atlas talks about with the terrible judging. Bryan did everything that was asked of him. He trained hard and did everything the right way and went out there and did his job, what kind of message does this send? We know he won. The world knows he won. We know that he can't win unless he knocks Chavez out because of the unfair judging. He carried and controlled the fight and the only people who thought Chavez won were the three judges."
"Ever since we walked out of the ring, people have not been happy about this and I know the public wants to see a rematch."