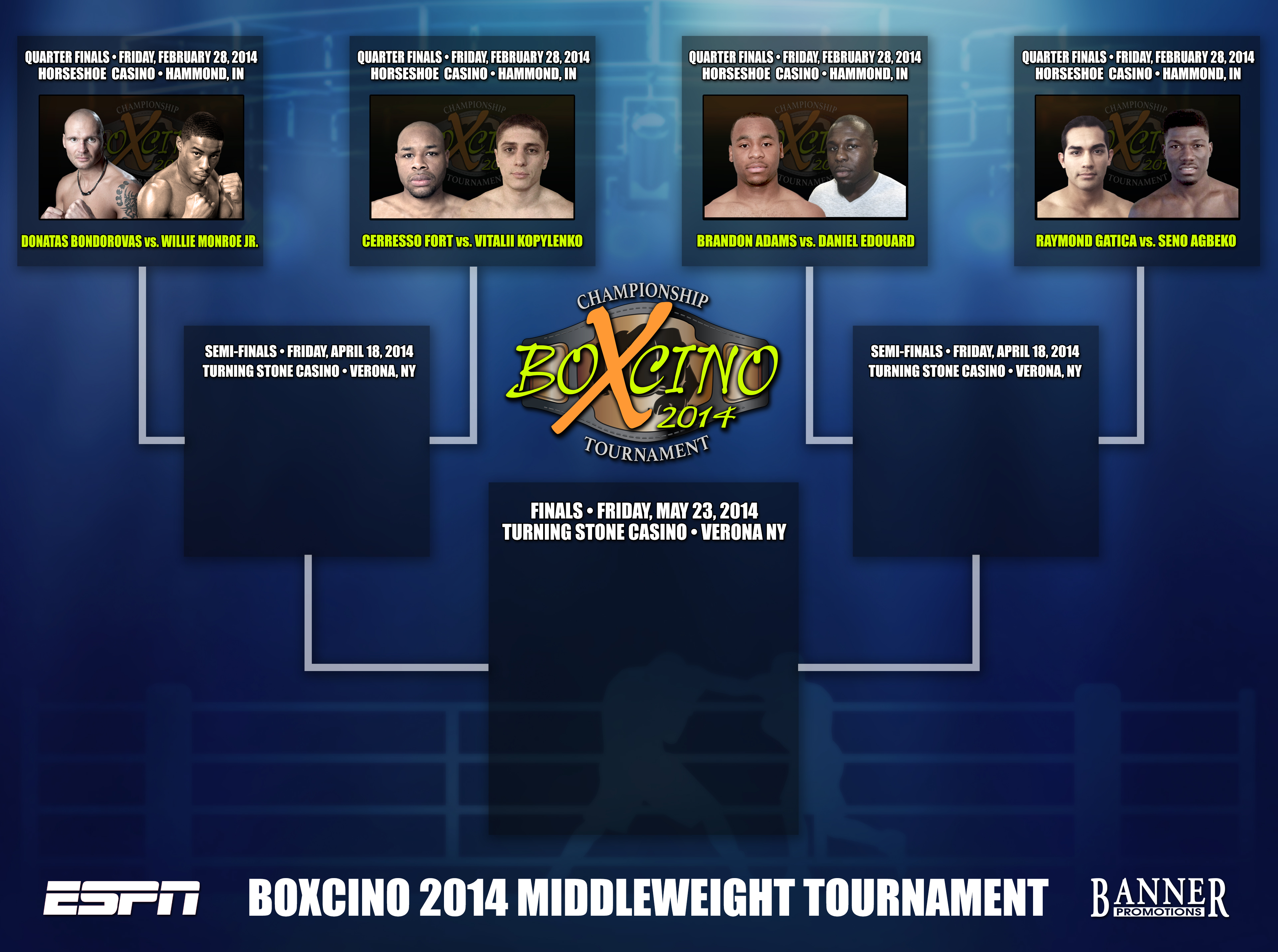 The February 28 edition of ESPN Friday Night Fights will feature the quarterfinals of the Middleweight portion of Boxcino 2014.
The tournament, which started last week, is a single-elimination, two-weight class competition featuring eight fighters in the Lightweight and Middleweight divisions. Tournament details, TV schedule and brackets can be found on ESPN MediaZone. ESPN senior director of programming and acquisitions Brian Kweder, who oversees content strategy and acquisition for ESPN's soccer, boxing and bowling properties, discusses the tournament in a Q&A on ESPN Front Row.
The first round of the Middleweight tournament will feature:
Donatas Bondas (18-4-1, 6 KOs) vs. Willie Monroe Jr. (15-1, 6 KOs)
Cerresso Fort (17-2-1, 11 KOs) vs. Vitalii Kopylenko (21-0, 11 KOs)
Daniel Edouard (23-4-2, 14 KOs) vs. Brandon Adams (12-0, 8 KOs)
Raymond Gatica (13-2, 8 KOs) vs. Sena Agbeko (15-0,15 KOs)
Fighter backgrounds:
New York's Monroe Jr., who has won his last five fights, is coming off a six-round unanimous decision win over Miguel Alvarez, while Chicago's Bondas is looking to score another victory after a six-round unanimous decision win over Skylar Thompson.
Ukraine's Kopylenko, a stablemate of Junior Welterweight titlist Ruslan Provodnikov, scored a fifth-round technical decision win over Marko Benzon in his last fight, while Minnesota's Fort is looking to rebound from a fourth-round TKO loss to Caleb Truax.
Los Angeles' Adams is coming off a second-round TKO win over Francisco Rios, while Florida's Edouard is looking to get back to his winning ways following a 10-round unanimous decision loss to Peter Manfredo Jr.
In his last outing, Tennessee's Agbeko scored a first-round knockout win over Daniel Sowah, while Texas' Gatica is looking to rebound from a 10-round unanimous decision loss to Fernando Guerrero.