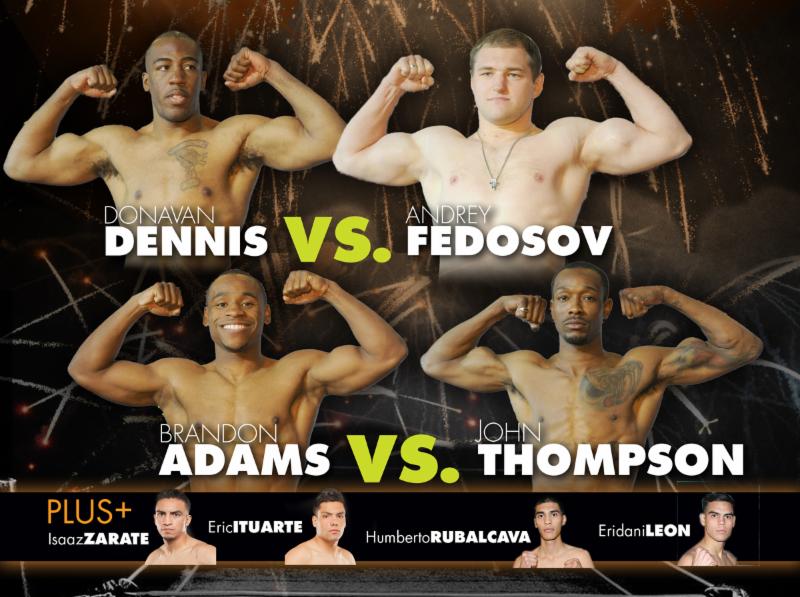 Junior middleweight Brandon Adams (16-1, 12 KOs) is returning to a familiar situation. After coming up short in last year's Boxcino finals and suffering the only loss of his career, the Los Angeles-native dropped down one weight class and fought his way back to the 10-round championship fight.
Adams faces the smooth boxing skills of John Thompson (16-1, 5 KOs) of Newark, New Jersey on Friday, May 22, from the Omega Products Outdoor Arena in Corona, Calif. in the Boxcino 2015 junior middleweight championship.
The Boxcino Finals is televised on ESPN's "Friday Night Fights" (ESPN2 9 p.m. ET/6 p.m. PT) and is co-promoted through Thompson Boxing Promotions and Banner Promotions.
"Everything is good, training is going well," Brandon Adams said. "I'm still in shape from my last fight and I'm coming to get what is mine. I'm going to put on a performance that will make everyone proud."
"My training camp has been great," John Thompson said. "I've been working hard, staying hungry. I have one day on my mind and that is May 22nd."
In the co-feature, heavyweight talents Donovan Dennis (14-2, 11 KOs) of Cleveland, Ohio and Andrey Fedosov (27-3, 22 KOs) of Russia will meet in a 10-round fight to determine the Boxcino 2015 heavyweight champion.
Dennis and Fedosov have electrified the crowds leading up to the tournament finals. They both showed off their freight train like power by knocking out their respective opponents in the Boxcino quarter and semifinals.
"I've been in Los Angeles for training camp, getting good sparring," Donovan Dennis said. "I know Andrey will be ready, and so will I."
"I'm glad that I've made it into the finals of this great tournament on ESPN," Andrey Fedosov said. "I'm training very hard in Los Angeles and I'm confident that I will win the fight."
"I'm looking forward to the Boxcino finals," said Artie Pelullo, president of Banner Promotions. "The finals will be terrific with two exciting and compelling fights."
"We couldn't be anymore excited to be a part of this wonderful tournament that has a long history of producing boxing stars," said Ken Thompson, president of Thompson Boxing. "All four boxers understand what's on the line, and I'm positive they'll come out hungry and put on a tremendous boxing showcase."
In addition to the Boxcino junior middleweight and heavyweight crowns that are up for grabs, the four finalists will battle for the NABO and NABA titles in their respective divisions.