Keeler: I'll make it back-to-back Irish Prizefighter champs; Tournament favorite out to emulate gym-mate Jono Carroll
Luke Keeler wants to follow in the footsteps of fellow Irishman Jono Carroll and fast-track his blossoming career by landing the Prizefighter Middleweights III title on Saturday at the Winter Gardens.
Keeler's last outing was in Dublin in November where he explosively stopped the experienced Gary Boulden inside one round, to make it five wins out of seven inside the distance. The night was brought to a close by Carroll who earned a spot in December's Prizefighter Lightweights with a disqualification win over Declan Geraghty – and Carroll went on to win the tournament and land a promotional deal with Matchroom Boxing in the process.
"This is a huge platform and it can get me out there," said Keeler, who faces Luke Crowcroft in the third quarter-final. "You have seen that with my gym mate Jono Carroll and the success he has had and I am hoping for the same.
"I will take each fight as it comes and if I land and a stoppage comes, it comes. I have natural power and have knocked out some decent guys in the amateurs and the same in sparring I have been dropping guys with body shots, head shots. I won't be loading up looking for shots but at the same time I will get in and box and I know if I land clean I can do some damage.
"I have looked up bits of the other guys on YouTube. There are some good undefeated guys and it is a good test for me at this stage. I am the lowest ranked of all the guys but at the same time nothing I have seen phases me and I am confident of doing the business.
"I will box, be busy and make angles, be sharp, and hopefully it goes well.
"If I looked at them and saw them knocking guys out like I have, and hearing things then maybe it does bring in a bit of apprehension. The other guys in the competition won't have as high a knockout percentage but I wouldn't say they look too much into it. At the same time you can say that, I am also the lowest ranked and have had the least ranked so they might also be looking past me."
Unbeaten Blackpool man lands in top-half of Saturday's draw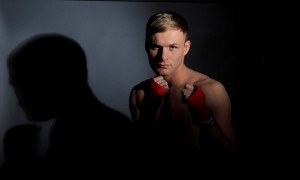 Local favorite Jack Arnfield is urging his hometown fans to roar him on to victory in the Prizefighter Middleweights III on Saturday night at the Winter Gardens in Blackpool, live on Sky Sports.
Unbeaten Arnfield stepped up a level in his last outing in November 2013 against Max Maxwell in this venue, shutting out the experienced Birmingham man to win the vacant British Masters crown. Unfortunately for the 25 year old, a road accident shortly after that win stalled his progress, but he's ready to make up for lost time on Saturday – with a bit of help from the crowd.
"The crowd can be a massive help," said Arnfield. "It is no secret that the Blackpool fans really get behind their boxing. Brian Rose is top of the bill and has sold a number of tickets and I have sold a lot of tickets, so it will be an electric night for us in there.
"After I boxed Max Maxwell I was back in the gym straight away but unfortunately when I was coming off the motorway a truck went into the back of me and I got a shoulder injury. I had surgery a couple of months ago, only minor surgery, but it helped me out.
"I have been in the gym through it all. I have been inactive and people think I might be a bit rusty but I have been in the gym and am never out of the gym. I have my own gym so even when I am not training with Bobby I am in the gym and keeping myself in shape.
"I am easily at the level to fight for a British title. I spar with people who are British title level and beyond and I hold my own, if not get the better of a lot of the spars. I am just waiting for that opportunity, that chance to be given, and I will go for it. Hopefully Prizefighter is the platform for that.
"I don't think there is anyone in the competition to trouble me. There are a few tough fights but I am confident I can win those and hopefully I will pick up an opportunity after Prizefighter to fight for a British title.
"It is a bit of a risk but I don't want to be stagnant. I don't see it as a risk because I intend on winning, so the risk is minimal for me. Some people might see it as a risk but I don't think it is a risk at all.
"It will mean a lot for me to lift the trophy. It is a good thing, a great platform. Terry Flanagan and Martin Murray are just a couple of names to have won it. It will be great to win Prizefighter and be up there with some of the top fighters.
"I am 17-0 and there is nobody in the competition with a record like mine. I train my hardest and am always the fittest I can be. I have good, regular sparring and there is nothing I haven't done in camp that shouldn't put me to the top of the list for this Prizefighter."