Rey Vargas had to dig deep and come off the canvas to successfully defend his WBC super-bantamweight title for the fourth time with a unanimous decision over Franklin Manzanilla at the Fantasy Springs Casino in Indio, California on Saturday. All three judges scored the bout for Vargas by a wide margin of 117-108.
Vargas (33-0, 22 KOs) was floored by a left hook from Manzanilla (18-5, 17 KOs) that deposited him on his backside on the canvas in the second round. Vargas was clearly badly hurt, and you got the sense that another upset could be in the making.  However, Vargas gamely rose to his feet and clinched the remainder of the round to help clear the cobwebs.
Vargas kept his wits about him and used his long reach, fast hands and combination punching to repeatedly outwork Manzanilla throughout the fight. The result was a landslide victory for Vargas as Manzanilla simply did not do enough to get the win. Manzanilla was not going to be able to outbox a fine fighter like Vargas so going for the knockout as he did in round two was his best shot at victory.
Vargas' reported pre-fight concerns about Manzanilla's roughhouse tactics were only partially true as he sustained three cuts from head clashes. However, Vargas clinched incessantly to neutralize Manzanilla's offense and it worked. It also produced the cuts as a frustrated Manzanilla attempted to fight out of the clinch which is a common, not to mention a legal tactic.
Referee Raul Caiz Sr. probably should have penalized Vargas for holding by taking points away but instead deducted Manzanilla for hitting on the break during an exchange.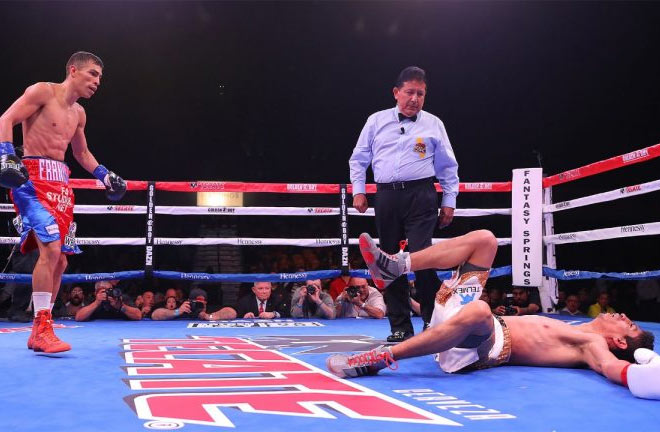 Vargas used part of his post-fight interview to complain about Manzanilla but conveniently omitted his own role in the drama that unfolded.
"I like to fight clean, not dirty like he did. It was complicated and he's tough. But I adjusted to his style, and that's how I won. I wished he would have fought cleaner, but I did what I could."
Excessive clinching and pushing off your opponent are debatably legal l but it's hardly considered fair fighting, yet Vargas committed these acts against Manzanilla all night. His statement above is laughable and hypocritical in lieu of his own antics to gain an upper hand.
Vargas is a remarkable fighter, but he needs to stop holding so much as he did in this bout. A more effective inside fighter and devastating puncher like WBO champion Emanuel Navarrete (26-1, 22 KOs) would have made him pay. A more likely next destination for Vargas will probably be against WBA super bantamweight champion Daniel Roman (26-2-1, 10 KOs), where he would enjoy another significant height and reach advantage.
Venezuela's Manzanilla earned the title shot by stopping Julio Ceja in four rounds in May 2018 in what was supposed to be a tune-up turned upset. Manzanilla was fighting for the first time in the United States and was largely unknown prior to his last two fights.
Final CompuBox stats had Vargas landing 207 of 719 total punches (28.8%) while Manzanilla landed 93 of 581 total punches.