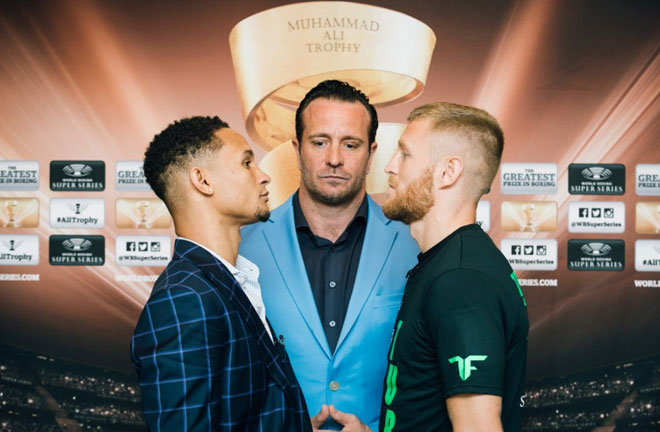 Regis Prograis & Terry Flanagan and Ivan Baranchyk & Anthony Yigit were oozing confidence when they went head-to-head at the final press conference in New Orleans ahead of Saturday's Ali Trophy Super-Lightweight Quarter-Finals at the UNO Lakefront Arena.
Tickets for the bouts at Lakefront Arena are on sale through TicketMaster.comand at the arena box office.
"This is huge, my goal is to bring big-time boxing back to New Orleans," said Prograis at Thursday's press conference in The Big Easy. "Fighting for the Muhammad Ali Trophy is a really big deal. Most people don't realise how big of a deal this is. I am just excited."
Prograis – a native New Orleanian – fought in front of his fans at the Lakefront Arena for the first time in July when be beat Argentinian Juan Jose Velasco to secure a place in the Super-Lightweight edition of the World Boxing Super Series.
"The first time I did have a little pressure on me," said Prograis. "I did get a little nervous. I'd never been to a big fight before in New Orleans and it was me standing in the ring. I wish I could have been in the stance watching my own fight. Now that is gone, I am back to being me, having fun and fight.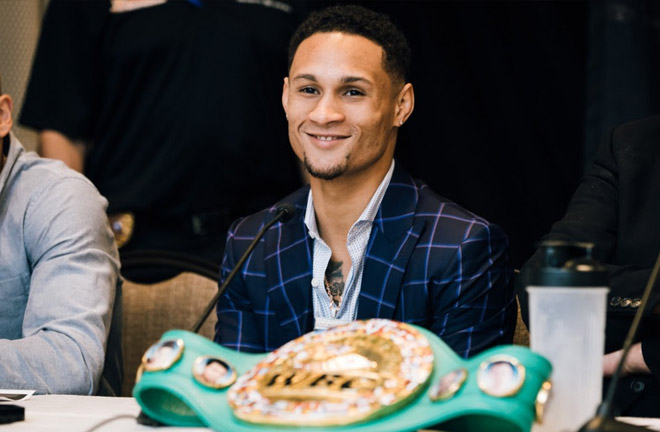 "I know Flanagan is tough. He is a former champion. But I will go out there and be me and have fun. I can do so many different things. First people said I am not a puncher and I don't have power. Now people are switching because I have been knocking everybody out. Really, whatever I feel like doing, I will go out and have fun in front of my crowd in my hometown."
Prograis' promoter, Lou DiBella, called 'Rougarou' one of the best pound-for-pound boxers in the world and fighting for the Muhammad Ali Trophy 'a great innovation in boxing'.
"I am lucky to be able to say that Muhammad was a friend and my hero," said DiBella. "I wouldn't be in boxing if it wasn't for Muhammad Ali. I was six years old the first time I ever saw or listened to a prize fighter. I was listening to round by round updates on the transistor radio under my pillow after my parents had sent me to bed.
"I also know how much Ali means to Regis. He is a hero of Regis. I think Regis has read just about any book on Ali. I think it is wonderful that this tournament is for the Ali Trophy. The World Boxing Super Series is really one of the best things that have happened to boxing in a while; the best fighting the best in an organised fashion."
England's Terry Flanagan believes he has what it takes to beat the man to beat in the 140 lb division.
"It will be a great fight, the fight of the night," said Flanagan. "I know it is going to be a tough fight, I am not stupid. But I have had the right preparation, I am mentally and physically prepared and I feel fit and ready. I think I am going to do it Saturday night."
Belarus' Ivan Baranchyk is fighting for the vacant 140 lb IBF World title against Sweden's Anthony Yigit and he predicts a rough night for his foe on Saturday.
"This is the biggest fight for me; a quarter-final in the World Boxing Super Series and a fight for the world title," said Baranchyk.  "This is my moment, this is my time, I will become world champion this Saturday. I will beat Yigit in every round but I don't know when the referee will stop the fight."
Sweden's Anthony Yigit talked with equal confidence on edging the fight in his favor and he was in formidable verbal form at the top table.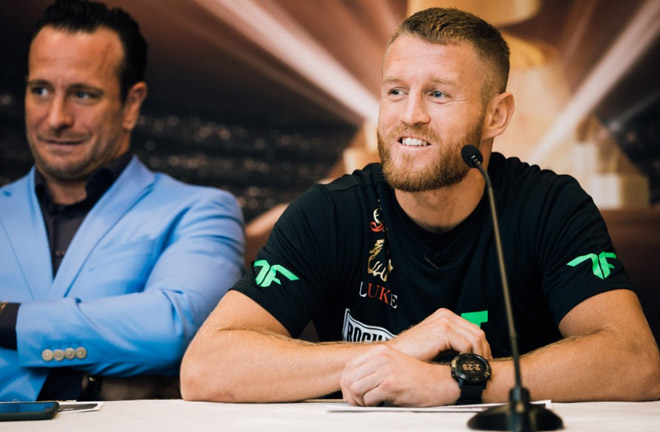 "I feel great," said Yigit. "I have been here for two weeks now training together with the guys at the New Orleans Boxing Club and they have been very friendly to me. I feel at home here in New Orleans so that's good.
"For this fight, I feel really confident that is going my way. Obviously some people think that Ivan 'The Beast' Baranchyk is coming to get his prey but let me just tell you guys something: I didn't fly over across the sea to be prey. I am here on a safari and I am going to the hunt the beast!
"I can do everything. I can punch, I can move, I am explosive, I am fast on my feet, I can also stand and trade punches. I got that warrior's heart. People get shocked when they face me. They don't know how to respond. Whatever they do, I got an answer for it. I always put my opponents out in deep water and that is what is going to happen on Saturday as well."
"It is great to be in New Orleans with the World Boxing Super Series," said Sauerland, Comosa's Chief Boxing Officer. "When you look at the history of boxing in the U.S. this is the home of boxing. It is amazing to bring in the lights into town. We have a doubleheader of the super-lightweight division this weekend; four amazing gladiators are here trained in supreme condition to give us viewing pleasure."
On the line in the Ali Trophy Quarter-Finals in New Orleans:
Regis Prograis (United States) vs. Terry Flanagan (England) for the WBC Super-Lightweight Diamond Title & Ivan Baranchyk (Belarus) vs Anthony Yigit (Sweden) in an IBF Super-Lightweight World Championship bout.
Fans in the U.S. can watch LIVE on DAZN, the global sports streaming platform. To sign up for a one-month free trial, fans can visit DAZN.com or download the DAZN app to their preferred connected device.
Tickets for the bouts at Lakefront Arena are on sale through TicketMaster.comand at the arena box office.
Source: World Boxing Super Series [Press Release]