Cleotis "Mookie" Pendarvis is thankful.  Thankful for the talent he has been given.  Thankful for the team he has assembled around him.  Thankful for all the big name sparring partners that taught him so much on the way up.  Even thankful to his opponent on May 25 for taking the fight.  Pendarvis is not the kind of fighter with a padded record, who wishes his team would throw him in deep.  Pendarvis has faced tough opposition early in his career, and swam more often as he sank.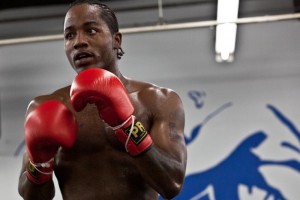 He has already suffered from questionable scoring and officiating, and has always seemed to come back stronger.  Now settled in at 140, after campaigning at welterweight for much of his career, Pendarvis is focused on the future.  We had the chance to speak to him a few days for a wuick "Q and A" before he squares off against Rob Frankel for the USNBC and USBA Junior Welterweight titles at the Warner Center Marriott in Woodland Hills, California on May 25th.
Interview By Chris Straight
Q: How'd you get the nickname "Mookie?"
A: It's a family nickname, that my Auntie gave me.  It's followed me from family to boxing to everywhere… but my boxing nickname is "Prince".
Q: When did you get into boxing, and why?
A: I was ten years old.  I was fighting all the time.  Growing up in South Central Los Angeles, you fight every day… at Washington Park, etc I was always fighting.  I kept coming into the gym, and people knew me in there.  The trainers would tell me to leave, and I said I won't leave unless you put me in the ring with him.  "Him" was this kid named Miguel, who was one of the best amateurs in the state at the time.  After I sparred with "him," the trainers said, "man, you can fight!"
Q: What was your amateur record?
A: 58-6.  I stopped at age 14, and came back at age 17, to compete in the men's division.
Q: Where do you currently train?
A: Mostly at The Rock in Torrance, CA.  My trainers are Chuck Washington and Jamal Abdullah.
Q: Who did you idolize in boxing growing up?
A: I have a strong faith in God, so I don't idolize any man, but as far as style… Pernell Whittaker.  He was the man.  Hit and not get hit.  That's what this game is all about, but a lot of guys get that twisted.
Q: You were thrown in pretty quick with other prospects and experienced fighters.  Was that by design?
A: Yeah, I knew I could beat them.
Q: You're 3 losses are a 36 second KO, and 2 close decisions.  What happened there?
A: Well when I fought Noel Rodriquez, the fight was during the day, outside.  The sun was in my eyes, and he caught me with a good shot.  I heard the refs count, but as I tried to get up, he pushed me back down and stopped the fight!  That was one of the worst days ever.  When I fought Terrance Cauthen and Mauricio Herrera, they got gifts.  I hurt Cauthen a few times in that fight.
Q: Are you looking for revenge?
A: I'm not worried about Cauthen since he can't make 140, but I think Mauricio has been getting a lot of gifts.  I thought Mike Dallas beat him, but I'm gonna get Mauricio eventually.  Everyone was coming up to me after that one, and saying I got robbed.
Q: You scored a big 1st round KO win over former contender Steve Quinonez.  Describe that one.
A: Well, Steve kept lunging in with the right hand… and I just kept using the jab, and knowing he would eventually fall in with it too far… and when he did, I turned the hook on him.
Q: You've sparred with a lot of big names, correct?
A:  Oh yes, Oscar, Shane, Corrales, Hatton… anyone who was getting ready for a southpaw would call me, but that's in the past.
Q: Meaning your concentrating on your own career?
A:  Yes, this time out, I called in sparring for me, and paid them.  The names all know me, but after I get this win and the rankings, they'll have to fight me.
Q: Where can people who cannot see you live see your fights.
A: They can put my name in on youtube.  Even though I've gotten a lot better and those that come to Woodland Hills on May 25 will see the best I have to offer, I like that the past fights are up there.
Q: Maybe somebody will get a false sense of security?
A: (laughs) Yeah, thinking "oh, he does this, or he makes that mistake."
Q: Anything you want to tell the fans out there?
A: Even if you can't see this fight, you're gonna hear about what I can do.  I want to thank God, and my team: Steve Bash, and my managers and promoters: Warren Wilkerson and Herb Hudson.  i also want to thank Frankel for taking the fight.  He showed what kind of a man he is, and may the best man win.