Hot Prospect Acevedo Back in Action at Texas Station on Friday
Puerto Rican super middleweight prospect Roberto Jose Acevedo (3-0, 2 KOs) says his upcoming opponent, Martinez Sharod Porter (1-1) of Milwaukee, Wisconsin, had better be prepared for battle this Friday… because he is.
Acevedo and Porter will meet in a four-round non-televised preliminary bout on the undercard of the ShoBox: The New Generation telecast presented by Warriors Boxing, entitled "Shootout at Texas Station", scheduled for Friday, May 11 (11 p.m. ET/PT, delayed on the West Coast), from the Texas Station Gambling Hall & Hotel in Las Vegas.
The night will be headlined by Cleveland's once-beaten Willie "The Great" Nelson (17-1-1, 11 KOs) stepping in to face Cuba's Yudel Jhonson (12-0, 8 KOs) in the 10-round junior middleweight main event, plus an eight-round co-featured battle of undefeated super middleweights Badou Jack "The Ripper" (10-0, 8 KOs) of Sweden and Colombia's power-punching Alexander Brand (17-0, 15 KOs).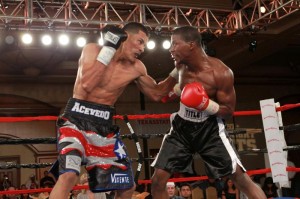 25-year-old Acevedo stands 6′ 2″ and has an almost 80-inch reach. He was born in Miami, but grew up in Bayamon, Puerto Rico. As an amateur, Acevedo was 50-1, 20 KOs, qualified for the Puerto Rico National Olympic team and was a three-time Puerto Rican Regional and two-time Puerto Rican National champion.
What are your impressions of professional boxing now that you've had a few fights? Is it a difficult transition from amateur to pro?
More dedication and sacrifice are required in the pros, but for me pro fighting hasn't been all that different from amateur fighting because I've always had a professional style, even in the amateurs.
What do you know about your opponent Martinez Porter?
Other than his name and record, nothing. All I know is that come May 11, he needs to be prepared, because I know I am.
You're young and fairly big for a super middleweight, will we ever see you take a jump up in weight?
I'm not really considering going up in weight for now. I've always been comfortable doing 165 lbs or less. My height is something I like to use to my advantage.
Describe yourself as a fighter. Style? Best Punch? Biggest Strength as a fighter?
I would say I'm a complex fighter. I never count on using only one style, one technique or one punch. I try to keep myself from being predictable. Me and my team take care of that by studying and taking on new techniques and fixing my flaws. Best punch? I'd say watch out for my uppercuts. My biggest strength? My desire and dedication.
How did you start in boxing?
Truth is the fight has always been in me. When I was a teenager, I went to juvenile detention for fighting. So as soon as I got out, I thought that the best ways to straighten my ways and do what I loved without getting in trouble was boxing (laughs). Even though my father was against it, my uncle went and bought me all the gear. So, here I am. Since then, throughout the years my reasons for boxing have changed, but the passion that I feel for it only grows.
You were born in Miami and moved to Puerto Rico. Why?
Even though I was born in Miami both of my parents are Puerto Rican. Eventually my father and mother divorced and my father decided to move back to Puerto Rico along with me and my brothers. It's in my blood!! I'll always say I'm a Boricua even if I had I been born on the moon!
Why did you turn professional when you did?
Even though I had a great amateur career, I had to fight people way bigger in weight classes to get fights. After making the Puerto Rico Olympic team for the Mayagüez 2010 – XXI Juegos Centroamericanos y del Caribe, my fiancée was pregnant and we needed the money and I was made a great offer to jump to the pro boxing. It never happened due to poor management and it wasn't till I spoke with my older brother and actual manager, Jose Alberto Acevedo. They helped me go pro and make my dream come true.
Tell me about your home life in Bayamon.
I live a normal life. I'm a boxer and a barber, but above all, a father and a husband, a brother and a son. My life is very family oriented. Everything I do, I do for my family. I have been living in the same town since I first moved to Puerto Rico, and everyone follows my career. I have great support from my people in Bayamon.
What is your dream in boxing?
My biggest dream in boxing would have to be to achieve a place among the best. I'd like to win titles and defend them. I'll prove I'm worth them.