Nick DeLomba has always done things differently than everyone else. When he made his professional boxing debut in May, he came out of the gate fighting a six-round bout.
"Without having won a national championship or title, I felt I had to do something different," DeLomba said. "So that is what I did. Now I don't want to take any steps back. I want to keep moving forward."
DeLomba (1-0) will again add his own unique twist to the event on Friday, Sept. 13, 2013 at Twin River Casino when he fights in honor of his former mentor and close friend Gary Balletto, who sustained injuries in an accident at his home in July that left him in critical condition.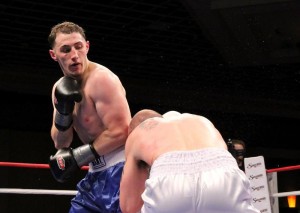 As he continues his road to recovery, Balletto has become an inspiration to those within his inner circle, including the 23-year-old DeLomba, who formed a special bond with the former Cranston, R.I., lightweight champion the moment he stepped foot in his gym eight years ago.
"I trained with him, sparred with him, helped him train — our typical Friday night was me, him and his trainer in the gym. We'd be the only ones there," DeLomba said.
"I even helped him move into his house. We're close, like family. Gary is the kind of person who always gives back to other people, so I want to give something back to him."
After a back-and-forth battle with Jimmy Smith in his debut — a fighter he faced twice as an amateur — DeLomba will face another tough test next Friday against Lancaster, Pa., welterweight Evincii Dixon (2-1, 1 KO) in a six-round bout on the undercard of Jimmy Burchfield's Classic Entertainment & Sports' "Champion Breed" show at the Twin River Event Center.
"This will be a step up," DeLomba said, "but, he hasn't fought a six-rounder yet."
DeLomba already has, which he hopes gives him the edge next Friday night against Dixon, a 22-year-old prospect under the guidance of Terry Nye, known throughout boxing for his work with former two-time welterweight world champion Kermit Cintron.
"When I went back and watched the film from my debut, I heard [commentator] Peter [Manfredo Jr.] mention how he was nervous in his first fight. I had no nerves or jitters," DeLomba said. "It was just like another day in the gym for me.
"I did what I do best. The six-rounders give me more time to break my opponent down. That's why I like them. That's what kind of person I am. I'm a hard-worker. I'm better conditioned than most fighters."
As mentally tough as DeLomba is, nothing could prepare him for the initial shock he felt when he first heard the news about Balletto's accident, a tragic turn of events that turned the boxing world, both locally and nationally, on its ear.
"I almost didn't believe it at first," DeLomba said. "I was thinking maybe he just fell, and maybe it wasn't that big of a deal. It was very hard for me. I couldn't even be in the gym without thinking about it or having it affect me."
In between work and training, DeLomba visits Balletto often to help lift his spirits.
"He has his good days and bad days," he said.
Watching his mentor, a former contestant on The Contender reality television series who won 31 fights (26 by knockout), continue to battle every day in the aftermath of his accident, has inspired DeLomba to do the same.
"It's definitely a morale-booster," DeLomba said. "I'm putting in all this extra work for him.
"Even if I didn't know him like I do, to see someone go through something so dramatic and still have the will to keep fighting, it shows what we can do if we put our mind to something."