Skoglund signs four-year contract extension with Team Sauerland
Undefeated Swedish light heavyweight Erik Skoglund (24-0, 11 KOs) has signed a four-year contract extension with Team Sauerland.
Skoglund has committed his future to the powerhouse promoter following a stellar end to 2015, which saw the 24 year-old return from injury to defend his IBF Intercontinental title against Oleksandr Cherviak in a historic homecoming fight and score a unanimous points victory over Derek Edwards.
''I'm delighted to have extended my contract with Team Sauerland,'' said Skoglund, who is currently ranked No. 3 with the IBF and No. 2 with the EBU. ''I've been with the Sauerlands since I started my professional career six years ago and I look forward to continuing our successful partnership. The new deal is for the next four years, but I hope to stay with them for the rest of my career.''
''Erik is one of the stand out stars of European boxing,'' said promoter Nisse Sauerland. ''We've had the pleasure of working with him for the past six years, during which time we have seen him develop from an eighteen year-old amateur into a bona fide World title contender. We are pleased he has chosen to sign with us for another four years, and look forward to helping him achieve his ultimate ambition of becoming World Champion.''
With a new deal in place, Skoglund is now eager to continue his upward trajectory in 2016 as he chases both European and World honours.
''I had a really tough start to 2015,'' reflects the fighter from Nyköping. ''I was out of the ring for over six months with a back injury and it was unclear when I would be able to return, so to come back and be a part of the first championship fight in Sweden for over forty years was amazing.
''I think my performances against Cherviak and Edwards were among my best, and I'm excited to get back in action in the New Year. I know 2016 is going to be a big year for me. I'm highly ranked with both World and European governing bodies, and I'll be ready for whatever challenges come my way.''
Roberto Arriaza signs with Thompson Boxing & Gary Shaw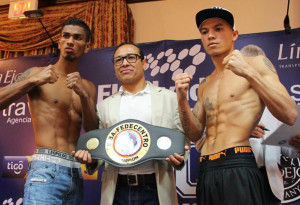 Thompson Boxing Promotions and Gary Shaw Productions have signed undefeated welterweight Roberto Arriaza (10-0, 9 KOs) to an exclusive promotional contract, the two U.S. based promoters announced today.
Arriaza, a Nicaraguan national, fights tonight against Aristides Quintero (20-5-1, 17 KOs) of Panama for the vacant WBA Fedecentro welterweight title. The 9-round championship bout will be contested in San Salvador.
The 25-year-old Arriaza had this to say about the signing: "I feel very blessed to sign with Thompson Boxing and Gary Shaw Productions. They have a great history of developing talent and producing world champions. I'm hungry to be the best in the welterweight division. Nothing comes easy in this sport. I know I have a lot of hard work ahead of me."
"We like his size, skill, and power," said Alex Camponovo, matchmaker and general manager at Thompson Boxing Promotions. "He has strong technical ability and excellent instincts."
"Roberto is an exciting, young prospect," said Gary Shaw, president of Gary Shaw Productions. "We believe he has a lot of potential. He has all the tools to develop into an outstanding boxer."
Shortly after this announcement, Arriaza improved to 11-0 with 10 KOs by knocking out veteran Aristides Quintero (20-6-1, 17 KOs) in the sixth round on Friday night from El Cifco Arena in El Salvador.
With the win, Arriaza takes home the previously vacant WBA Fedecentro 147-pound title. Arriaza, who recently signed a promotional deal with Thompson Boxing Promotions and Gary Shaw Productions, suffered a flash knock down in the first.
Unfazed by the uncharacteristic setback, Arriaza wore down the more experienced Quintero. In the sixth, Arriaza connected with a devastating body shot that sent Quintero crumbling to the canvas. The pinpoint body shot, secured Arriaza's tenth knockout win.
"We are very impressed with Roberto's performance," said Gary Shaw, who was present at the fight. "Everyone in the arena heard that body shot in the sixth round. It was another excellent knockout win for him."
Greg Cohen & Roy Jones to Co-Promote Championship Boxing on CBS Sports
Greg Cohen of Greg Cohen Promotions (GCP) is happy to announce he will be teaming up with Roy Jones Jr. Boxing Promotions (RJJ) to continue his successful "Championship Boxing on CBS Sports Network" series of boxing shows.
GCP and RJJ will be co-promoting a nationally televised, world-class event at least once a month for the next 12 months, beginning with their debut on February 19, 2016, at the WinnaVegas Casino & Resort in Sloane, Iowa.
Specific match-ups will be announced soon.
CBS Sports Network, the 24-hour home of CBS Sports, is available across the country through local cable, video and telco providers and via satellite on DirecTV Channel 221 and DISH Network Channel 158. For more information, including a full programming schedule and how to get CBS Sports Network, go to www.cbssportsnetwork.com.
"I could not be happier about teaming up with such a first-rate promotional outfit as Roy Jones Jr Boxing and their team to present 12-15 outstanding boxing shows in the next 12 months," said Greg Cohen. "We've had great success with last year's CBS Sports Network shows, but the addition of such a world-renowned name as Roy Jones adds a strong element of greatness to each presentation. And the addition of the RJJ stable of fighters makes the possibility for several exciting match-ups. I am proud to be affiliated with CBS Sports Network and especially my close business associates at RJJ."
"I am extremely honored to work with such a reputable network such as CBS and distinguished partner, Greg Cohen," stated Keith Veltre, CEO of Roy Jones Jr. Boxing Promotions. "CBS will no doubt bring more recognition to both our companies, worldwide. I am excited about this new avenue to showcase the RJJ roster to the boxing world. My thanks to Greg Cohen and the team at CBS Sports and I look forward to being part of this exciting series of shows, as a promoter and as a lifelong fan of boxing."
GCP began the "Championship Boxing on CBS Sports Network" series last year in April and has already featured world-class fighters such as current interim WBA World Lightweight Champion Ismael Barroso, former world title challengers Lateef "Power" Kayode, "Hurricane" Dennis Hogan, and lightweight contender Tony "Lightning" Luis.
Unbeaten Munoz signs with Sampson Boxing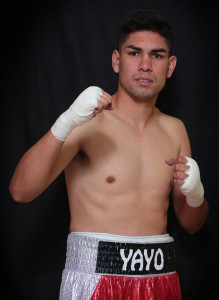 Sampson Lewkowicz of Sampson Boxing proudly announces the signing of undefeated featherweight Mario "Yayo" Munoz to a promotional contract.
25-year-old Munoz, from Guadalajara, Mexico, currently sports a record of 16-0-1, 10 KOs and has been a professional since 2011. He will make his promotional debut under the Sampson Boxing banner on February 19 at Boardwalk Hall in Atlantic City when he takes on fellow unbeaten Adam Lopez (14-0, 7 KOs).
The fight against Lopez will be Munoz's first outside Mexico. To prepare for this tough assignment, Munoz is working hard with trainer/manager Rafael Guzman and world-class Sampson Boxing stablemates Hugo "Cuatito" Ruiz (35-3, 31 KOs) and Jorge "Pilon" Lara (27-0-2, 19 KOs) in Guadalajara.
"I am proud to have a great promoter like Sampson helping me now," said Munoz. "It will make me fight that much harder knowing I have the backing to become a world champion behind me. I will train to the top of my ability for February 19 and for every fight I have with my new promoter. Together we will become world champion."
"Sampson is my trusted friend and I feel this agreement will help Mario very much," said Rafael Guzman. "Mario is very talented and determined and will go far in the sport. We needed the right promotional backing to take the next step and we now have it."
"I am very happy to be adding another proud Mexican warrior to my stable of fighters," said Sampson Lewkowicz. "Along with Mario and Cuatito Ruiz and Pilon Lara I have the Red Flag, David Benavidez. Those are four very talented fighters and it makes me proud to be their promoter. Mario Munoz has a bright future in boxing if he keeps working as hard as he does and it'll be a pleasure to help him with his career. It is my vision to continue to find new Mexican stars like him and welcome them to the Sampson Boxing family."