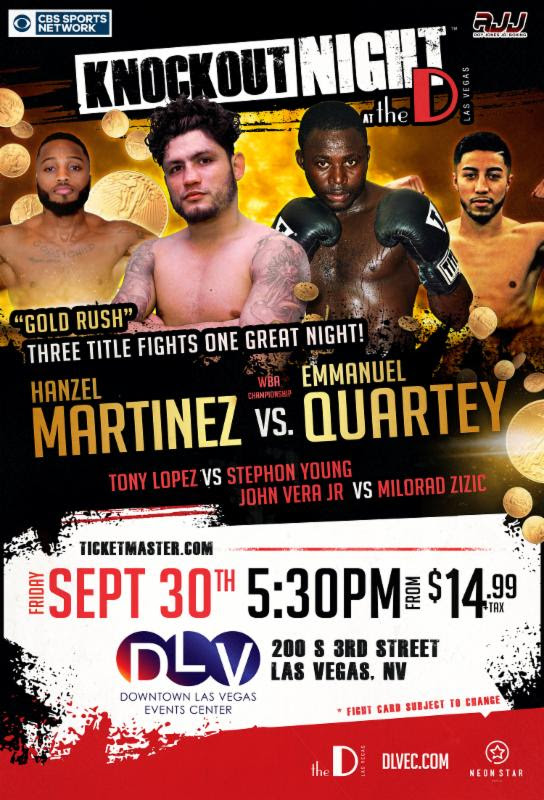 The September 30th "Knockout Night at the D" co-feature between Tony Lopez, Jr. and Stephon "Showstopper" Young will have serious implications as the winner will rise in various rankings.
Airing live on CBS Sports Network and internationally via ESPN, "Knockout Night at the D" will be held outdoors under the neon lights at Downtown Las Vegas Events Center.
Hanzel "Rude Boy" Martinez (23-2, 19 KOs) faces Emmanuel Quartey (20-2, 19 KOs) in the 10-round main event for the vacant World Boxing Association (WBA) International super bantamweight championship.
In the 10-round co-feature, Lopez, Jr. (11-1, 4 KOs) squares off against unbeaten Young (14-0-3, 6 KOs) for the vacant WBA North American Boxing Association (NABA) bantamweight title.
The 22-year-old Lopez, fighting out of Dallas, is coming off of a jaw-dropping second-round stoppage of Jerren Cochran this past May at the Downtown Las Vegas Events Center. The former WBC Youth Intercontinental bantamweight champion is rated No. 7 by the NABA.
"I remember growing up and watching all the greats as a young kid and thinking that's going to be me someday," Lopez said. "Thanks to RJJ, Neon Star and CBS Sports Network that dream is a reality. I'm a small town kid living out my dreams; I'm on the right path and the journey I am on is something big."
Despite his opponent having an advantage in terms of their comparative amateur backgrounds, Lopez doesn't feel that will be a factor in their fight, which he predicts will be very exciting.
"Amateurs are a different ball game," Lopez commented. "It gave us knowledge and experience but at the end of the day, our records are just numbers. I don't look at the numbers or the fighter, I'm only going to look at the fight because my job is to get in the ring and bring home the win.
"I'm a versatile fighter; if I have to brawl, I brawl but I can adjust to whatever I see fit. It's going to be an exciting fight because I have everything I need to win. I'm a lot smarter in the ring and I'm coming to get the win."
NABA rated No. 2 Young, 27, is a southpaw with a rich amateur pedigree background having compiled an 86-13 record, including a silver-medal performance at the 2011 National Golden Gloves Championships.
"I don't really know too much about Lopez," Young remarked. "I know he's from Texas and he's 11-1, which means he already know what it feels like to lose. He's a decent fighter but nothing I can't handle. I can fight any style, but one thing for sure and two for certain, whichever style I choose to fight will be a good showing. I'm coming to WIN!"
All three of his draws were fought on the road, including his last fight this past April at Turning Stone Casino in Verona, New York, in which he and 14-0 Nikolay Potapov battled evenly for 10 rounds. However, Young doesn't appear to be overly concerned about fighting on the B side against an RJJ opponent.
"I really don't worry about getting a win by decision," Young explained. "I just feel like I will have to do a little more just to make it a one-way fight. And if the KO comes, I will love that."
Las Vegas junior lightweight Randy Moreno (4-0, 2 KOs), a2008 World Ringside Championships gold medalist, will make his national television debut in a 4-round bout against an opponent to be announced.
In the third title fight of the night, undefeated WBA-NABA USA super welterweight champion John "The Phenom" Vera (14-0, 9 KOs) makes his first title defense against Milorad "Micko" Zizic (12-1, 6 KOs) in an 8-round bout.
In keeping with its philosophy to showcase tomorrow's stars now, especially those from the talent- rich Las Vegas market, this installment of "Knockout Night at the D" will also see in action undefeated prospects such as welterweight Jeremy "J-Flash" Nichols (5-0, 2 KOs) and 18-year-old bantamweight Max "Baby Face" Ornelas (4-0, 2 KOs).