Exclusive Interview with 10-0 Irish Prospect Willie Casey…
Willie 'Big Bang' Casey (10-0, 6 KOs) may not be not be a name familiar to all, but the aggressive Irishman, and fighting pride of Limerick, is on course to change all that. With a granite chin, hands of stone and a come forward and fight attitude he's one of the most exciting boxers to watch and a real fans' favorite. The undefeated super bantamweight is in preparation for his November 6th European title clash with Spain's Kiko Martinez (23-3, 17 KOs), where fireworks can be expected as Casey is more than ready for the biggest test of his career.
With half an eye on conquering America and cleaning up the 122lbs division Casey is certainly a fighter to watch out for. Although already in training, he took time to talk exclusively to Pro Boxing Fans.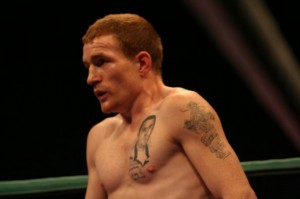 For those who may not have seen you box before, how would you describe your boxing style?
WC: I'm a very aggressive fighter but at the moment I'm learning more about both ways, like boxing off the back foot as well, because I definitely already know how to come forward, I'm good at that. The thing about me and my boxing style is; when the people see me fight, they want to see me again. That's why I have such a big following, especially in Ireland.
You only turned pro in 2008, yet have already shot up the domestic rankings, any plans on following the likes of John Duddy and Kevin McBride by moving to America?
WC: I don't think so because things are going so well for me in Ireland right now. I've won the Prizefighter competition, I've beat a European top 10 ranked fighter and when I win the European belt there's talks of big defenses and also world titles in a couple of fights or so. If all goes well you could be talking to a future world champion. Also I'm married with four kids so I'm staying put in Ireland.
Having four children must be tough for a busy, upcoming boxer?
WC: Na it's great, the kids are young and I tell you what when I leave the gym they keep me training and fighting fit.
What about fighting in America, is that something which excites you?
WC: Definitely. The Americans really know their boxing and I would love to fight out there.  If the Americans actually saw me they would love me. They have great fans who love an all out action fighter and I hope I could be that. I did fight there in the amateurs and they went mad for me. I love the country and would love to box there but I'd just pop over for a fight and then have to come back. I love my Limerick too much.
Your upcoming fight with European champion Kiko Martinez should be a tough one. He's already had four fights in Ireland winning them all, including a first round destruction of Bernard Dunne. Is this something you worry about at all?
WC: That doesn't affect me. For a start you have to respect Dunne because he went on to be world champion after losing to Martinez. But of course Martinez can fight, against Dunne he landed some lovely shots and hit him in the right places at the right time. But Dunne was known for not having the best chin whereas I can take a fair whack as well as giving one.
You've never gone past eight rounds, are you at all concerned by the prospect of going a full twelve?
WC: No not at all. I'm in training camp now and it's going so well. In five weeks, come the big fight night, I will have enough stamina in the tank for twelve rounds no bother. I've got good endurance anyway and I'm not worried about going the distance at all.
The Martinez fight is in your home town of Limerick and the fans are expected to turn up in the thousands. Does this add extra pressure or do you thrive on it?
WC: I'm just excited to be boxing in Limerick really, and I'm happy for my home fans. Ever since I turned pro I've had such a great following, especially from Limerick. They follow me all over Britain and Ireland and have to book hotels and spend money traveling so it's just nice to give them a big fight in their home town. And I want to repay the fans by winning the European title for them, and in front of them.
The super bantamweight division seems to be quite talented at the minut,e especially in Britain, with the likes of Ricky Burns and Rendall Munroe already at world level. Are you only thinking of November 6th and Kiko Martinez or do you have an eye on the likes of Burns and Munroe as possible future opponents?
WC: Well I'm concentrating on Martinez but you know Munroe has a world title fight coming up against Toshiaki Nishioka in Japan and that will be tough. Should he lose he'll probably come back looking for the European belt which he gave up, and I think me and him would have a great fight. Us two southpaws going at it would be fantastic. Munroe has good work-rate and like me enjoys getting into a bit of a brawl so that would be an exciting fight for the fans and maybe one for the future.