Amir Khan makes his long awaited return to British soil this Saturday, when he clashes with Julio Diaz at the Sheffield Motorpoint Arena. Khan knows that only a victory will put him back into world title contention and despite being in the final stages of his preparation for the fight, we managed to quickly catch up with one of sport's biggest stars ahead of the showdown.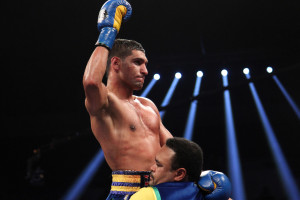 Amir, it's your first fight back in England for over two years, are you excited to be back?
AK: Yea I've not fought in the UK for nearly 2 years since Paul McCloskey so it's good to be back. Normally I'm the fighter who's got to go to the other fighter's backyards, so I have a lot of respect for Diaz for coming over. But I'm going to make sure I win and put on a performance for my UK fans.
Have you seen much of Diaz before, and if so what do you know about him?
AK: I've seen him fight a few times and I know he's a good tough fighter.  He's your typical Mexican fighter, strong and comes to fight, but we know what to do to beat him.
How's your training camp been for this fight?
AK: The training camp has been brilliant. I've done a lot of sparring with some really tough guys and worked a lot on my conditioning. So it's been hard, but I've had Virgil pushing me and making sure I'm not making the same old mistakes
You mentioned Virgil briefly there,  is he having an effect on your boxing?
AK: Yea I'm totally different fighter to even last time out. It's only my second camp with Virgil but I can already see the difference and you'll see a new Amir Khan on Saturday.
You're fighting at a catchweight of 143lbs on Saturday. Is that a sign that you're  looking at moving up to welterweight in the near future?
AK: No I'm still going to make 140 for my next few fights. I want rematches with Peterson and Garcia and those fights are only at 140, and also want to clean up the rest of this division before I move up.
Speaking of Garcia and Peterson how do you see them getting on in their respective upcoming bouts?
AK: I think Garcia will win his fight with Judah and I think Peterson should also beat Matthysse.
Your younger brother Haroon makes his professional debut on your undercard, how do you think he will get on?
AK: Haroon's a great fighter and I think he will get on really well. He trains hard and I think he can beat whoever they put in front of him. It will be tough for him don't get me wrong, but I really think he's a talented classy fighter.
And finally your prediction for the fight on Saturday?
AK: It's going to be a great night of boxing and you're going to see both brothers win.