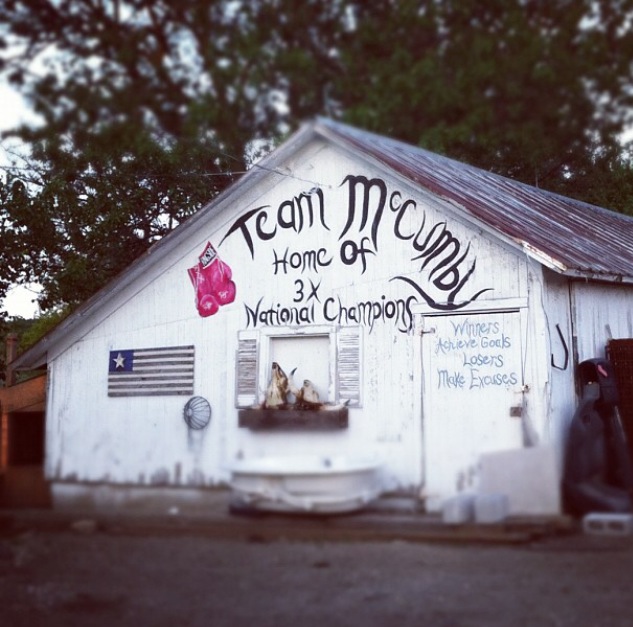 Undefeated prospect Trevor McCumby is fighting under the Top Rank banner and looking to make a splash. At 14-0 with 11 KOs, he's definitely one to watch.
Right here, check out a Q&A interview with McCumby, conducted by Don Smith of Arizona Boxing News & Notes.
ABNN: You now live in Glendale, Arizona after moving from a Chicago Illinois Suburb. Other than Ken Norton, can you name another world boxing champion born in your home state and what midwestern value do you cherish the most?
TM: To be honest, I don't know too many others, (maybe due to my young age). Ken Norton visited my pull barn gym, in Yorkville,IL, when I was about 9 or 10. That made my day.
ABNN: How many friends do you have and what is your response to requests for compliment tickets?
TM:I have many friends. A few from the Windy City, a few from Michigan, a few from Las Vegas and a lot though out the Valley(Phoenix). I moved a lot as a kid but primarily was brought up in Chicago and moved when I was about 14 to Glendale. I get asked daily about tickets, my next fight etc. I love the support. I tell people that I only get a few complimentary tickets at the moment and give them to my family. A lot of friends my age can't afford the drive or fly out to my fight anyway! (Haha)
ABNN: Can You talk about your relationship with TKO, Golden Boy and Top Rank. Are changes inevitable?
TM: A lot of my early stages were just finding the right promoter. I'm sure most are aware of the TKO situation, as a company. Golden Boy was decent for my first 4 fights, however I wasn't given the amount of fights that I wanted and it just didn't work out. No hard feelings at all, it just didn't pan out and I wish them the best. I was without a promoter for a while. I had a few fights without being signed , once on a card, with many struggles involved, in Virginia. I prevailed that test and was given the opportunity to fight on a Top Rank card and proved myself. Top Rank is the best company in the business and they treat their fighters great. I'm grateful to be with Top Rank and with a great team.
ABNN: You have a boxing mom…does she hold her own in a sport dominated by men? What exactly does she do for you and does she ever tell you to what out for someone? In other words, Is she your eyes and ears?
TM: She loves being involved and she has a bit of fire to her (haha). She does not at all have a problem telling myself, or anyone else if she has a problem with something. She is my co manager and helps out. She's always making sure I have the right food in the house and making sure I'm on task. She does her best. My father, whom I love so much, is not involved anymore. So my mom kind of took his role. It is what it is. In life, you roll with the punches.
ABNN: You're only 21 and on the road a lot. How do you relax and have fun?
TM: I love being at home base. My friends are very intelligent, motivated and goal oriented individuals. So I am not surrounded by people that would not hinder me. I love to shoot my guns, go camping, go out to dinner and get sushi. Watch movies, I love watching movies. One of my favorite movies is Pulp Fiction, although I have many.
ABNN: You're fighting as a light heavyweight, Yet you have talked about fighting at 168 some observers think you should fight at 164 and why haven't you sparred with Blake Edwards who is the # 3 ranked super middleweight and he lives just a long jog from you?
TM: Honestly, I haven't heard of Blake Edwards. My trainer In Phoenix, Alan Viers, may have reached out to him. I'll have to do some recon and search him out. Pertaining to 168 pounds, I want to make that weight. As of now, I believe I'm still not in my prime and with that, I still have growing to do. I don't want to hinder myself too much. The lowest I've weighed for a fight was 172 pounds and I felt good, wasn't really dehydrated. So I believe 168 pounds is plausible.
ABNN: What is the best piece of advice ever given to you about boxing and who gave it to you?
TM: Advice and things that my father has taught me throughout the years. I continue talking to my dad here and there. He knows what he is talking about and I store advice that is given. Other than that, I've received a lot of advice from different people throughout the years and store it in my knowledge bank.
ABNN: One of your most ardent supporters wants to know why you aren't fighting 8 rounders at this point in your career? And how much input do you have in the decision making process?
TM: I'm 21 years old, most of the guys I'm fighting are in their mid 20's, if not older. This sport, along with many others, is a marathon not a sprint. Especially considering I'm in a big man's division (light heavy or super middle). I have trust in my team and their strategy. I just stay in the gym and try to learn the most I can.
ABNN: You're fighting on 4/26 in California. Do you have more details.
TM: Not much more than you are aware of. It is an 8 round fight, so that will clear up the last question.
ABNN: Every life is a journey, what do you expect from your journey?
TM: I want to be a world champion. After that, the sky is the limit. I have a lot to offer the world, whether it be boxing or a physical therapist. (hint, hint.)