With a week to go before he steps up to challenge #4-ranked WBO Latino Junior Welterweight Champion Javier Castro for his international title belt at the Soboba Casino in San Jacinto, CA – with a possible world title opportunity for the winner lying in the balance – Mike Dallas, Jr. took time out to discuss his upcoming June 22nd ESPN "Friday Night Fights" main event.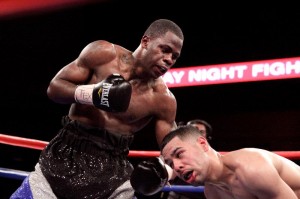 This fight will mark the fourth straight appearance on ESPN for the 25-year old Bakersfield, CA native known as "The Silent Assassin."
1.      What are your thoughts on headlining an ESPN "Friday Night Fights" telecast with a possible world title fight at stake?
MD:     "I look at this as a great opportunity for me to set myself up in a position to realize my dream of winning a world title.  This will be my fourth straight time fighting on ESPN, and I have had mixed results so far.  I know I am taking a step up in competition against a top five fighter in Castro, but I believe I am focused, prepared and ready for the challenge".
2.      You rebounded nicely versus Miguel Gonzalez after two tough losses.  How is your mindset going into this fight against one of the world's premier 140 pounders?
MD:     "I'm feeling great both physically and mentally.  I'm ready for this challenge.  I'm looking forward to putting on a good performance in this fight and getting better and better with each fight."
3.      How has training camp gone for you?
MD:     "I've been training in Oakland with Virgil Hunter and it has been going good. Virgil is a great teacher and has me well prepared.  This will be our third fight together and I learn more and more from him every day."
4.      Compare your boxing style to Castro's.
MD:     "I am more of a boxer and have a bigger variety of weapons than he does.  He is strictly a power puncher and has knocked out his last three opponents, so he is dangerous.  I possess more speed and better defense.  This is a classic matchup of power versus speed and should make for an exciting fight."
5.       What would be the significance of a win over a Top 5 opponent such as Javier Castro?
MD:      It would be me taking a major step forward toward realizing my goal of fighting for – and winning – a world title and being recognized as the best junior welterweight in the world."
6.      What is your prediction on the fight?
MD:     "I am not going to make any prediction.  All I can say is that I am going out to box and just win."