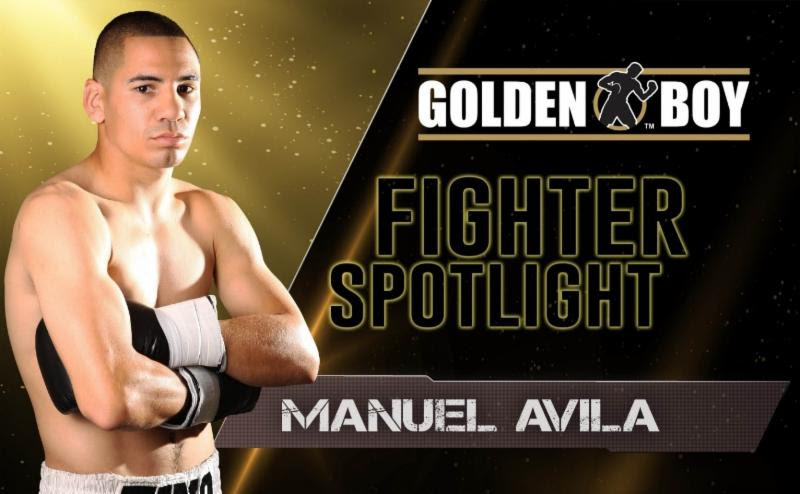 Manuel "Tino" Avila (21-0, 8 KOs) takes on Jose Ramirez (27-5-2, 16 KOs) tonight, headlining popular SoCal boxing sensation LA FIGHT CLUB for a featherweight bout scheduled for ten rounds.
In anticipation for Avila's return to the ring, Golden Boy Promotions caught up with the fighter for an exclusive Q & A session.Below is what Avila had to say:
You recently made the shift to start fighting in the featherweight division. Why did you decide to do this?
I decided to make the shift from bantamweight to featherweight because I loved the extra power I felt in my punches. Being a featherweight feels right to me – my body is perfect for this class. It's also opened up a wider range of fighters to take on. With more fighters to take on, I can improve my boxing and move up within the ranks.
What do you know about your opponent?
I know that he will come forward in the ring – in boxing everyone has a chance to win, and just as much as I want to win, he will to. He's fought big opponents, and I am expecting him to put on the pressure and to land punches that will hurt. On paper, he's a tougher opponent that I have faced in the past, but I'm confident I can defeat him.
What does boxing mean to you?
Boxing is a way of life. I dedicate all I have to it – I work multiple jobs to maintain my family, and on top of that I still find the time to be a professional boxer. Boxing is what motivates me and wakes me up in the morning, and especially with my new child on the way – I need to make it to the top. At twenty-four, I know where my priorities are.
Looking at your career, where would you say you are?
I think I am a couple of fights away from a title shot. I am at a better weight suited for my body, and I've been more active. This will be my third fight as a featherweight, and I'm excited for the opportunity to maintain my undefeated status at 126 pounds. I'm in a stacked division, and there are many different opportunities for me to develop more experience.
What have been some of your most notable fights?
I think my most notable and memorable fight was against Yoandris Salinas for the interim NABF super bantamweight title. Going into the fight, I was called the underdog, and was expected to lose. However, I was able to take over the fight and get the stoppage. I would also say that the fight against Ricky Lopez was important to build me up because it was the first time I got a cut on my face, and was able to finish the fight. Additionally, my fight with Enrique Quevedo was important because I hurt both of my hands, and was still able to get the unanimous decision.
What kind of fighter would you describe yourself as?
I am calm in the ring. I don't feel pressure that easy. I would also describe myself as focused. I can take on anyone. I'm also very resilient, I'm able to withstand tough opponents and prove that I am strong in the ring. When I'm not in the ring, I'm fun, goofy, and love life.
What are you looking forward to this holiday season?
I'm so excited to finally eat at Thanksgiving this year! The past couple of years I've always been training for a fight in December, and I am looking forward to eating everything and anything from tamales to posole, to the turkey and stuffing. I'm also looking forward to spending time with my wife and family. I am beyond thankful for them and all the support they have given me over the years. Especially my wife – she understands more than anyone the sacrifice it takes to be a boxer.
What are you looking forward to in 2017?
I'm so excited for my beautiful daughter to be born, and to be a dad. I'm also excited to keep fighting despite the obstacles, and be able to hopefully get a chance at a title fight. I want the recognition. I want people to know who I am.