Yoan Pablo Hernandez (26-1, 13 KOs) cannot wait to compete again with the world's strongest cruiserweights. After suffering a hand injury during his last title defense, he returns to the squared circle on September 15 at Stechert Arena in Bamberg, Germany. His opponent of the night will be Troy Ross (25-2, 16 KOs). His mandatory challenger will spare no effort in order to bring the title to Canada. In this interview, Hernandez discloses his thoughts on his upcoming fight against Ross.
On September 15 you will be stepping back into the ring. Why did you have such a long break between fights?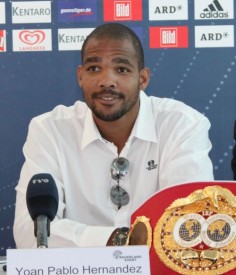 Yoan Pablo Hernandez: Unfortunately, I suffered a metacarpal fracture on my left hand when I fought Steve Cunningham on February 4. After surgery, it took quite some time for it to heal. Then it took some extra time before I was able to get back into training due to the healing process. After that I had to make up for the lost time but now and I am ready to fight again.
Your opponent in Bamberg will be Troy Ross. What do you know about him?
Yoan Pablo Hernandez: With 37 years of age he is a pretty experienced boxer, he knows how to move inside the ring and always presses forward. In addition, he has some serious pop to work with. He is also a southpaw like me. That is something I had to adjust to in sparring.
Does such a pressure-style fighter suit you?
Yoan Pablo Hernandez: Fighting somebody like Ross requires a special kind of preparation. That is what I have done with my coach Ulli Wegner. He knows for sure, what game plan is successful against such an opponent. As long as I follow his strategy, I will be victorious in Bamberg.
This fight is an IBF mandatory defense – a bout you could not avoid. But is there any special boxer you would like to fight?
Yoan Pablo Hernandez: Currently there is only Troy Ross on my mind. You can ask about future opponents after September 15. That is when I will turn my focus onto new possible opponents.
"BoxRec" currently ranks you as the number one boxer in your weight class and you are also the "Ring Magazine" Champion. Are you proud about these accomplishments?
Yoan Pablo Hernandez: It is a great honor to be recognized as the best cruiserweight in the world. I am also proud to hold "The Ring" belt. It just shows that I have achieved big things.
Your last opponent was Steve Cunningham, who is now going up to heavyweight. Would that also be an option for you in the future?
Yoan Pablo Hernandez: You are only as good as your last fight. Against Cunningham I displayed a classy performance. And I want to do the same against Ross. But before I have not beaten him, I will not talk about my future inside the ring.
So what result do you foresee against Ross?
Yoan Pablo Hernandez: A win on points, a knockout – everything is possible. I just know that I will be the one standing tall come September 15, and still be champion of the world.