The Light Heavyweight scene took center stage on Saturday night, as Adonis Stevenson thoroughly dominated Tavoris Cloud, and Julio Cesar Chavez Jr. escaped with a joke of a win, in a farce of a fight technically fought in the 175 lbs division.
Chavez got a win he didn't deserve, and now plans on campaigning at Super Middleweight. But does he deserve a spot in the top 10 of that division following his dismal showing against Vera? Does Stevenson become the number 1 guy at Light Heavyweight with his strong showing over Cloud? Take a look at our latest rankings updates to see how things shake out.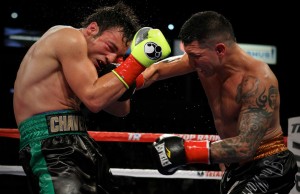 We also had to update our top 10 at 160 lbs, because it's abundantly clear that Chavez couldn't even sniff this division from here on out. It seems like an unlikely candidate to fight at 168 lbs, as well, but that is the stated intention of his team. We'll see what happens and where he ends up campaigning, but that's where he's trying to fit in for now.
The division's kingpin is returning to action in November, as Andre Ward takes on the undefeated Edwin Rodriguez. Carl Froch is facing George Groves, and Arthur Abraham is looking for a rubber match against Robert Stieglitz, so it's hard to project where Chavez is going in his immediate future.
At 175 lbs, Stevenson bolstered his status as one of the best in the division. The other fighter in the running though is Bernard Hopkins, and he of course also recently defeated Cloud. Meanwhile, fight fans have to be salivating at the prospects of a Stevenson fight against Sergey Kovalev. Boxing gods, make that happen!
So take a look at our updated top 10 divisional rankings for Middleweight, Super Middleweight and Light Heavyweight, and feel free to chime in with your thoughts below and who you think should be ranked where.