From Fighters to Celebrity Attendees, March 10th was a complete Night of Champions
Saturday night was a night of elegance meets rough and tough at Doubletree Hotel in the city of Orange.  Guests in attendance of the Thompson Boxing Promotions "Night of Champions" had the chance to experience a complete night of entertainment with a guilt free conscious knowing that a portion of the proceeds would be donated to Today's Boxing Club and Recreation Center and to the Legends of Boxing Club.
The evening began with guests mingling while sipping on cocktails accompanied by live mariachi music and moved on to a 5-star dinner and rounded off the night with a four-fight boxing card.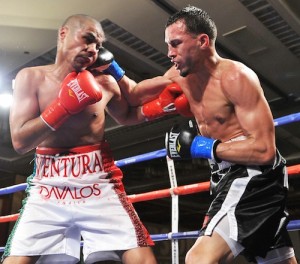 There was plenty of star power on hand, including;  Former featherweight champion Israel Vazquez, super middleweight contender Kelly Pavlik, featherweight Daniel Ponce De Leon, former world heavyweight title holder Lamon Brewster, unbeaten super bantamweight Efrain Esquivias, welterweights Artemio Reyes, Aaron Martinez and Jose Reynoso, former female world champion Mia St. John, unbeaten super featherweight Abraham Lopez, unbeaten super bantamweight Jonathan Arellano, lightweight Daniel Hernandez, former heavyweight great Henry Tillman, and former world champion Rodolfo Gonzalez.
In the opening bout, super featherweight Sergio Nunez stopped Cesar Martinez in the second round of a scheduled four round bout. Both fighters had their moments throughout the evenly-matched fight. Nunez was dropped by a left hook to the stomach by Martinez in the first round. However, Nunez was able to recover from the knockdown by pressing the action in the second, landing hard hooks to the head and body. Moments later, Nunez stunned Martinez with a right hand to the head. Nunez trapped Martinez in a corner, throwing and landing combinations until a right hand dropped Martinez to the canvas. Martinez got up on unsteady legs, looking at his corner. Referee Cantu thought Martinez looked out on his feet, stopping the fight at 2:30. Nunez improved to 5-0-1, 3KOs, while Martinez fell to 3-1, 1KO.
In a battle of unbeaten, but untested welterweights, Victor Garcia won a four round unanimous decision over Luis Merced. Garcia was able to land repeated right hands to the head of the shorter Merced. Garcia was able to work the body of Merced. Merced tried to fight back, but was too wide and wild with his punches. Merced was hampered by a cut above his left eye that he suffered in the second round. Garcia's record climbed to 5-0, 3 KOs and Merced's record fells to 3-1, 3 KOs.
In the co-featured bout junior welterweight Jake Gluriceo won a six round unanimous decision over Jaime Orrantia.  Gluriceo pressed the action from start to finish, controlling the entire fight by landing repetitive right hands to the head. Orrantia tried to counter on the inside, landing an occasional right or left. However, Gluriceo had the fight in hand as reflected by all three judges' scorecards 60-54. Gluriceo improved to 15-0-1, 3 KOs and Orrantia dropped to 14-29-5, 5 KOs.
In the main event of the evening, unbeaten flyweights, Miguel Diaz won a hard-fought eight round unanimous decision over Austreberto Juarez. Juarez was able to land with straight right hands to Diaz's head. Diaz was able to land combination on the inside. Diaz would snap Juarez's head back at times by landing counter right hands. Sensing he was down on the scorecards, Juarez rallied in the eighth round by landing right hands to the head of Diaz.  As Juarez was looking for that one punch to drop or finish his opponent, Diaz was able to make it to the final bell. Diaz's record improved to 8-0, 3 KOs, while Juarez record fell to 10-1, 2 KOs.