On Friday evening at the Turning Stone Resort & Casino in Verona, New York, Brian Vera continued his usual upset ways by scoring a decisive TKO victory over former titleholder Sergiy Dzinziruk. After a dominant first round in which he knocked Dzinziruk down twice — once legitimately, once mostly due to a slip — he eventually wore down the favored Dzinziruk to win by a 10th round technical knockout. It's just the latest in a long line of big upset wins from the unheralded, blue collar Vera.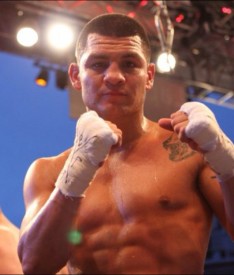 Vera came out strong and took advantage of an opponent in Dzinziruk who appeared uncomfortable, and rusty. First, Dzinziruk got sent down after tripping over Vera's foot. However, that would be the least of his concerns, as Vera began finding a home for a looping overhand right. He just couldn't miss with it. He scored a 2nd knockdown, this one very much well-deserved, and hurt Dzinziruk badly.
After Vera continued doling out more punishment over the next round or two, Dzinziruk appeared to gain his footing. He began utilizing better footwork, and was sticking out his jab to keep his distance and dictate the action. However, anytime Vera found the correct range and angle, the right hand would come, and Dzinziruk would be hurt.
In the 8th, Vera appeared close to stopping Dzinziruk, before the tables were turned and he found himself in trouble, with a cut opened over his eye.
However, in the 10th round of the fight, Vera pinned Dzinziruk in the corner and wouldn't let up. Bloody and battered, a game Dzinziruk eventually slumped down in the corner on his own accord, looking for a break in the action. Vera threw a haymaker while Dzinziruk was down, and he's lucky it didn't land, as it could have resulted in a DQ. Instead, Dzinziruk beat the count but the referee waved off the action.
Vera improves to 22-6 with 13 knockout victories, and adds Dzinziruk's name to a list that includes Andy Lee, Sergio Mora and Sebastien Demers. Dzinziruk falls to 37-2-1. After an undefeated 37-0 stretch to begin his career, he hasn't won in nearly three years, going 0-2-1 with two stoppage defeats.
It wasn't the only upset of the evening, either. In the opening bout, previously undefeated prospect Tony Luis was stopped in the 8th round of his fight against journeyman Jose Hernandez.