Rich Gingras defeated Joey McCreedy by unanimous decision in the main event Friday night at Twin River Casino, and now has his eyes set on settling the score with another popular regional foe.
Asked who he wants to fight next, Gingras, without hesitation, said Vladine Biosse, who took on Gingras in July of 2013 in a fight which finished with a controversial draw.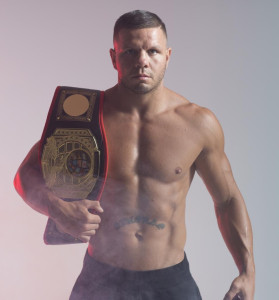 After a slow start against McCreedy (15-8-2), Gingras (15-4-1) began to pour it on in the middle rounds, using his strength to his advantage by burying right and left hooks to the body. McCreedy got his second win in the seventh and eighth, pressing forward despite absorbing overhand rights from Gingras, leaving the outcome of the fight hanging in the balance once the final bell rang. Gingras won on all three scorecards, 80-72, 79-73, 76-72.
In a fight billed as a brawl reminiscent of the legendary Rocky Marciano-Joe Louis showdown from 1951, Louisiana's Alvin Varmall Jr. (3-0, 3 KOs) spoiled the homecoming of "Little Rocky" Antonio Mignella (3-1), stopping Mignella at the end of the second round with an overhand right to the temple.
Born in Providence and now living in Louisiana, Mignella used short, effective punches to score early against Varmall, but the hard-hitting Varmall got the last laugh at the 2:42 mark of the second round, sending Mignella face-first to the canvas with an overhead. Mignella got up, but stumbled into the ropes, forcing referee Joey Lupino to appropriately stop the bout.
Cranston, R.I., welterweight Nick DeLomba (5-0) remained unbeaten, outworking the veteran Christian Steele (4-10-2) of Atlanta in a six-round unanimous decision, 60-54, on all three scorecards. DeLomba used his high-volume output and boxed effectively on angles to keep Steele at bay. Steele tried to empty the tank in the final round and land his overhand right to score an upset knockout, but the crafty DeLomba stayed out of harm's way to earn his fifth victory.
Making his second appearance at Twin River in 2014, Worcester, Mass., super welterweight Khiary Gray-Pitts (2-0) took another step forward, beating dangerous brawler Sergio Cabrera (0-3) of Boston by unanimous decision, 40-36, on all three scorecards.
Gray-Pitts used his lethal combination of speed and power to outbox Cabrera in the first two rounds until Cabrera egged him on in an attempt to turn it into a street fight. Gray-Pitts obliged for the third round before going back to the style that worked in the final round, picking his shots and breaking down Cabrera with combinations to the body.
Following in the footsteps of his father, "Sucra" Ray Oliveira, New Bedford, Mass., super welterweight Ray Oliveira Jr. (1-0, 1 KO) turned in an impressive performance in his professional debut, outworking the game Angel Valdez (0-1) of Providence to earn the stoppage late in the third round.
Similar to the way his father fought during his heyday, Oliveira Jr. attacked Valdez with a high volume of punches and eventually broke him down with a combination of jabs and overhand rights, forcing Lupino to stop the bout at the 2:21 mark.
Another protégé of Oliveira, New Bedford's Scott Sullivan (1-0, 1 KO) earned a win in his debut Friday in similar fashion, using patience to pick apart the unorthodox Moises Rivera (0-4) of Boston. Rivera's unconventional stance forced Sullivan to pick his spots, but once he began working the body in the second round, Rivera buckled under the pressure. Sullivan earned the stoppage at the 1:26 mark of the second round.
U.S. Air Force veteran Zack Christy (1-0) of Warwick, R.I. (Tampa, Fla.), a protégé of the late Tiny Ricci, also won his debut, beating Framingham, Mass., super middleweight Saul Almeida (0-6) by unanimous decision, 40-36, on all three scorecards. Despite Almeida's five-inch height advantage, Christy worked the body effectively and began to chop down the taller Almeida in the later rounds.