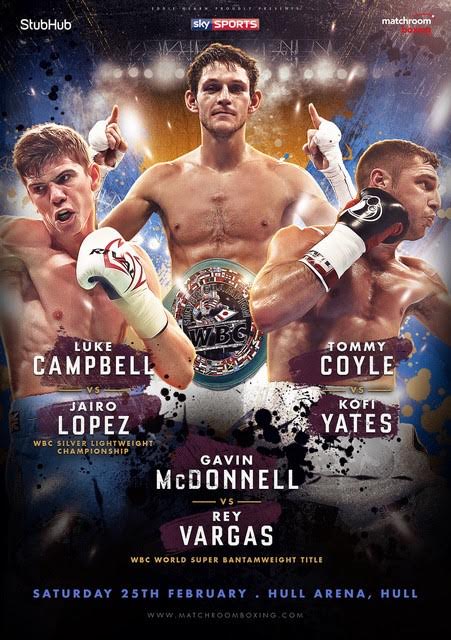 Rey Vargas has sent a strong message to Gavin McDonnell – I'll KO you to win the WBC Super Bantamweight title at the Hull Ice Arena on Saturday February 28. Vargas and McDonnell clash for the vacant strap in Yorkshire with McDonnell looking to create a unique piece of history by joining twin brother Jamie as a World ruler.
The Doncaster man's task is a steep one though as Vargas brings a formidable record to England with the unbeaten 26 year old boasting 22 KOs in his 28 wins in the paid ranks.
Vargas expects a hostile reception as he walks to the ring for his first World title shot in the intimate Hull venue, and the visitor wants to get the job done inside the distance to take the result out of the judges' hands and destroy McDonnell's dream.
"It is a risk going to England, but I'm not scared," said Vargas. "I know that I'll get booed when I go into the ring but I know when I win and step out of the ring they will applaud me. I am going to win this fight, even being in his backyard. He has that home advantage but I will win.
"I know the judges could be an issue. In fact, a gym mate of mine, Julio Ceja, fought his brother and won, but they robbed him. The idea is to go for the knockout otherwise they could rob you.
"It shows a bit of cowardice, not on him but on his team because they don't want him to fight outside his country as they know he'll lose. But I do trust that the WBC are fair and they will be neutral – the best man will win. I'd be very proud to take the WBC belt home."
Vargas' clash with McDonnell is part of a big night of action in Hull as hometown star Luke Campbell MBE defends his WBC Silver Lightweight title against Mexican Jairo Lopez.