BRAVEHEART BURNS AIMS FOR HOMECOMING GLORY
Ricky Burns could move a step closer to becoming a national sporting hero, if he is able to defeat tricky Namibian challenger Paulus Moses in his first defense of the WBO Lightweight title.
The 28-year-old from Coatbridge will be fighting in front of a sold out, partisan crowd of over 6,000 at Braehead Arena in Glasgow and is expected to win and win convincingly, after his phenomenal performance against Australian Michael Katsidis in December last year.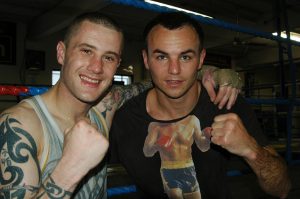 However, if Burns is to succeed in his homecoming bout, he must not underestimate the 33-year-old Moses who is a former WBA champion himself. In 2009, Moses went to Japan to outpoint local fighter Yusuke Kobori for the title. However, he lost it to Venezuelan hitman Miguel Acosta, who overpowered him and knocked him out in the sixth round. That remains the only loss of Moses' career.
Ricky Burns proved to the world that he belongs amongst the best after his win over Katsidis at Wembley Arena, as his defenses stood up to the attacks of Katsidis as he put on an impressive boxing performance. Burns picked up the interim WBO title for his efforts in that fight and that's at stake once again as he squares off against Moses.
At the weigh-in at the Marriott Hotel in Glasgow, Burns weighed in at a lean 133 lbs with Moses weighing in at 134 lbs. Both men looked relaxed and shared friendly exchanges afterwards, showing that there is mutual respect.
Burns admits that this will not be an easy fight and that he will not be taking Moses lightly as he spoke to the media.
"Moses clearly is not bothered about coming to Scotland – he won the title in Japan so he'll be looking to make a big upset in Scotland against me. He's a good fighter, he's a former world champion with a good record and he's only lost once in 29 fights. This is just the kind of fight I wanted to make me perform to my best," said Burns.
"I can't wait to return to Glasgow again and defend my title in front of my loyal supporters. I've been to Liverpool and London for my last two fights and they've followed me there. So I'm over the moon that I've got a world class fighter like Moses for my homecoming fight."
Paulus Moses has long arms and a meaty punch. He certainly will not be easy to dominate physically but the Scot must try to.
"Make no mistake," said the Namibian earlier this week, "I'm coming to Scotland to win the world title by knockout. I've beaten better fighters than Burns before, I know I can beat him easily."
Strong words and a strong opinion but Burns' ability to surprise cannot be written off. Burns has made a quite remarkable jump from Commonwealth contender to world champion.
In his incredible breakthrough fight against Roman Martinez in 2010, Burns had to pick himself off the deck to come back and win. His bout against Katsidis did not have those thrills but that was simply because Burns was in complete control.
That's no easy feat considering that on his previous trip to London, Katsidis promptly thumped possible Burns challenger Kevin Mitchell at Upton Park, home of West Ham United.
It proves that Ricky has now grown into his status as a world champion. He has went from fighting as the underdog to an overwhelming favorite.
Burns might not be able to match the physical strength that Acosta had in order to subdue Moses, but he has incredible heart and a rock solid chin that can take a great amount of punishment.
It could already be argued that Ricky Burns has cemented his place in Scottish boxing history as one of the all time greats after becoming world champion. However, his next few fights may prove how great he really is, as a win against Moses and a big defense in the summer could elevate the Scotsman to even greater heights.
Paulus Moses should offer a tough examination of Burns' title credentials but it is a test that Burns is sure to pass. It may not be long until Ricky Burns is ranked alongside the likes of Ken Buchanan and Jim Watt as one of Scotland's finest exports.
Comments
comments