Live Hatton vs. Senchenko Results:
Ricky Hatton returns to the ring on Saturday, November 24, and in the USA, Showtime airs the event live to fight fans across the country. He takes on former welterweight titleholder Vyacheslav Senchenko in his quest to position himself immediately in lien for a title challenge, perhaps against former foe Paulie Malignaggi. Right here, check out our live Hatton vs. Senchenko round by round results. Take a look.
The crowd wasted no time with their chants, cheers and songs. It was a sold out crowd in Manchester, from the same arena of some of Hatton's greatest triumphs, including his win over Kostya Tszyu, and a truly raucous atmosphere. Seems like one of those real "you have to be there" type of experiences.
Hatton has been through it all since then, bottoming out in a blur of drugs and drinking, depression and suicide attempts. But he's back and ready to make another run, with one big victory under his belt: conquering his demons and returning to the ring.
| | | | | | | | | | | | |
| --- | --- | --- | --- | --- | --- | --- | --- | --- | --- | --- | --- |
| Round | 1 | 2 | 3 | 4 | 5 | 6 | 7 | 8 | 9 | 10 | Total |
| Ricky Hatton | 10 | 9 | 10 | 10 | 10 | 9 | 9 | 10 | – | – | – |
| Vyacheslav Senchenko | 9 | 10 | 9 | 9 | 9 | 10 | 10 | 9 | – | – | – |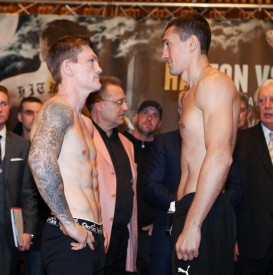 5:17 pm – Ringwalks. Fight to start shortly… Senchenko comes out with some Manchester United gear, riling up the crowd… Hatton comes out a few minutes later, and the arena absolutely erupts… Here we go!
Hatton vs. Senchenko Round by Round Results
Rd 1: Hatton the aggressor in round 1. Lots of energy and anxiousness for him. He gets popped with some jabs on the way inside. Looking for lead left hooks and jumping in. Not putting very many punches together. Face is already looking red. Hatton a bid wild, gets Senchenko to the ropes and fires but everything blocked. Hatton's round for work rate & aggression.
Rd 2: Hatton still coming forward and the crowd loving everything he does. Senchenko standing his ground though, firing off jabs and lead right hands as well. Senchenko show boats a bit after getting hit, Hatton takes a clean shot but doesn't flinch. Round to Senchenko as he landed the cleaner blows.
Rd 3: A Hatton left hook gets Senchenko stumbling, but looks like he was off balance. Hatton bulls him to the ropes. Senchenko taunts, but he's starting to look worn out in there. Hatton tags him with a hook that buzzes him legit this time. Senchenko lands a lead left hook. Hatton goes to the body. Hatton's round.
Rd 4: Hatton pressures Senchenko to the ropes and lands, but Senchenko finds an opening for a straight right hand counter. Both men doing some body work. Hatton lands a nice right. They trade jabs. Hatton lands another right and backs Senchenko up, then wildly misses. Hatton's round.
Rd 5: Hatton so far displaying pretty good stamina considering the layoff, and his work rate and pressure here in the fight. He is perhaps getting wilder with his offense though. Senchenko still looking to counter but isn't doing enough. Kind of a dull round, by default to Hatton for his aggressiveness.
Rd 6: Senchenko nails him with a straight right, and follows it up with a combo. Hatton gets tangled up and stumbles, but isn't hurt. Maybe now though he is getting a bit more tired, both men looking like they have slowed down a bit. Senchenko dictating now though and using his size and reach to his advantage, getting off first and keeping Hatton away. Hatton lunges wildly. Senchenko's round.
Rd 7: Senchenko definitely has gotten more comfortable in there now, a combination of figuring out Hatton's timing, and Hatton tiring out and getting more wild and sloppy. He's landing his left hook now in addition to the right hand. Hatton tries to bull in and go to the body. Senchenko now bloodied over his left eye it looks like. Hatton lands a left hook, then comes forward and goes back to the body. Nice comeback in the round, but Senchenko did enough early to bag it. Bloodied up though.
Rd 8: Hatton comes on strong to start the round. Senchenko looking to stick out his right and time him with shots coming in. Senchenko lands a right. Hattno answers with two of his own. Hatton more dedicated to getting inside than he had been for a few rounds, making life more difficult for Senchenko here. Hard round to score, but I'll give it to Hatton.
Rd 9: Hatton looking very tired but he's still looking to make things happen. The fighters get tied up and both hit the canvas. Hatton wildly misses and almost gets clocked for his trouble, lucky to avoid that there. Both men tired. Hatton goes downstairs. Leaps in with a left hook, then clinches. Senchenko running out of time to make something happen — in this round and in the fight. And then on CUE, left hook to the body! Hatton down, he's on one knee on the canvas. And he can't get up! He sits out the 10 count and he's knocked out! WOW! He's still down writhing on the canvas!
Senchenko wins via 9th round KO
The left hook just paralyzed him, a perfectly placed and thrown shot at the liver. The crowd still chanting for Hatton despite the defeat, showing him their love and support. Hatton looks very, very disappointed.
Thanks for checking out our live round by round coverage of the Hatton vs. Senchenko results, and be sure to follow up with us throughout the weekend for more post-fight analysis and aftermath.
Comments
comments