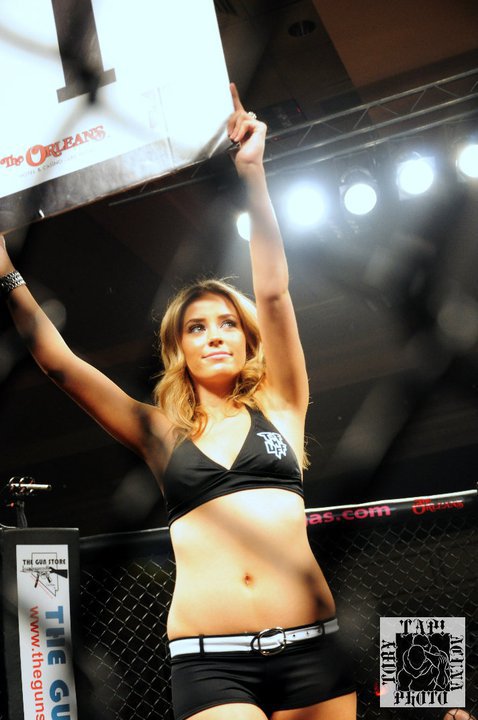 Sexy Boxing & MMA Ring Card Girl Photos
We're back with another great ring card girl feature and fantastic, sexy ring card girl pictures. Ladies and gentlemen, say hello to the lovely Stephanie Ann Cook. Stephanie is based out of Vegas and while she primarily works MMA fights as a ring card girl, she's more than happy to do the same for boxing events as well. Right here, you'll find a collection of sexy photos of Stephanie so you can see her in action, and you can get to know her with a quick Q&A interview as well. Take a look and enjoy.
To see more of Stephanie Ann, became a fan of hers on her Facebook page, and follow her on Twitter, @StephAnnC.
Stephanie Ann Cook Ring Card Girl Photos
Bio & Interview
Hometown: Rockford, IL
Residence: Las Vegas, NV
Age: 22
Full-time Occupation: Model/Promo model/ Actress/ ring girl / gogo dancer
How did you get started with modeling and being a ring card girl?
Stephanie: As a model I was brought up at a young age, but I finally got started in 2007 and since then it's been non-stop shooting and just growing in the industry. As for a ring girl, about 3 years ago I was introduced to MMA and asked to be a ring girl for an event, and since then I've been in love.
So you've been a ring card girl for three years, how many events have you worked?
Stephanie: I've lost track of how many shows, but I can tell you there is an event almost every month of the year. Sometimes we have done two in one month, but our organization isn't professional, so we do as many as we can.
What's the biggest event you've worked, or the favorite one you've been a part of?
Stephanie: The biggest event I have worked might of been at the Cox Pavilion or South Point Arena, for TUFF N UFF, which are HUGE.  Those have to also be my favorites because we get huge crowds coming in, and the more fans the better. I love to see MMA expand and it just makes the show 10x better.
What's the best part of your job?
Stephanie: The best part is enjoying what I do. I'm around my fans, friends, family and the industry I love. What is better than that?
You're big into MMA, but you're also a boxing fan?
Stephanie: Yes. Boxing is obviously what I saw first, growing up, as well as wrestling. During my teenage years I obviously was into things like boys and makeup and being weird, but when I grew up and became more into health and fitness, MMA started showing up and It just brought back the excitement I love about watching fights. I've always been drawn to fights and fighting, throughout life, in real life and on television. You either like it or you don't. I love all forms of fighting, boxing, muay thai and so forth.
Any favorite boxers or boxing fights?
Stephanie: Of course I love the legend, Muhammad Ali. He was so inspirational and still brings motivation to my life, that he is a favorite.  So my favorite fight is Ali vs. Foreman.
Any other details about yourself you'd like people to know?
Stephanie: I'm a very friendly, optimistic, big hearted dreamer! I'll do my best to keep growing and living life to the fullest.
There you have it folks. A big hearted dreamer with absolutely dynamite looks, too. Enjoy the sexy pictures of boxing and MMA ring card girl Stephanie Ann Cook, and don't forget to check her out on Facebook and Twitter.