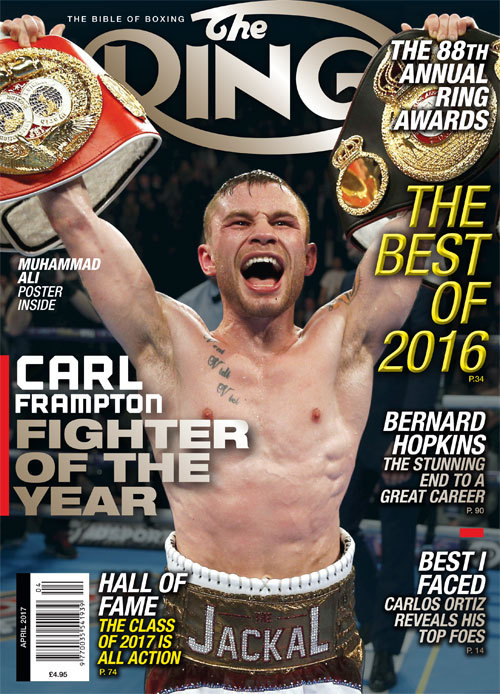 Carl "The Jackal" Frampton has been named THE RING Magazine Fighter of the Year for 2016. The Northern Irishman separated himself from a tight field of candidates by taking the biggest risks yet emerging victorious in two important fights, decisions over U.K. rival Scott Quigg and American Leo Santa Cruz.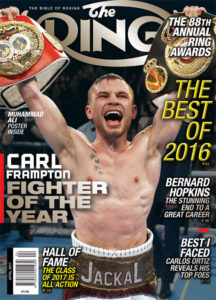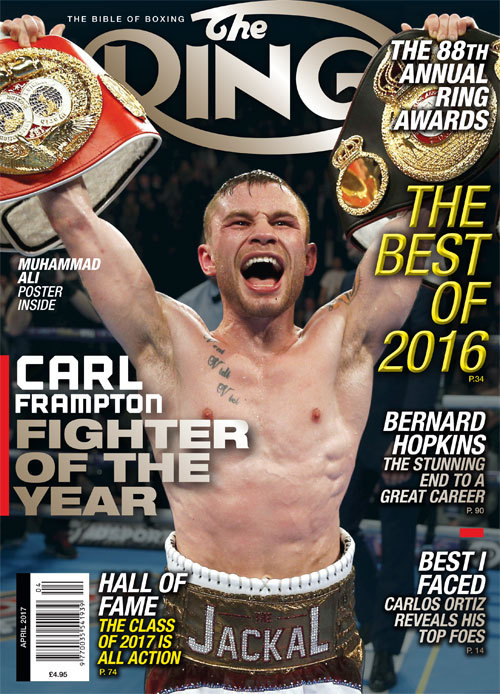 "Obviously it's a huge honor," Frampton said when he learned he won the award. "… Toward the end of the year I picked up fighter of the year on some websites but THE RING Magazine, that's the one. I'm very, very proud of that."
Frampton gave the fans what they wanted when he agreed to fight the unbeaten Quigg on February 27 before a packed house at Manchester Arena, not far from Quigg's hometown. Frampton won a split decision – and broke Quigg's jaw in the process – to unify two junior featherweight sanctioning-body titles.
Then, rather than face a marginal challenger after a tough fight, Frampton immediately moved up in weight to face one of the hottest fighters in the world, Leo Santa Cruz, in Brooklyn, New York.
Frampton outboxed the typically aggressive Santa Cruz to win a majority decision, which most observers believed should've been unanimous, to add a featherweight title to his growing collection.
And, although the following played no role in the decision to honor Frampton, he impressed us one more time by agreeing to an immediate rematch with Santa Cruz. That fight is set for January 28 in Las Vegas.
So the final tally: Two fights against two elite, previously unbeaten opponents in hostile territory, two victories.
No other fighter had that kind of year. That's why Frampton edged fellow candidates Terence Crawford, Roman Gonzalez, Vasyl Lomachenko and Manny Pacquiao for Fighter of the Year honors.
"I had an amazing year last year," Frampton said. "I unified at 122 and moved up and fought a great fighter at featherweight in Leo Santa Cruz. The year went pretty much to plan. It couldn't have gone better."
THE RING also selected winners in nine other categories. They are:
FIGHT OF THE YEAR – Francisco Vargas D 12 Orlando Salido
KNOCKOUT OF THE YEAR – Canelo Alvarez KO 6 Amir Khan
ROUND OF THE YEAR – Skender Halili vs. Jason Thompson, Round 2
UPSET OF THE YEAR – Joe Smith Jr. vs. Andrzej Fonfara, KO 1
COMEBACK OF THE YEAR – Andre Ward
TRAINER OF THE YEAR – Arnulfo Obando
PROSPECT OF THE YEAR – Erickson Lubin
EVENT OF THE YEAR – The death of Muhammad Ali
MOST INSPIRATIONAL – Bernard Hopkins