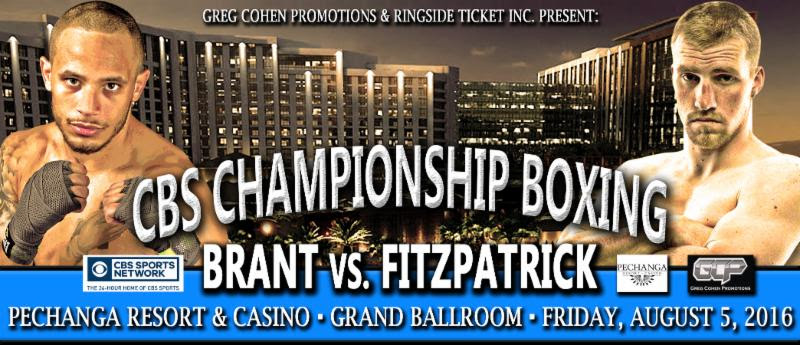 This Friday, August 5, 2016, in the Grand Ballroom of the Pechanga Resort and Casino in Temecula, California, a quadrupleheader of professional boxing is televised live on CBS Sports Network.
In the night's televised main event, red-hot Rob "Bravo" Brant (20-0, 13 KOs) of Saint Paul, Minnesota, will look to keep his momentum going in a 10-round battle against Cleveland's Chris "The Irish Ghost" Fitzpatrick (15-4, 6 KOs).
In the six-round super welterweight co-featured bout, Fort Worth, Texas, slugger Skender Halili (10-1, 10 KOs) will look to keep his perfect knockout record intact against experienced Ghanian veteran (now living in Silver Springs, Maryland) Ben Odamattey (16-14-3, 9 KOs).
In another televised four-rounder, undefeated former amateur world champion Cem Killic (5-0, 2 KOs) of Sherman Oaks, California, via Frankfurt, Germany, will take on pro-debuting middleweight Jerhed Fenderson of Las Vegas.
And in the night's opening televised bout, red-hot prospect Malik Hawkins (8-0, 7 KOs) of Baltimore, Maryland, will look to keep his march to the top of the welterweight division alive against Portland, Oregon's Sean Gee (3-4).
Tickets for CBS Sports Network Championship Boxing are priced at $85, $65 and $50 and are available at www.pechanga.com or by calling the Pechanga Box Office: (877) 711-2946.
25-year-old Brant has already won two fights this year. In April, he took care of Arkansas veteran Delray Raines in less than a round and in January, he scored a nationally televised "Knockout of the Year" candidate against formidable contender DeCarlo Perez. The victory put Brant on the radar of the boxing world.
29-year-old Fitzpatrick went undefeated in his first 15 fights and only suffered setbacks against some of the world's top middleweights, including world champion Daniel Jacobs. "The Irish Ghost" is never in a bad fight and will test any would-be contender's true mettle.
Promoter Greg Cohen says he's excited to be bringing his popular televised boxing series to California.
"This is our first scheduled quadrupleheader and we're excited to be bringing it to a classic boxing venue like the Pechanga," said Cohen. "Rob Brant will be in against a guy who will take you out if you don't have the goods. Skender Halili's last fight was one of the best of the year, so I look forward to another slugfest. Cem Kilic won't have it easy. Although his opponent is making his debut, he can really fight. And we all get another look at the amazing talent of Malik Hawkins to open the night. It's truly a great night of boxing. Thanks to my partners and the wonderful staff at Pechanga for helping make it happen."