The script for the Floyd Mayweather vs. Robert Guerrero fight has been pretty clear – Mayweather is the bad guy, and the huge favorite; Guerrero is everyone's favorite underdog, with a heart-warming back story. Well, things have been turned on their head at least a bit today as news broke that Robert Guerrero was arrested on a gun charge at JFK airport this morning.
Guerrero had been in New York and along the East Coast for a huge media blitz, appearing on talk shows of all sorts, showing up on ESPN, and more. However, while preparing to get on his return flight to California, he was arrested for carrying a firearm and attempting to board an airplane.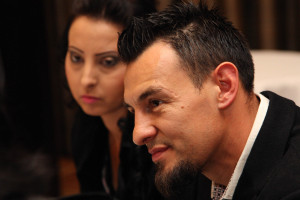 Guerrero's gun, a Smith & Wesson .40 caliber pistol, was unloaded, and he also had with him three unloaded high-capacity magazines. He had the gun stored in a locked box and presented it for inspection to an airline employee.
The gun is licensed in California, however, it is not licensed in the state of New York. And it is illegal according to the state to carry or transport such a firearm.
Guerrero is officially facing several charges — criminal possession of a firearm, and three counts of third-degree criminal possession of a weapon.
A guilty verdict could lead to up to four years in prison.
In the above-linked story on ESPN, Queens District Attorney Richard A. Brown had this to say:
"I hope that Mr. Guerrero fights better than he thinks. For anyone who hasn't gotten the message, let me be crystal clear: You cannot bring an unlicensed weapon — loaded or unloaded — into this county or this city. And if you do you will be arrested and face felony charges."

Earlier this year, New York State enacted the nation's toughest gun restrictions — the New York Secure Ammunition and Firearms Enforcement Act of 2013," Brown said. "One provision of that law is that the penalty for possessing an unloaded firearm is raised from being a Class A misdemeanor to being a Class E felony.

It is therefore more important than ever that if a passenger chooses to travel with a weapon, they should first acquaint themselves with the weapon laws of the jurisdiction that they are visiting and comply with any and all legal requirements. Otherwise, they may find themselves being arrested and charged with a felony — as is what occurred in this case."
All of this is not quite the distraction that Guerrero and his team would have liked heading into the biggest fights of their lives against Floyd Mayweather on May 4th. And as mentioned, it flips the script on the fight and the promotion. Guerrero, a devout and previously squeaky-clean individual, will now be all too familiar with the courtroom battles and looming threats of jail time which Mayweather has been plagued with over the years.
Guerrero's court date is set for the 14th, allowing Guerrero to continue preparing for the fight and allowing Golden Boy and Showtime to stage the massive event as planned.