Robert Guerrero (30-1-1, 18 KOs) is slated to meet Andre Berto (28-1, 22 KOs) on November 24th in the main event of an HBO card from the Citizens Business Bank Arena in Ontario, California.
This is the biggest and highest profile fight of Guerrero's career, and just his 2nd fight in the welterweight division. "The Ghost" took a few minutes to step aside from his rigorous training and speak with ProBoxing-Fans.com about getting this kind of opportunity, the challenges he presents to Berto, his view on Berto's failed drug test and more. Take a look.
[Read the feature story on Guerrero based on this interview]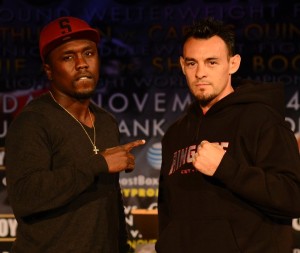 So it sounds like you're locked down over there and camp has been intense. Tell me what training has been like and how your preparations have been coming.
RG: Training has been good, we've had a great training camp so far. All of the hard work is done now. We've been in Las Vegas for the last 5 weeks, and I'm just staying on my toes and doing what I need to do to be 100% prepared.
Now that you're at 147, worrying about weight must take a back seat to simply focusing on the rest of your preparations. What kind of difference does that make for you and how does your body feel right now?
RG: I feel great, I feel strong and at full strength, and fast. Everybody knows when you have to cut weight it does take a toll on your body. I'm happy to be at 147 and it benefits me not having to destroy my body coming down in weight. I'm a pretty tall guy in the division already, and I feel very energized.
Would you consider yourself a full welterweight at this point or are you still trying to get accustomed to the weight class?
RG: I feel good at the weight and where I need to be. Trying to get any bigger or bulk up would just be if I was trying to get to 154, but I'm happy to be where I'm at right now, and I'm happy with the way my body is feeling at 147 pounds.
You have been working towards this type of big fight for such a long time. What is it like to know you have this great opportunity in front you?
RG: I just thank God for blessing me with the opportunity. It's been a lot of years where I've been looking for key fights to try to solidify myself as one of the top fighters in the world. I've been winning world championships and getting into mandatory spots, and none of the pound for pound guys get in the ring with me. It's really been frustrating for me, but it's relieving to see that light at the end of the tunnel now. It's motivating to be getting a fight with Berto who has been on HBO a number of times, and whose name is big. I'm truly blessed that I'm getting the opportunity and I'm going to take advantage of it.
Everyone knows about Berto's failed drug test and his reinstatement. Obviously it didn't stop you from taking the fight, but how do you feel about the situation?
RG: I'm happy we pushed hard for strict drug testing just to keep the playing field even, and everyone has been going good with the drug testing. I highly doubt Berto is going to try to do anything, having already tested positive once. So I don't think he would go and risk his career at this point by doing anything. But that's the last thing on my mind and I'm just getting ready and preparing for Berto.
Do you think Berto was clean in the past, or was this just the first time he got caught and does it raise a question over what he accomplished?
RG: Well it does raise a question mark. And when that strict drug testing came in, he was the one who requested it against Ortiz. So you might not knowing what you're taking, but you have to know what's going into your body. And really, it's illegal. So that's the first time he was doing strict drug testing, and then he tested positive. That's in the past now so I'm just ready to take care of business against him.
Although you guys are fairly equal in height and reach, Berto has been a career welterweight, and this is just your second fight in the division. He's the biggest opponent you've fought. How are you preparing yourself for that?
RG: No, we're just doing what we have been doing. I've fought Aydin, who's also a big guy. He's not well known but nobody else really wanted to fight him, because it's a rough and tumble fight and he's a hard puncher. So having that fight with him, and dominating him and getting the victory, it's important for my confidence and for me to assert myself in the 147 pounds division. I really feel that Aydin is stronger and bigger than Berto body-wise. I'm just doing what I do best, getting into great shape and working on my skills and I'll let that carry me through the fight.
What do you bring to the table that will prove to be difficult or unique for Berto to deal with?
RG: I bring a bunch of different things to the ring, style-wise. I'm left handed with quick hands, good punching power. I really think a lot of people underestimate that. Being able to change styles and adapt to different things is important, because people don't know how I'm going to come in the next fight. It's almost like a mystery, 'Which Guerrero is going to come this time? He's been an inside fighter this fight, he was a boxer this fight, this fight he was this and that.' So it's just being able to plan for each individual fighter and game plan to beat that guy and be able to execute it. I just thank God that I have the ability to do that.
He's certainly had trouble in the past with southpaws, and rangy southpaws. Is that something you and your team have been thinking about?
RG: Definitely, seeing Berto fight a few southpaws who have given him trouble. The difference between me and the other southpaws he fought is that they were one dimensional fighters. I bring different dimensions in the ring where I can fight different styles, so that's going to make it even a tougher fight for Berto. Like I said before, being a chameleon in the ring and being able to adjust and change views, it makes a big difference. It's one of those things that I'm truly blessed with, and I can't wait. I'm excited for fight night.
With all of the stops and starts you've had in your career, from your own injuries and outside the ring issues to of course your wife's battle with leukemia, what it's like for you now to be on the cusp of really breaking through to the next level?
RG: It's exciting. It's great, not just for myself, but for my family also. Having gone through everything and how hard it has been, but we just had to keep on trucking and now it's all falling into place. I'm real excited, and all the stuff I've been through inside the ring and outside of the ring, it just prepares you for stuff like this, and big events like this. The fights I've been in, and the experience I've gotten it prepares you for the championship level and guys like Berto and beyond Berto. That's why I'm very confident for this fight, I'm excited. I can't wait to go. This is that next step to greatness in the sport, I'm very determined and focused, and ready to rock and roll.
Obviously all of your thoughts and focus are on Andre Berto on your fight on the 24th. But your desire to land a fight against Floyd Mayweather or Manny Pacquiao is also well known. Is that the next move for you after this?
RG: Definitely, like I said, this is that next step to greatness. Wanting to be great in the sport, wanting to be one of the pound for pound best fighters and wanting to be a legend in the sport and solidify your legacy as a great fight, that's what it's about now. I've won championships in four different weight classes. Six world titles. Now it's time to set up that legacy and so when it's all said and done you can say you were the best you could be and you've fought the best in the ring.
How's the fight going to play out on the 24th, and what can we expect to see from you?
RG: I'm coming to win, and at the end of the fight you're going to be hearing 'And still, WBC world champion!" I'm very determined to win this fight and I'm coming to take care of business.