Is Robert Helenius (18-0, 11 KOs) back to his best? March 23 is a big night for boxing fans in Germany, and fans stateside will get to see the action on EPIX.
Current WBO Super-Middleweight Champion Arthur Abraham (36-3, 28 KOs) and Robert Stieglitz (43-3, 24 KOs) will meet for the second time within seven months after Abraham took Stieglitz's title away from him back on August 25. But the fans at the GETEC-Arena in Magdeburg, Germany, have another treat to look forward too, cause what would be a fight night without a matchup between some real heavyweights?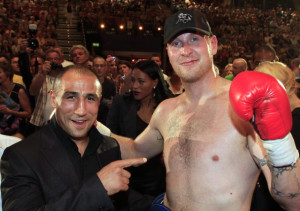 Robert Helenius takes on Britain's Michael Sprott (37-19, 17 KOs) in only his second fight after a lengthy spell on the sidelines due to an injury. It was announced months ago that Helenius would be fighting on this card, but there had never been any further news of his opponent.
So fans had been wondering whether or not he would actually appear in action. But now he has an opponent lined up, which is good news, if for no other reason than to keep him active and get him working his way back to the top once again.
However, Helenius will certainly have to be in great shape to fend off the challenge of the very experienced Sprott. The Berkshire born fighter proved his class during his win over Helenius' Team Sauerland stable mate Edmund Gerber, who at the time was IBF's number five ranked boxer. Therefore Helenius knows that it won't be a walk in the park on March 23.
"I was present in Nuremberg when he beat Gerber," said Helenius. "Sprott is technically gifted, so I will have to make use of my height and reach
advantage. My jab could make the difference."
Tickets for the big fight night at the GETEC-Arena in Magdeburg, Germany can be purchased at www.boxen.com, www.sesboxing.de and www.eventim.de.
Comments
comments