Duran vs. Curry in a Junior Middleweight Showdown Circa 1986
One of the defining characteristics of the 1980s welterweight and middleweight picture was the near absolute refusal of three of the "Four Kings" — Ray Leonard, Tommy Hearns and Roberto Duran — to fight any of the young lions who came up behind them. Leonard had the excuse of a medical retirement from 1984 to 1987, while Hearns was focused on pursuing middleweight glory and Duran spent much of the 1980s beset by personal and managerial problems.
Of the first crop of welterweights to come up following the departure of Duran, Hearns and Leonard, the best was Donald 'The Lone Star Cobra" Curry. Capturing the WBA belt in 1983, Curry was reigning as the Undisputed World Welterweight Champion by 1985. The only other undisputed champ at the time was Marvelous Marvin Hagler, and many wanted to see one of the great former welterweights duke it out with Curry the Cobra. With Hearns at 160 and Leonard retired, the only member of the trio who realistically could be lured into a showdown with Curry was Duran, but what if he had been? At the same time Curry was celebrating his unified world title, Duran was recovering from his catastrophic defeat at the hands of Tommy Hearns.
In June 1985, the IBF Junior Middleweight Title became vacant. Instead of letting Buster Drayton and Carlos Santos fight over it, some promotional machinations keep the title warm, while the deep pockets of HBO bring Roberto Duran and Donald Curry into the ring in March 1986…
The Opening Round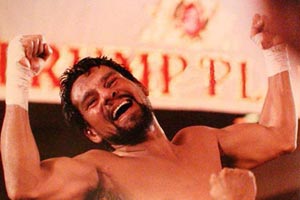 Duran was at his brash, trash-talking best in the months running up to the bout, more to nurse his own devastated ego following the incredible whipping he received at the hands of Tommy Hearns than anything else. Fueled by sheer machismo, from the opening bell Duran tears right at Curry with blistering six-, seven- and eight-punch combos. Curry reels from the fierce assault, but his superb point defense wards off the worst of it. Duran, finding Curry's merely average mobility makes him easy to hit (if not easy to score on), unloads with greater confidence. Curry looks well on his way to losing the 1st Round by a mile when he finds his footing in the last 30 seconds of the round, picks off a Duran left hook and unloads a big counter right, followed by a short, sharp left hook. Duran is instantly dropped on his butt, but not badly hurt. "Manos de Piedra" gets up by the count of five, and appears undeterred as he comes at Curry again in the last seconds of the round.
The Cobra Bites
Once on the stool, the reality that Curry is not the hollow figure he had been led to believe settles on Duran. His confidence still shaky after the drubbing from Hearns (in real life, Duran would be out-boxed by a journeyman named Robbie Sims in June 1986), Duran comes out and soon loses steam. He presses the action, but some of his gusto is lacking. It ebbs even further when Curry establishes his stiff, club-like jab. Striking again and again with the jab, Curry manages to avoid the worst of Duran's dispirited assault and sets the stage for two- and three-punch counterattacks. For Rounds 3, 4 and 5, the fight becomes almost robotic as Duran flails against Curry's tight guard and stiff jab, with only an red, puffy face to show for it.
Duran Rallies
Realizing he is letting the fight slip away from him, Duran's pride pushes him out of neutral. He picks up the pace and takes advantage of Curry's decidedly average footwork and sound-but-mechanical style to step to the side in mid-flurry and shove a hard body shot into every assault. Still, getting by that stiff jab is hard work, and frustrates Duran to no end. At the end of Round 7, Duran slings a left hook to the body and follows it straight up with a right uppercut to the groin. Duran instantly rolls his shoulders and waves his hands calling "it's an accident" in Spanish. Curry gets to his feet and takes the rest of the round off to recuperate. Duran loses a point and the round, but grins and licks his chops nonetheless.
Duran presses the action with a seemingly wild, unpredictable fury that has one object: to slam in body shot after body shot. Curry's feet cannot get him away from the rushing Duran, and while he scores repeatedly with his jab, Curry drops Rounds 8 and 9. A 10th Round attempt to take the offensive and stem the tide backfires, as Duran stuns Curry with an overhand right followed by two shots to the body, driving him onto the ropes where Curry covers up and then clutches Duran. Duran mauls Curry like an animal inside the clinch, even dragging his beard across Curry's face. The Lone Star Cobra is visibly drained, and with 10 seconds left to go Duran pries open Curry's guard and knocks him down. Curry is saved by the bell, but proves unable to recover much between rounds. Duran, scenting blood, throws everything but the stool at Curry from the bell and knocks him down again. Curry gets up, but is waved off by the referee.
Result: Roberto Duran claims the vacant IBF Junior Middleweight Title by TKO11.
Aftermath
His career back on track, Roberto Duran enjoyed a two-year reign of easy fights and decent paydays, ducking the likes of Julian Jackson and Mike McCallum until he moved up to middleweight and beat Iran Barkley in 1989 (in real life Duran floundered until he upset Barkley). Donald Curry returned to his 147-lb championship, only to be crushed by undefeated Lloyd Honeyghan later that year, and boxing historians would later describe the Duran fight as the encounter that ruined Curry.