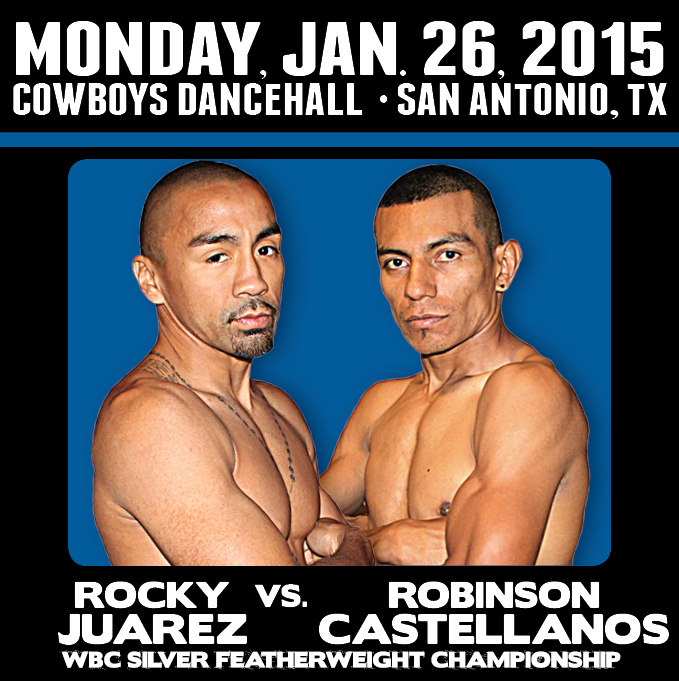 Tonight at the Cowboys Dancehall in San Antonio, Texas, Rocky Juarez clashes against Robinson Castellanos in an eliminator match for a featherweight title. The undercard features several big name, undefeated prospects. Find the full weigh-in results for the event and the entire bout list here.
MAIN EVENT-12 ROUNDS
Rocky JUAREZ Weight: 125.25 lbs.
vs.
Robinson CASTELLANOS Weight: 124.75 lbs.
FEATHERWEIGHTS-6 ROUNDS
Javier RODRIGUEZ Weight: 125.75 lbs.
vs.
Quinice WESBY Weight: 126 lbs.
CO MAIN EVENT WELTERWEIGHTS- 8 ROUNDS
KeAndre GIBSON Weight: 143.25 lbs.
vs.
Nelson LARA Weight: 144.25 lbs.
LIGHTWEIGHTS-4 ROUNDS
Christian SANTIBANEZ Weight:133.75 lbs.
vs.
Albert ROMERO Weight:134.5 lbs.
WELTERWEIGHTS-4 ROUNDS
Armando CARDENAS Weight: 147 lbs.
vs.
Albert ESPINOZA Weight: 144.75 lbs.
SUPER FEATHERWEIGHTS-6ROUNDS
Arturo ESQUIVEL Weight: 129 lbs.
vs.
Jesus SANDOVAL Weight: 128 lbs.
LIGHTWEIGHTS-4 ROUNDS
Robert VELA Weight:133.75 lbs.
vs.
Ramiro TORRES Weight: 130.5 lbs.