Ali vs. Marciano for Heavyweight Supremacy
Rocky Marciano vs. Muhammad Ali is one of the most talked about fantasy boxing matches of all-time. Its pits two of the best heavyweights ever against one another. Marciano, the blue collar workhorse, the Brockton Blockbuster, the undefeated champion, against the Greatest, Muhammad Ali, the first three-time heavyweight champion in history.
This fight wasn't just talked about, there was actually a movie production made about Rocky Marciano vs. Muhammad Ali. Dubbed "The Superfight," the two men participated in the filming of the movie by sparring and training.
The movie was then spliced together to match what a basic computer model had decided on for the outcome of the fight. The movie, which was filmed while Ali was absent from the sport after being stripped of his title, was released in January of 1970. Marciano won by 13th round knockout.
Of course, it takes much more than statistics and knockout percentages to determine who is going to win a boxing match. With both at the peak of their boxing powers, who would emerge the winner? The young phenom with the lightning speed, the big mouth and a keen sense of the big stage, or the punishing late starter, who burst onto the scene, knocked out all comers and left before tasting defeat?
Rocky Marciano vs. Muhammad Ali: Meet the Fighters
Rocky Marciano

Height: 5'10"
Reach: 67″
Weight: 185-190 lbs
Nickname: The Brockton Blockbuster; Rock; The Rock from Brockton
Record: 49-0; 43 knockouts
Accomplishments: 6 title defenses; 2 wins each over Jersey Joe Walcott and Ezzard Charles, beat an aged Joe Louis appearing in his last professional fight; retired undefeated

Muhammad Ali

Height: 6'3″
Reach: 80″
Weight: 210-215 lbs
Nickname: The Greatest; The Louisville Lip; G.O.A.T.
Record: 56-5; 37 knockouts
Accomplishments: Three-time heavyweight champion; 19 championship defenses; two wins each over Joe Frazier, Ken Norton, Sonny Liston and Floyd Patterson; defeated undefeated George Foreman; defeated an aged Archie Moore appearing in his second to last professional fight
Rocky Marciano vs. Muhammad Ali: Breaking down the Styles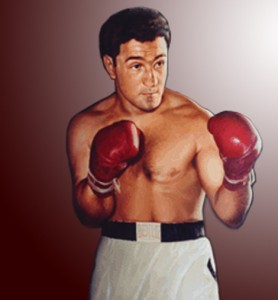 Marciano was a come-forward slugger if there ever was one. With 43 knockouts in 49 fights, all wins, Marciano proved time and time again that he always had the equalizer ready and waiting to be unleashed from his arsenal. He could set up his power beautifully and he had crushing power in his monster right hand. As he continued to develop throughout his career, he could also do damage with his left hook as well.
His power didn't fall off either when his level of competition rose. In his last seven professional fights, all title bouts, he scored six stoppages. He could level the boom at anytime, either extinguishing his foe with a Blockbuster as early as the first round, as he did when he won the title from Jersey Joe Walcott in September 1952, or breaking down an opponent slowly but surely until the only thing left to do was succumb and collapse, as he did when he defended his newly won title via 13th round knockout against Walcott in May 1953.
Muhammad Ali deployed two distinct styles in his career, although each had myriad variations and wrinkles. In his first run to the title, as an undefeated, uber-talented kid, Ali relied on his physical gifts, and they were plentiful, to overwhelm opponents. With an 80″ reach and standing 6'3″, Ali could easily keep away from his opponent's shots while landing his own. He also was more than willing to be aggressive as well, thanks to his innate instincts and timing, and his sensational speed of hand, foot and reflexes.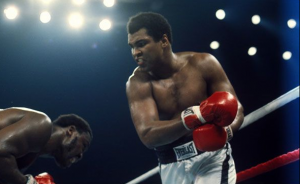 After his layoff, physical gifts diminishing more and more with each passing fight, Ali became much more adaptable. He could "Rope-A-Dope" you, a la George Foreman, he could go to war with you, a la Joe Frazier I and III, and he could shine your shoes and play keep away as well, a la Joe Frazier II.
Marciano clearly held more power between the two fighters. Ali would bring his physical size and speed into the ring with him, and both men had granite chins.
More About Muhammad Ali
Rocky Marciano vs. Muhammad Ali Fight Prediction
Rocky Marciano vs. Muhammad Ali, as much a tale of contrasting styles as anything else, is also a tale of different eras. Marciano reigned over a heavyweight scene in which he was a muscular brute at 5'10", weighing in at between 185 and 190 lbs. His main contemporaries and rivals had shined largely as light heavyweights, including Ezzard Charles and Archie Moore.
Ali, at 6'3″ and with over a foot of reach on Maricano, was 210 lbs of lean, sinewy muscle. He faced plenty of big bruisers in his time at the top of the heavyweight scene. But the bruisers he faced were largely bigger, and badder. George Foreman was over 6'3″ with an 82″ reach, weighing in at a frightening, cut 225 lbs in his prime. His idol and tutor, Sonny Liston, was 6'1″ with an 84″ reach, weighing around 215 lbs.
Unlike Foreman and Liston, Marciano simply wasn't a massive man. Unlike Ali-rival Frazier, he didn't come forward in a blur of bobbing and weaving, slipping shots and always moving. Unlike the 6'2″, 220 lbs Ken Norton, he didn't have a piston jab, or an awkwardly effective defensive posture. He came in with a crouch to wing punches and bash your head in. Effective enough as it was, it wouldn't be enough for a fighter with Ali's speed, size and skills.
Rocky Marciano vs. Muhammad Ali would be bull vs. matador, only this matador had his own set of horns as well. Marciano would perpetually be walking forward into a stiff left jab landing in the middle of his face, perpetually launching left hooks at the empty space that Ali had been in a few seconds prior.
Would Ali be able to maintain his focus for all 15 rounds? Even a short period of gloating, showboating or lollygagging could end with him getting pummeled against the ropes, or worse, staring up at the ceiling and seeing stars. Against a fighter with The Rock's power, he would have the edge he needed all night, and would stay mindful of his P's and Q's.
Meanwhile, those jabs and the vicious right crosses that followed them would eventually take their toll. There was no taking the heart away from Marciano, no wearing him out. But with eyes beginning to swell, and then bleed, a cut across the bridge of his nose pouring blood down his nose and into his mouth, his vision and effectiveness would continue to decline throughout the affair. The referee, against the desires of Marciano and his corner, waves off the fight due to the cuts in the 10th round.
Rocky Marciano vs. Muhammad Ali Fight Result: Ali Wins by 10th round TKO due to cuts