Tonight Gary Shaw Productions presented another great night of boxing at the Chumash Casino Resort. In the main event, Roman Morales (17-0, 10 KOs) defeated Robert Castaneda (20-4-1, 15 KOs) by way of unanimous decision.
In the early rounds Morales was using his superior boxing skills to get in position to land his shots. Castaneda was confused as Morales was switching stances throughout the fight. Morales dropped Castaneda in round five and everything was going his way.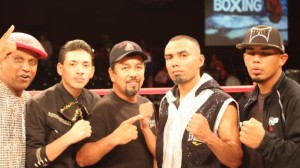 Things changed in round seven when Morales got caught with a left hook to the head. Morales gained his composure, but Castaneda gained confidence going into the final rounds. But Morales got back in control and finished off the fight landing hard blows to the head and body. Scorecards read 97-91 across the board for Morales.
"I felt I could have finished the fight in the early rounds but I couldn't get him out of there," said Morales.
"Castaneda fought very tough and I take my hat off to him for continuing to fight after I dropped him. I got caught with a punch I didn't see coming but I got back on my feet and finished the fight throwing hard punches. This was a great learning experience and I'll be back in the gym to work on my craft. I want to thank Gary Shaw for giving me another opportunity to showcase my skills. I'll be ready when they call my name."
Undercard Results
(6-round Featherweight bout) – Serrano used his height and reach to counter the attack of Batres in the early rounds. Although Batres landed an overhand right that dropped Ruffino Serrano in the first round, Serrano controlled the action for the remainder of the bout until the referee stopped the bout at the 2:37 of round four. Serrano recorded his first knockout of his career. Ruffino Serrano (13-5, 1 KO) defeats Pablo Batres (4-8-1)
(8-round Featherweight bout) – Edwin Solis and Gabriel Tolmajyan engaged in a classic southpaw vs. conventional matchup. Tolmajyan was countering the attack of an aggressive Solis. Tolmajyan was landing pot shots as Solis was doing his best to land an overhand right. Both fighters entered the final rounds neck and neck and it seemed that Tolmajyan was winning the bout, but the judges saw it different as the bout was declared a majority draw. Scorecards read 76-76 twice and for 77-75 Tolmajyan. Gabriel Tolmajyan (13-3-2, 3 KOs) majority draw vs. Edwin Solis (5-2-2, 3 KOs)
(4-Round Light Middleweight bout) – In an all out brawl, Eric Prado and Julian Cruz let their hands go for four hard fought rounds. There weren't many jabs thrown in this fight as both fighters were trying to land power shots throughout the bout. Cruz was the more aggressive fighters and seemed to be landed the more damaging shots. Prado had his moments going to the body, but it was Cruz who came up on top winning a unanimous decision. Scorecards read 39-37 across the board in favor of Cruz. Julian Cruz (2-2) defeats Eric Prado (2-4-1)
(6-Round Light Heavyweight bout) – Ilsthat Khusnulgatin used his superior boxing skills to dominate a game Arenio Terrazas. Khusnulgatin had a distinctive height and reach advanced and he used it to perfection as he battered Terrazaas around the ring for four rounds. Khusnulgatin wins by TKO after Terrazas could not return for the fifth round. Ilsthat Khusnulgatin (11-0, 6 KOs) defeats Arsenio Terrazas (9-6, 8 KOs)
(4-Round Lightweight bout) – – In a battle of aggressive lightweights, Daniel Franco and Manuel Romero went toe to toe for three competitive rounds but it was Franco who landed the cleaner shots. In the fourth round Franco landed a flush left uppercut that sent a tired Romero to the canvas and the referee stopped the bout at the 44 mark of round four. Franco wins by knockout. Daniel Franco (5-0-2, 3 KOs) defeats Manuel Romero (0-2)