When Gabriel Rosado learned he was fighting Sechew Powell instead of Joel Julio on June 1, he and trainer Billy Briscoe booked themselves a trip to California for three weeks of training at Freddie Roach's famed Wild Card gym in Hollywood.
"It's just what I needed," said Rosado (left), who meets Powell for the vacant WBO Inter-Continental Junior Middleweight Title at the Sands Casino Resort Bethlehem over 12 rounds, or less.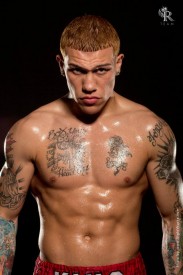 "At first I wasn't crazy about fighting a lefty, but the junior middleweight division is full of them so it all turned out for the better. I'm talking about Paul Williams, James Kirkland, Erislandy Lara. These are guys I need to get in there with so fighting Sechew Powell is another step down that road. I'm getting plenty of good work at the Wild Card and I feel good and I'm looking forward to proving myself again. I know a lot of people are skeptical, saying that the last guy I beat (Jesus Soto-Karass) was made to order for me. We'll see if they right or wrong after June 1."
The 26-year-old Philadelphian made a career statement Jan. 21 when he tore though Soto-Karass en route to a fifth-round knockout victory at the Asylum Arena in Philadelphia.
Rosado, who turned pro in 2006 after only 17 amateur fights, has a 19-5 record as a pro with 11 knockouts. He has won his last five fights and he is ranked No. 5 in the world by the IBF, No. 9 by the WBC.
The 32-year-old Powell (right), of Brooklyn, NY, turned pro in 2002 and is 26-4, 15 K0s. He is ranked No. 9 by the IBF, and comes into this fight off a 12-round points defeat Jan. 28 to former world champion Cory Spinks in a elimination bout in Springfield, MO, for the No. 1 slot in the IBF world rankings.
Prior that that, Powell had challenged one-time knockout victim Cornelius Bundrage, of Detroit, MI, for the IBF world title, losing that one also by 12-round decision June 25, 2010, in St. Charles, MO.
Powell has beaten Ishe Smith, of Las Vegas, NV, and Terrance Cauthen, of Trenton, NJ, and he split in two fights with Deandre Latimore, of St. Louis, MO. Latimore is the only man to have stopped Powell, but Powell avenged himself in the rematch, winning on points.
The co-feature, also scheduled for 12 rounds, features Ronald Cruz, of Bethlehem, against Prenice Brewer, of Cleveland, OH, for the vacant WBC Continental Americas welterweight title. Cruz is 16-0, 12 K0s; Brewer is 16-1-1, 6 K0s.